How to earn smartly online with Portfolio?
By Karol Andruszków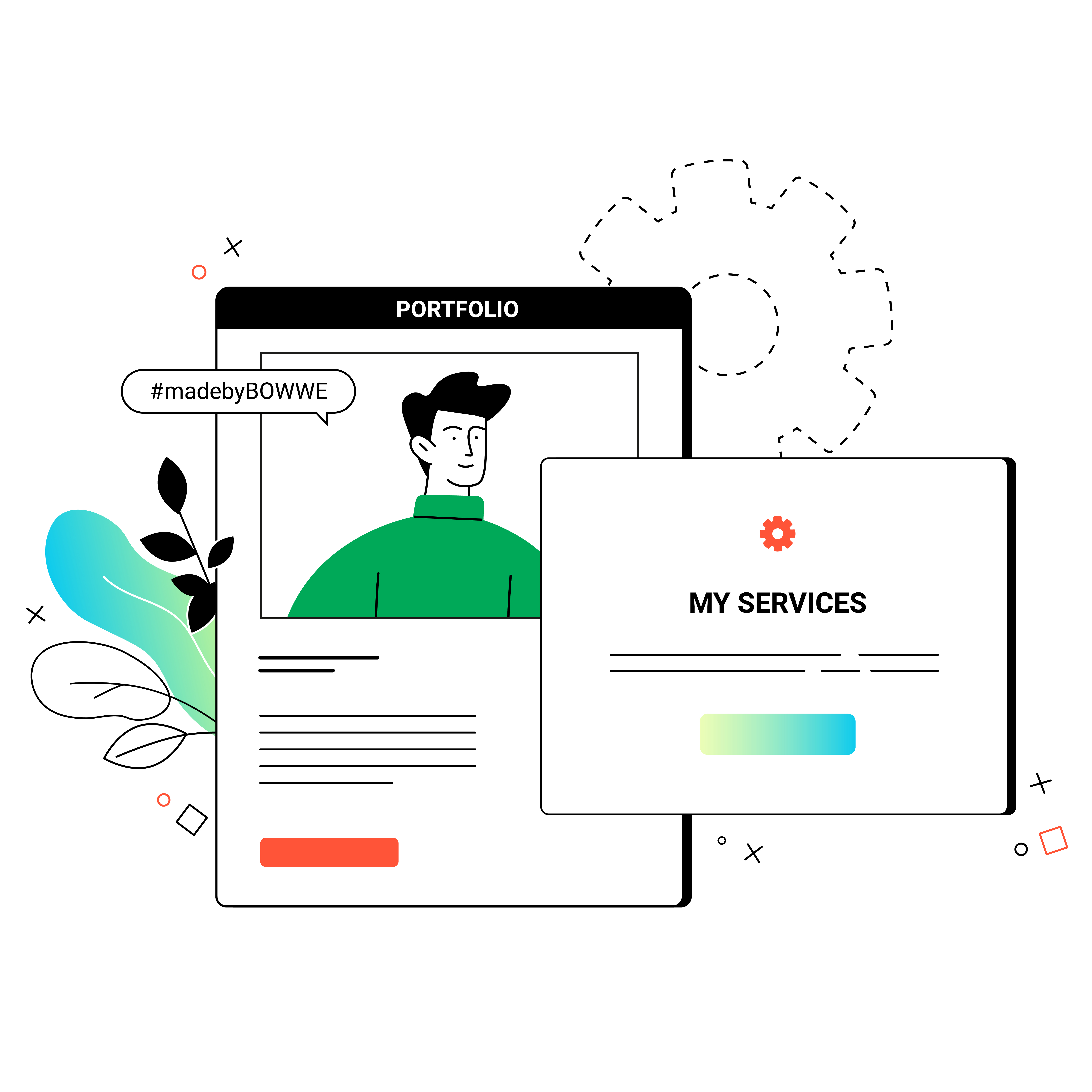 Should I start a portfolio? Does my company need it? In what industry will a portfolio be useful? How can I create it? What to put and how often to update? ... If you are asking yourself these questions, you probably have the idea to document your experience or that of your company in portfolio form. And that's good, because it's a great idea! In this text you will find answers to annoying questions and valuable tips to help you work on your portfolio. Let's start from the beginning.
What is a portfolio?
Portfolio ever
Before going into details, let's remember: originally the word portfolio meant a briefcase or other type of folder in which the works of a specific artist were collected. Over the years, the concept of a portfolio has evolved and now means the presentation of the achievements of a person or company , in the form of samples or finished works.
Portfolio today
Today, one of the most popular forms of portfolio is websites , which usually contain photographs of works with descriptions. Even people who create primarily on paper or canvas are increasingly uploading digital versions of their works to the Internet. An online portfolio is a great help; thanks to him, you don't have to meet your customer to show him what you can do. You can send him a link to his own page!
What will you achieve with the portfolio?
You may not realize it, but the days when only artists created a portfolio have lagged behind! Thanks to the Internet, it has become increasingly used by entrepreneurs from various industries and freelancers. It is not the end! Today, the portfolio will also allow you to achieve many more goals, whether you're a freelancer or running your own business.
What exactly can you get from your own portfolio? Here are some of the main reasons why you should create them:
Get the trust of your customers in your company
The main objective of the portfolio is to present the scope of the work carried out and to gain the trust of potential clients. When they see the work done by you or your company , they will be more likely to use your services because they will see your experience . Showing your current job is a sincere and honest gesture that inspires customers' trust in you or your company. Remember that small and medium-sized companies do not have the same brand recognition as large companies. So automatically they don't have that confidence either . In the case of large companies, the fact that many customers have already had contact with their products is also a plus, which translates into greater confidence in them. Many people, when they hear the name Bosch, for example, know the brand well and therefore treat it with confidence. Unfortunately, in the case of small businesses or freelancers, most of the time the customer meets them for the first time without knowing them or knowing their products and services. That's why trust is even more important for small businesses and the self-employed. You can get them by presenting your previous work . The portfolio then becomes a confirmation that your company does its job correctly, is experienced and works professionally.
Overcome stronger competition
In addition to the incomparably lower visibility compared to large companies, small and medium-sized companies have very little or marketing budgets. no . They will not spend on promoting funds like large corporations. However, this is not an obstacle to their effective development and acquisition of new clients.
Why?
Portfolio is an easy and important for small businesses and freelancers free way to compete with the competition (sometimes much richer). It helps to gain the trust of customers, which translates into willingness to buy a product or ask for a service. It is also a great source of content that the company can use later in its promotional activities in its profiles or thematic groups on social networks.
Convince your customers!
How do you make customers want to use your services or buy your product? Use an interesting and rich portfolio! How is it working? Clients who look at work done for others will build a thought in their heads: I want the same thing! - which increases the possibility of a subsequent purchase or use of the service. With your portfolio, you can create a need for them to buy what you offer.
Show professionalism in your work
Build your company's image as a professional contractor - This is another goal of having a portfolio. A company that can boast of its achievements looks much better in the eyes of its potential partners. It's easy to introduce them to what you can already do, what areas you have experience in, and what kinds of projects you have implemented. In this way, you can also present rare services, the name or description of which alone might not be enough to illustrate an unknown partner. This visualization will help you understand what a particular company offers. Also, the portfolio can include completed projects that are the result of cooperation with another company, which is a form of mutual promotion for both companies.
Let clients choose how they want to implement their project
Often times, a portfolio on a website is also used to effectively choose how to get work done or the possibility of implementing a project. The richer the wallet, the better! This tool is a simple way to present the diversity of the offer. At the same time, it shows that our company can perform service in many ways. And this makes it easier to find and convince a potential customer. The bigger the choice, the more people we can convince.
Ready to create your website?
Use the most convenient website builder, trusted by thousands of designers and create websites that will provide you with customers!
Be the first on Google
Creating a portfolio on a company or freelance website is also a great trick to generate more Internet traffic. By adding the work we have done, we expand our website with new content, Thanks to which it is positioned in a greater number of keywords, and thus, it is in better search results! Also, Google and other search engines appreciate active pages with content that is regularly updated. That is why it is worth expanding our portfolio, because it will provide us with a significant increase in search results. . Thanks to this, the clients themselves will also see that the company is working dynamically and will be able to see their recent projects.
However, how do you easily and quickly expand your portfolio to get higher and higher positions in the search engine? This is possible using the Portfolio application developed by BOWWE. Placing it on the page created in our wizard takes a few seconds and will automatically bring up a new section titled "Portfolio" on your website. You can place it anywhere on your website and edit its appearance any way you like. Whats Next? All you need to do is click "add portfolio" with the app, post photos with a description of your jobs on the website, and voila! Adding a new item to your portfolio is always the same. In addition, the operation of the application adapts to the guidelines of Internet search engines. You do not You don't have to worry about whether your portfolio will display correctly on mobile devices and whether your website will rank well. You'll save time that you would otherwise have to spend adding more portfolio subpages.
Don't you want your portfolio to be available to everyone on the Internet? All you have to do is click "show page in search engines" in the page panel in BOWWE.
Stand out and stay ahead of your competition!
The portfolio also helps make your offering stand out from the competition. If the majority of companies in the market do not use this type of solution, the company that chooses them will have an advantage. . Many companies in the SME sector still do not use the portfolio and the opportunities it offers. So if you choose to show your business expertise, you will be ahead of your competition. Also, when creating a portfolio, you can present what makes your company stand out from the competition, including: experience, quality, or knowledge. Thanks to it, you can easily show what your company offers, not only in terms of service, but also how it will be done. For example: an interior decorator can show with his works that he specializes in the Scandinavian style.
In which industries is the portfolio essential?
Many people think that the portfolio is a useful solution only for artists and freelancers. Is this association correct? Not completely. The fact is that it was in these environments that the portfolio was born. To present their works, the artists prepared folders or folders with examples of their works and achievements. These environments currently use online wallets very frequently. . This tool is for many artists and photographers the answer to the questions "how to sell art over the Internet?" or "how do you sell photos online?"
However, such a perception reduces the portfolio only to a tool for artists and the liberal professions, which is too great a limitation. The portfolio will work for companies and individuals who:
provide services: in the case of service companies, the portfolio works as a catalog or a lookbook with products for product companies, for example hairdresser, makeup salon
They work on a design system, when each project is individually priced for the customer, for example, agencies, IT companies.
your work is visually assessed: the portfolio is then a collection of work to date, e.g. architects, graphic designers
the cost of work depends on the level of performance - the portfolio allows you to show the possibilities of creating inexpensive and inexpensive projects and complex and expensive projects, for example, construction companies
Many factors indicate that in almost every industry, the portfolio is assuming an increasingly important role. First of all, it becomes a determining factor that distinguishes reliable companies from incompetent ones. Additionally, individual clients are increasingly asking about completed projects, and if they don't, they know they'd like to see them. We mentioned earlier about positioning, which is positively influenced by portfolio. So you can see that it is becoming an increasingly useful tool .
The great advantage of the portfolio is its versatility. If a photographer submits photographs that they have taken as proof of their professional skills, What prevents an entrepreneur in the construction sector from doing the same by presenting their reforms? The portfolio can work in any service industry. Each company that operates in this sector of the economy can present its offer and skills in this way. Just as sellers prepare effective and refined product catalogs to present their offer, service providers must prepare a portfolio that performs exactly the same role. . The portfolio awakens the desire of customers to have what your company offers. Seeing a service well done, they want the exact same thing at home. Furthermore, the portfolio is one of the few tools that are very objective, and at the same time credible, capable of demonstrating that your company can be trusted!
Briefcase. Examples from various industries.
Take a look at the following people profiles and see how the wallet can be used:
Agnes, 39 years old. Portfolio in the photography industry
When she started taking care of photography professionally, Agnieszka had to bring an album to every client meeting to showcase the sessions she had done and gain the trust of her clients. Now her album is an Internet portfolio in which Agnieszka collects her various works. There are both wedding photos and artistic works as well as professional product or professional sessions. By submitting a link, Agnieszka presents its clients with a representative sample of its capabilities. It shows the level, possibilities and versatility it presents. Your portfolio is constantly updated, so customers can see that the business is thriving, building trust.
Aneta, 33 years old. Portfolio in the Health&Beauty industry
From the beginning, she dreamed of her own beauty salon. She graduated from a hairdressing technical school, immediately went to work to gain experience, attended training courses and participated in numerous competitions. The quality of the services provided has always been important to Aneta. Despite considerable competition, she opened a beauty salon in a big city, hired qualified people for beauty and makeup treatments. He wanted his salon to be known for its comprehensive customer service at the highest level. She knew this requires a professional website that, in addition to quick and intuitive appointments, also features the level of service the salon offers. He collected his best work and the best examples of his employees' activities and put them in a portfolio. But nevertheless,
Paul, 23 years old. Portfolio in the fitness industry
Paweł has just entered the personal trainer market, but you already know how important it is in this profession to show what your clients have accomplished. That is why he collects photos of his students before, during and after a few months of working together. In this way, he presents the metamorphoses of his clients, which he then places in his own portfolio. The effects are visible at a glance. The images of such metamorphoses serve two objectives that are of the utmost importance in this profession. First, they demonstrate the effectiveness of a personal trainer. They show that they can properly choose an effective diet and training plan for the client, allowing them to lose unnecessary pounds and improve their figure. The second aspect is motivation. Paweł's portfolio is available online to everyone. Many people look at them and thus gain the strength to get up from the couch and go to the gym. Potential clients look at the portfolio and begin to think that they too can undergo this kind of metamorphosis. Some of these people start working with Paweł after a while, hoping that the results they achieve will be the same as those presented in the online portfolio.
Barbara, 49 years old. Portfolio in the tailoring industry
He has twenty-five years of experience in the tailoring industry. During this time, she took care of everything: from sewing buttons, shortening and narrowing pants, to sewing custom clothing. His store, where you can order a suit that fits you perfectly or a tailored dress, has been in business for fifteen years. During all this time, Ms. Barbara took photos of all her projects, but instead of making them available on the Internet, she hung them on the walls of her studio. Only recently did her daughter convince her to use these photos to complete an online portfolio that everyone will be able to see as soon as they enter the plant's website. Thanks to this treatment, many more new people began to come to Ms. Barbara. It was also easier to talk to them about new projects,
Michael, 31 years old. Portfolio in the graphic industry
Creating graphic materials is his daily bread. Michał is a self-taught graphic designer and works as a freelancer. Demonstrating your skills in attracting new clients is crucial in your profession. Since the beginning of his activity, Michał has been compiling projects that he has implemented. When there were few clients, the graphic designer built trust with his portfolio, he showed that he was capable of creating aesthetic and eye-catching designs. Currently, the portfolio is treated more like a catalog. Customers browse through them and therefore find it easier to determine exactly which project they need, because they stand behind what they have seen.
Marek, 35 years old. Portfolio in the construction industry
Marek has his own construction company and employs several employees. He got his first customers thanks to word of mouth. Customers recommended their services to their friends and then to theirs. At some point, however, Marek realized that it was not enough and began advertising on the Internet. In addition to the contact number, the company also needed content that demonstrated the quality of the services presented; this is how the portfolio was created. Includes several finished projects. Photographs of the buildings under construction and renovated interiors showed progress at each stage of the works. From bare ground, through foundations, raw state, to a beautiful new home. The more orders Marek placed, the more photos landed in the folder. Currently, he has more than 20 jobs done there,
You see how many industries, which have little to do with artists or freelance professions, can successfully apply a portfolio. Wondering if it will work for your business too?
Contact us
, we will advise you!
The most common mistake among people who create a portfolio.
If you already know that a portfolio is exactly what you need, you are probably asking yourself an elementary question: how and where to create it? Many people decide to create a portfolio, which is another subpage / section on their website, usually on a CMS system like WordPress (if you plan to use this system to configure your website, be sure to read
first our text about WordPress
).
However, such a solution has many disadvantages and can generally generate more losses than benefits.
.
To add a portfolio to a website, which is also a new subpage, it must be previously configured and optimized. And for that, programming skills are essential . Few entrepreneurs have them. When they want to add a portfolio to their website, most of them are forced to ask someone for help. They often incur additional costs of time and money . Even if the entrepreneur decides to use this solution, he must take into account the limitations imposed by the system on which the website is built. Wordpress does not allow, for example, to easily expand the portfolio and adjust each of its elements to your liking. Effect? A portfolio built in this way can appear average at best. Most likely it is ugly and therefore ineffective; instead of attracting customers, it will drive them away .
The easy way to have a great portfolio
However, there are a number of better solutions than WordPress, which from the beginning doom you to add and configure another portfolio subpage yourself. What tools are we talking about? For example, you can use BOWWE templates and run on them portfolio app to create a purse beautiful, professional and, above all, effective. Plus, you can do it yourself, from start to finish, without asking any developer for help! Our app is available for all templates at no additional cost. Do you want to try it? Create an account on BOWWE and choose the template that interests you! Everything will take no more than a few minutes!
Available at BOWWE, check out the free templates here!
What are the benefits of the portfolio created in BOWWE?
Fast and save time
Why is creating a portfolio on a website created with the BOWWE creator the fastest possible solution? The application, like the entire wizard, was created according to the idea of ​​"no code development", that is, programming without code. This allows people with no programming skills to create their own original pages. No need to pay subcontractors.
Don't have time to create your own website?
Use our ready-to-use templates or Contact Us and we will create a website that perfectly suits your needs.
Intuitive solution
Speed ​​is not BOWWE's only advantage. Another is the remarkable simplicity and intuition of operation. BOWWE is based on drag and drop technology. How is it working? Let's look at the example of adding a portfolio on an existing website:
Login to your BOWWE account
Enter your current page editor or add a new page.
In the editor, find the "Applications" tab on the left panel.
Go to the "Applications" tab, then right-click on the "Portfolio" icon
Move your mouse cursor anywhere on your website
By right-clicking again, put the folder where you choose.
Click "Add Portfolio" to add your work to your website
All you have to do is drag the portfolio icon from our sidebar to anywhere on the page, then drop it ... and voila! If you want, you can edit the look of the portfolio on the website. At will and without limits. Nothing prevents you from creating your own unique catalog of the best implementations, yours or your company.
Excellent appearance of your website on mobile devices
It doesn't matter if you create a website from scratch or use our templates; you can be sure that you will get a responsive website, that is, fully adapted to mobile devices. All of our applications also comply with the principles of responsiveness. You will be sure that your wallet will be displayed correctly on each device. Get ready for more visits to your website from smartphones!
No updates, no configuration, no more forgetting about backups
The Portfolio, like the other applications available on BOWWE, is fully automated. This means that it blends seamlessly with other applications, making your work easier. Plus, you don't have to worry about app updates, backups, or any other manual settings - we take care of it all! We provide full support to freelancers and small and medium-sized companies. No matter what activity you want to develop on the Internet, you will find everything you need and useful in BOWWE.
Higher search results
Do you have a business and want to use your portfolio to attract more clients? It's a great idea. And it will be even more effective when you ensure a high ranking of your website! Then you should know that the pages created in BOWWE are highly positioned. Why? The merit of this is our great care for the high quality of the HTML code in which we build websites. Our templates are based on the same high-quality code!
Remember! The quality of the code affects not only positioning but also, for example, fast loading. After all, you don't want the annoying user to leave your website before it loads?
Assistance in business development, sales and customer retention.
Portfolio is not the only application dedicated to companies, freelancers and everyone who wants to make money online! BOWWE offers its users a complete ecosystem of applications that work together efficiently and quickly. In our offer, you will find solutions that make it easy to publish coupons online, send a newsletter, add customer reviews or blogs.
Easily build from scratch
Are you freelance and want to create a portfolio website for your own concept? Or maybe you just like to design? BOWWE allows you to create unlimited projects. You can edit each of the elements to your liking. Plus, our assistant is constantly evolving - new features appear regularly, every month! Sounds complicated? If you need help, you can always arrange a free demo with us; We will show you how to use BOWWE effectively!
Ready to create your website?
Use the most convenient website builder, trusted by thousands of designers and create websites that will provide you with customers!
Flexible template editing
Why can we guarantee that our templates are effective? The answer is hard and systematic work. We created them thanks to the hard work of graphic designers, UX designers and programmers, and the whole process is preceded by more than 200 hours of analysis of the industry they are dedicated to. It doesn't mean that you can't change anything about them! We made sure everyone could customize them to their needs. Therefore, each element that the template is made of can be freely edited. And if you don't have time to edit the template, contact us and we will do it for you!
Multiple language options to choose from
In some industries, a multilingual portfolio is standard. In others, it can be an attractive addition to attracting clients, employers, and other portfolio recipients.
However, how do you create a portfolio in a second language? Do you have to create another website? What a waste of time! At BOWWE, you have the option to create your website in a multilingual version and switch languages ​​with one click. Also, think that a multilingual portfolio website will allow you to expand your audience and gain prestige! Don't forget that each language version is a huge new number of keywords your website ranks for. Thanks to this, you will grow rapidly in search engine rankings.
The choice is yours!
As you can see, the portfolio is a really beneficial instrument for the development of any company, no matter what industry you operate in and how many employees you have. If you've already made the decision to create a portfolio, you have many tools to choose from. Many of them have serious limitations or are not intuitive. If you choose them, you risk wasting your time or money and your portfolio will be weak anyway. Consequently, you will not convince your customers.
Or you can go for a solution: BOWWE. By using our application, you will create a professional and beautiful portfolio with which you will achieve your goals. Don't you want to invest money without coverage? Sign up for
BOWWE.com
and try our tool for free! And if you don't have time to create your own website, use
our templates
about
contact us
and we will create it for you!