How much does a professional and effective website cost in 2021? List of cost
By Karol Andruszków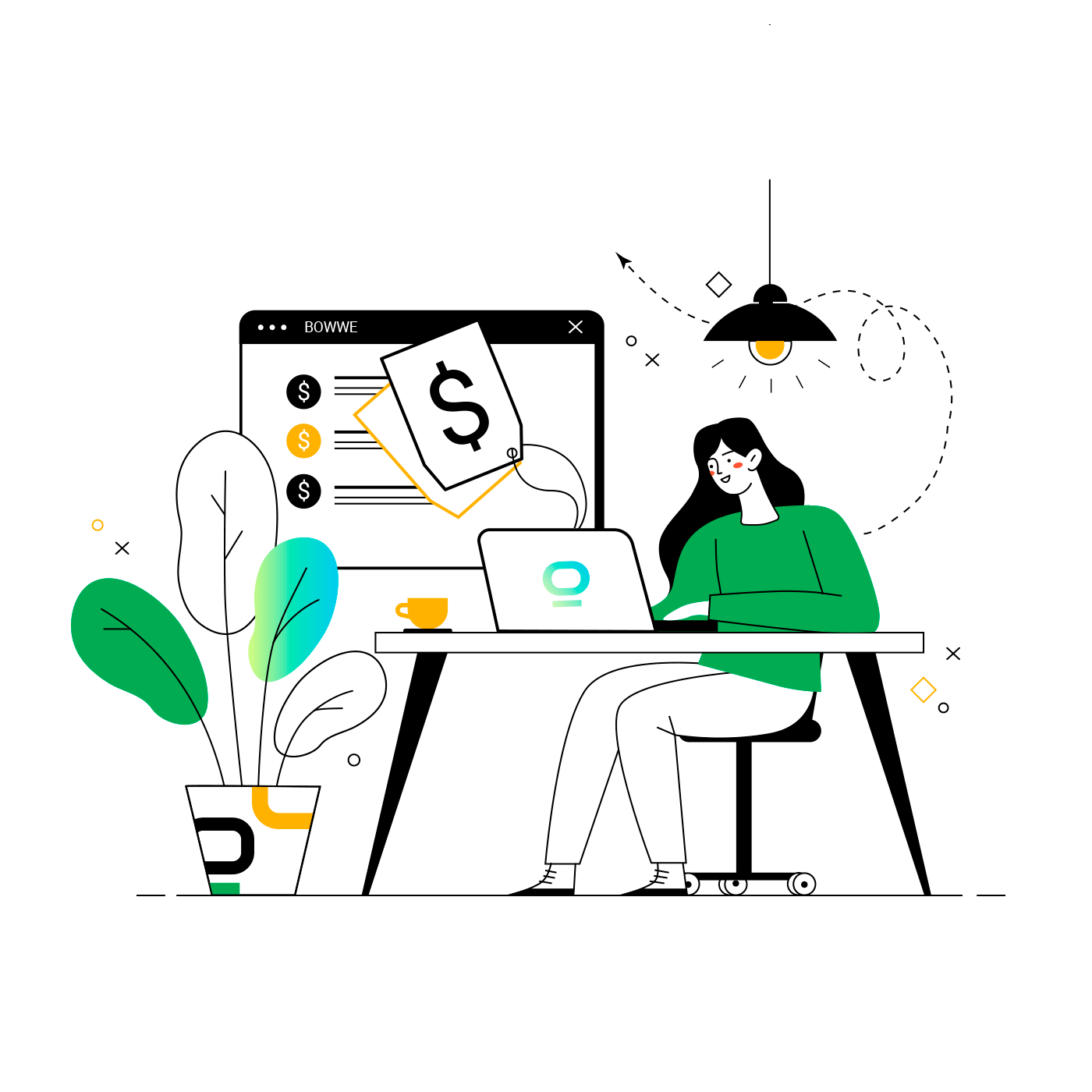 All branches of business are moving to the Internet today. Today's times are - so far - the best moment in history to proceed to your business online. Why? Thanks to better technology and website builders that do not require coding, everyone, even the smallest company, can have a professional and beautiful website. Prices and the time it takes to create the pages have also changed significantly. How much does a website cost in 2021 and who is best to entrust its creation too? Check what you should follow to get a profit-generating website.
The cost of a website depends on many factors. This article will discuss the most important of them and show you all the essential issues of creating a corporate website.
What happens if I unsubscribe from the website?
If you want your business to develop efficiently, you need a website. It is a sure and proven way to attract customers, increase turnover and generate sales. It will make you look like a trustworthy company, not a suspicious, nonexistent company. Perhaps you have not found any information on the Internet about a company you have heard about. You might then have been thinking: What is this company that doesn't have a website now ?!". Believe that you are not alone - the overwhelming majority of consumers feel similarly! We are used to the fact that we can find important information on the Internet about various companies' offers. Therefore, the lack of a website raises our suspicions.
Your potential customers, partners, referral customers and anyone else interested in learning more about your company will search the web for information about it. The website will be the first place they will find, so it must give them the best first impression. On its basis, visitors will verify the credibility of your offer.
Currently, having a corporate website is a must if we only want to stay in the game on the market. Are you wondering how much does a website cost? At the same time, you should also think about how much you can earn on it and how much you lose if you do not have a website adapted to your company's needs! You are most likely losing right now: first of all, refer new clients from your former or current clients. Sound unreasonable? Just think - almost everyone who receives a recommendation from a company checks it on the Internet first! Whether he or she finds reliable and attractive information about it (e.g. good internet user reviews or a professional website) depends on whether it will consider cooperation with such a company at all!
Without a corporate website, you also lose the opportunity to reach completely new groups of customers. And there are already a lot of these on the Internet. The number of them is continuously growing!
As you can see, a website's cost should therefore be treated as an investment that - made professionally - will pay off with significant interest.
What do you MUST remember before creating a website?
Before we go into the cost, you need to know that a good corporate website is first and foremost an investment.
As a cost, you can see an ineffective side that you will pay for and spend time on, and it will not bring you tangible results.
On the other hand, the cost of a website, assuming professionals made it, is very little compared to the possible future benefits you may receive from it.
You must remember that it does not matter whether you build a website for the company for free in the website builder or spend huge money on it if it is not created professionally. When making it, the marketing and development team will spend the right amount of time analyzing the company's industry and competition, rethinking the website's concept, designing it, and implementing specific functions. So many areas require the cooperation of the entire, competent team. That is why it is even more worth entrusting its creation to professionals.
A stunning website - a list of necessary elements
You already know who should make the website for you. But where do the price differences come from, which can sometimes be several times greater? In professional companies dealing with building websites, creating it depends primarily on its implementation and the work scope included in its offer. Below you will find an overview of all the most critical elements and components of a website. A fee may be charged and necessary to ensure its effective operation and achieve its business goals.
List of works necessary to perform a professional website:
Time needed to implement the
service
A side is to meet the key goals set before it and respond to your customers' needs. To precisely define them, before creating a website, you should perform a thorough analysis of your industry and competition
Visuals professional and beautiful graphic designs will allow you to distinguish yourself from your competitors and attract customers' attention
Most of the web traffic is generated by mobile devices. A responsive website will display correctly on screens of all sizes. It's a standard nowadays
Customer reviews, certificates, a professional portfolio, galleries, maps, product presentation, language versions of the website
These functionalities will allow your website to gain the trust of customers and generate more sales
30 min- 1h per 1 functionality
Relevant texts will interest your customers and push them towards the action you expect: booking a service, contacting or buying a product
Integrating the website with social media
Thanks to the enormous reach and strength of social media promotion, you will reach new customers with your offer
You can't forget about the permanent costs!
Every website must be managed appropriately to be as effective as possible. It generates administration costs, typical examples of which are hosting or server maintenance. Sometimes and not infrequently for a fee, the companies that create the websites also handle the administration. However, often this task falls to business owners. Below you will find a list of activities and services that generate fixed costs that you should take care of to ensure the effectiveness of your website:
List of fixed costs of website administration:
Statistics and analysis of website results
Analysing data will allow you to improve critical areas and continuously develop your business
Updating the website, editing, operation and control of its components
Guarantees quick, convenient and independent website management
Provides useful service that will save you from the hassle of possible defects.
Positioning will make the website more visible on the web and bring more traffic to it.
Hosting affects most of the parameters website usage, e.g. page loading speed.
We have already mentioned hosting. It is essential. The best hosting may cost a little more but is of utmost importance to almost all your website elements. The hosting depends on the page loading speed, PHP language support, efficient database, transfer speed, amount of space on the server, and well-functioning mail and the security of your sensitive data.
By commissioning your BOWWE website's creation, you will pay the most attractive for the highest quality hosting. By creating it yourself in our website builder, you will pay nothing - all fees are included in the subscription plan's cost.
BOWWE does not charge any fees for using our servers, or providing technical support, editing pages and updating them. What's more, the tool we created allows you to update them yourself easily. Services such as SEO or website business performance analysis are included in our subscriptions' price — no additional fees.
Besides - once you consult your goals and intentions with the contractor, you should select the website's appropriate functionalities. Often, for an additional fee, you can order:
comprehensive reports on its operation
analysis of business results achieved
adaptation for foreign-language users (thanks to a website with a multilingual function, new markets will open to you)
tailor-made promotional campaigns
applications supporting positioning (through opinions expressed by clients
modules integrating our posts into news feeds
real-time chats with clients and much more)
At BOWWE, you will receive all these functionalities in the subscription price.
Free website. Does it pay off at all?
Since a website's construction should be entrusted to professionals, do "free websites" have any raison d'être? Will it be at a decent level and help your business grow? Well, if you are currently absent from the Internet, even a free site will be a step forward. However, you need to remember that such a site will always have numerous limitations, which will not provide you with many additional benefits. It is still a better solution than the complete absence of the company on the Internet.
On the other hand, if you run a business, are a freelancer, blogger or internet creator, you should want to make the most of the Internet. Therefore, you need to take care of it to your page had the necessary capabilities such as:
high positioning
placing verified customer reviews
presentation of the catalogue of your products or services
unlimited server space, allowing you to expand the site's discretion
fast hosting, affecting page loading speed
and much more
Ready to create your website?
Use the most convenient website builder, trusted by thousands of designers and create websites that will provide you with customers!
How will you benefit from creating a website by choosing BOWWE?
Our mission is to provide micro, small and medium-sized enterprises with the best, ample opportunities for the effective development of their business at a time when critical areas of life are moving to the Internet or are already strongly present in it. We know that small or medium-sized companies usually do not have the knowledge and tools to develop on the Internet. They often lack the resources to hire an expensive marketing agency or learn complicated marketing, customer service and online sales methods. For such companies, we operate and provide our services, adapting them to the individual goals of each company.
At BOWWE, every aspect of creating a website is dealt with by groups of specialists:
graphic designers - who will design a distinctive design,
SEO specialists - who will ensure the highest positioning of the website on the web,
marketers - preparing promotional campaigns that drive sales on your website,
IT technicians - who take care of hosting and providing technical support in every situation.
We are committed to providing you with the website's quality that will generate real profits for you. That is why we offer a complete set of services, including website maintenance, help from our company on request or full implementation of any solution needed.
At BOWWE, you can choose the plan that's right for you, with various features. We provide four variants: ranging from a free website to very advanced, professional subscriptions, including the most effective solutions.
When building a website in our website builder, you will also have easy to use and practical tools. You will save time and money because what you would have to outsource to other companies or freelancers will do yourself without compromising the quality of the work. We have developed our tools so that they do not require IT or e-commerce knowledge from users. You can also hire a freelancer to whom you can commission work using BOWWE tools. It is only up to you which path to success you choose.
Even if you decide to entrust the mission of creating your website to someone else, remember - first, carefully introduce your needs to the agency (or trusted freelancer). Based on them, jointly set the goals of your website, in line with your business. Based on them, select the necessary functionalities to maximise the website's effectiveness and, thus, your company's profit.
What should you remember about this article?
If an entrepreneur is looking for development paths for his company, he should boldly take advantage of the full presence and promotion on the web. The Internet is a space for growth for your company. A professional website is a very profitable investment as it opens up tons of development opportunities.
You don't need to pay for a website. You can also pay thousands to create a multifunctional, professional website. The price depends on the time of work on the website, the tools used and the applications cooperating with it. A conscious entrepreneur whose goal is profit will, of course, calculate the costs. Still, we assure you that an investment in a professional website will bring disproportionately higher profits in the long run.
If you are looking for a comprehensive website creation service, contact us. We will provide you with everything necessary to develop your online business thanks to a professional website effectively!