Why does social media limit your promotional activities and how is it easy to avoid it?
By Karol Andruszków
Do you know that omnichannel is currently one of the most important trends in business? It is a strategy according to which you should be present with your offer in as many channels as possible, with a very important role in social media. The more the better because you'll be more accessible to your customers. It's not everything. Remember that all of your channels should work closely together. However, combining them effectively may not be easy. Fortunately, we have a solution for this.
The customers on the Internet are - unfortunately - very scattered. They are constantly migrating from one platform to the other. Of course, in some industries, some channels are more effective than others. For this reason, clothing companies are so eager to use Instagram - which allows them to use images to show stylish combinations of their products- and IT companies from LinkedIn - because that's where it's easiest to find partners and specialized employees.
1. Why is it hard for you to promote yourself and your web page on Instagram, Facebook, etc.?
Why is it not easy to promote the business account on Instagram, Facebook and other social media?
For years, we have been observing not only an increase in users of social platforms but also an increasing number of them. In the past, only Facebook was important, then YouTube, Twitter, Instagram (later bought by Facebook), Pinterest, LinkedIn, TikTok… Nowadays LinkedIn or Instagram business page can be more valuable for You than a Facebook profile!
Unfortunately, due to the increasing number of social media, their users - including your customers - are becoming more and more scattered. They move between the media, and it is harder and harder for you to catch them, encourage them with your offer, not to mention selling them!
This situation will only develop! Why? The reason is very simple. Social platforms are in competition with each other all the time. Some are rapidly gaining in popularity (such as TikTok), while others are losing their popularity even faster (e.x.: Snapchat). Moreover, according to research, we spend more and more time on social media. There is no indication that the situation will change any time soon. This means that if you want to promote and earn money on the Internet - you have to learn to use social media and promote business there.
2. Omnichannel - an effective sales strategy in social media.
It doesn't matter if you are a freelancer, blogger, you run a business, YouTube channel or you just want to earn money on the Internet - promoting you or your company on Facebook may not be enough to be seen on social media. And remember that the condition for rapid development on the Internet is expanding your reach - regularly reaching newer and larger groups of customers. You won't achieve this without an effective action plan across channels. In other words - you can't achieve it without an omnichannel strategy!
One of the conditions for an effective omnichannel is to make it as easy as possible to access you (or your company) and your offer. If you sell via a website, and at the same time run a YouTube channel and advertise on LinkedIn - your customers should quickly and very easily move between individual channels. The sooner they find what they are interested in, the more likely you are to sell them your products or services.
3. How does social media hinder customer acquisition? An example of links on Instagram.
Unfortunately, social media platforms are reluctant to support omnichannel activities. A great example is putting only one in bio on Instagram. Where does this limitation come from? As we mentioned, social media is constantly competing with each other. The most valuable for them is the attention of the recipients, i.e. - in other words - the time and commitment that users devote to the platform. So it's natural that they don't want users to leave them and switch to other, competing sites or platforms.
An additional difficulty in carrying out effective omnichannel activities is simply the lack of knowledge of how to do it correctly. This problem often affects entrepreneurs who, due to the specifics of their industry, must be present in many channels at the same time. They often lack the right tools (such as a landing page, instapage, or link aggregation on Instagram, which we write about later in the article) that will allow you to present all brand channels to potential customers in a quick and intuitive way (website, Facebook profile, YouTube, etc.) that can interest them.
4. BOWWE Micro Pages - a great bio link tool, which breaks social media limits
The limitations of social media - such as the link limit in the bio - can be easily broken, however. The so-called link aggregators, i.e. landing pages, containing all the links necessary for a given creator, freelancer, or business. In landing pages, the emphasis is on a graphically attractive design as well as clear, intuitive division and placement of links on the page. Why are these two factors so important? Such landing pages are the navigation center for users interested in the activities of a given company, freelancer, or creator. Therefore, they must be attractive and transparent - using them should save users' time and bring them only pleasure. Importantly, these tools work on the basis of templates, so anyone can create such a page on their own, without any help from a programmer (similar to BOWWE pages)!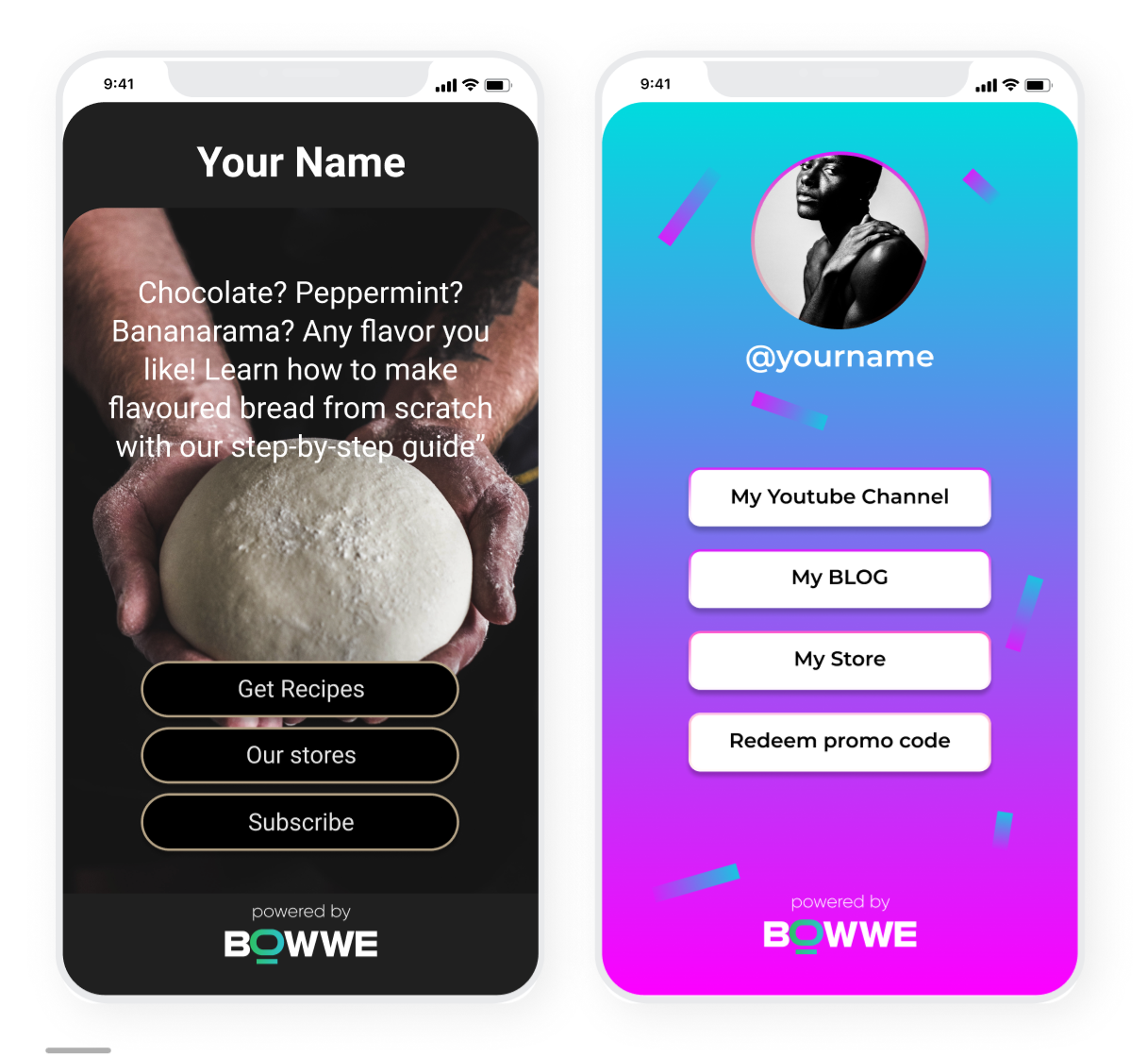 At BOWWE, we only create solutions that facilitate running a business and earning money on the Internet. In line with this principle, we have already built BOWWE Business Builder - an extremely simple, yet technologically advanced website builder that includes a lot of applications that facilitate online sales. So we could not be indifferent to link aggregators, especially as this solution is becoming more and more important!
So we designed our own aggregator - BOWWE Micro Page!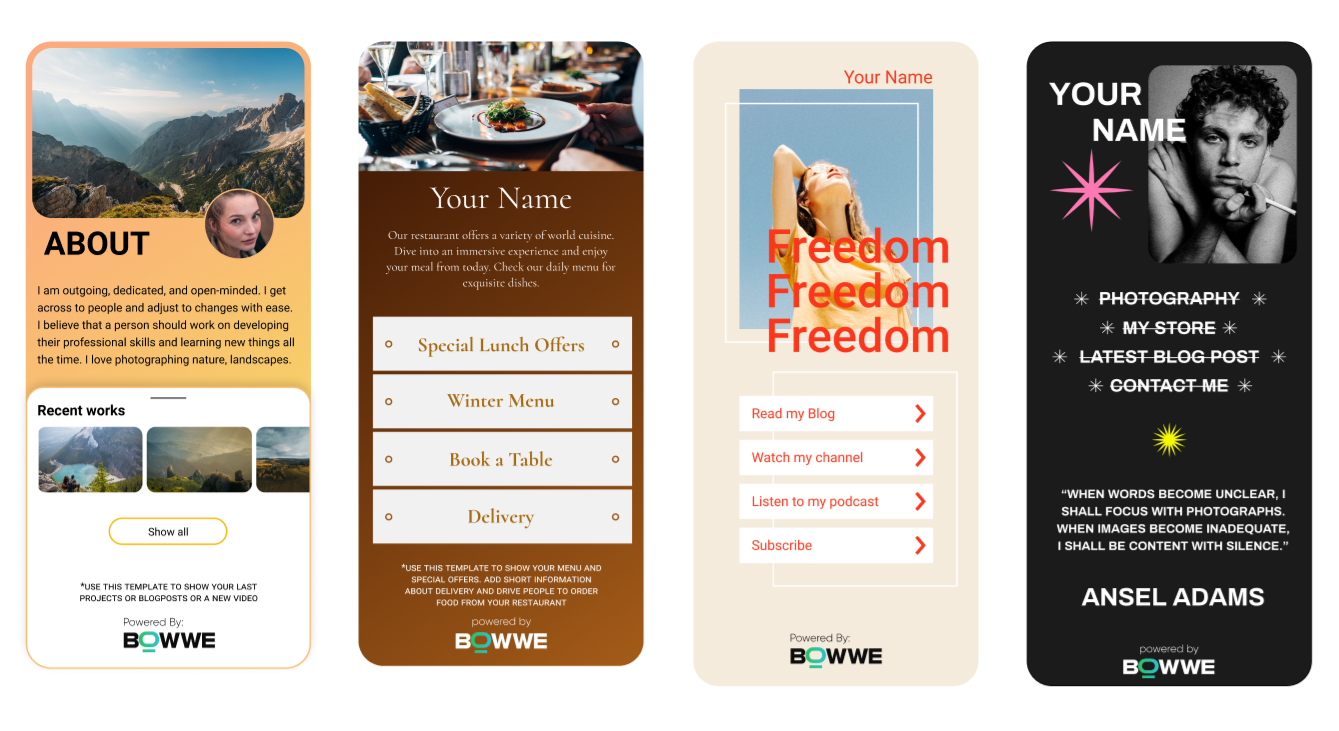 We wanted it to be easy to use, beautifully designed, very helpful, and immediately ctionable. This is how an intuitive and extremely effective tool was created, whose goal is simple: to overcome the limitations of social media and facilitate the management of online channels. With its help, you will effectively promote yourself on Instagram, Facebook, and all other social media, adding ALL the links that are important to you in your bio and other key places! It's the best, what you can put on your bio!
5. What results will you achieve with BOWWE Micro Page?
BOWWE Micro Page is dedicated to bloggers, YouTubers, freelancers, entrepreneurs, and all those who earn or want to earn money online.
Below we present the benefits of our tool. Regardless of whether you are:
Blogger / Vlogger
If your blog or YouTube channel is one of the most important channels in your business, BOWWE Micro Page will help you drive traffic more efficiently. As a blogger, you may be recording podcasts or creating courses, guides, and training that you want to sell. With the help of our tool, on one landing page, you will place attractive links to all pages where you offer products signed with your personal brand. It will also look a lot better than a huge block of text in a YouTube bio, with poorly visible links pointing to you (or an Instagram bio with only one link). If you also build a community around you, e.g. by running groups on Facebook, placing a link to BOWWE Micro Page in the description of the group (or in the post pinned at the top of it) will allow you to limit all other links and improve navigation through your channels. You will show your organization and professionalism. People will consider you an expert in your field.
Influencer
Modern influencers must be active in many social media at the same time. This is the foundation of their business and helps build a personal brand and community around them. So if you are annoyed that you can only post one link in your BIO on Instagram or TikTok - the BOWWE link aggregator is the solution. Thanks to this, you will bind the fans together more closely. Make it easier for them to track your activities and direct traffic to the pages they want, for example, a landing page with your course, a store with your products, or a fundraiser for an important purpose. Cool bio for TikTok is not a problem anymore.
Artist
Regardless of the field of art, it is not easy for budding artists to reach a wider audience. Platforms (Youtube, Bandcamp, SoundCloud, Dribbble, Behance, etc.) are indispensable in this, which allow your works to appear on the web. It is equally important to have an online portfolio (which you can also create quickly with the help of BOWWE) designed according to your individual style.
With the help of BOWWE Micro Page, you can easily direct all visitors to your portals and interested in your art to places you particularly care about. This can be, for example, a fundraiser for the release of your first album, on sites such as Patreon or Kickstarter. You will also be able to link to articles mentioning you in the media.
Freelancer
Thanks to the tool created by BOWWE, you will be able to effectively promote yourself on the Internet. You can put your portfolio, e-mail address, all social media profiles, and much more in it. This way you will show that you are organized, build the trust of your customers, and get more orders. The link aggregator can also be a great guide to your portfolio, showing visitors the most interesting projects!
Entrepreneur
As already mentioned, social media is an important channel for companies to gain customers these days. The key to increasing earnings is the effective use of the omnichannel strategy. Have you ever visited a restaurant's profile on social media like Instagram or Facebook, and you had to search for its menu in the photo folder? This is an example of bad use of web channels. With BOWWE Micro Page you will create a website that will quickly redirect your customers to:
Your website
Facebook profile
Instagram profile
LinkedIn profile
Corporate Blog
Online shop
Pages that contain important information (e.g. contact, price list, menu, locations, etc.)
BOWWE Micro Page is great support for every business account on social media. It can be used by any company that wants to promote its business and sell effectively on the Internet!
6. What MUST you remember from this article?
To sum up, today, carrying out omnichannel activities on the Internet - the key to effective earning - is limited by social media. Giants such as Facebook do not want to let users out of their portals and support possible competition. Unfortunately, this affects everyone who wants to promote their channels, such as their website, blog, portfolio, on social media. TikTok or Instagram do not allow the possibility of showing recipients links leading to many of our pages. Promotion of the company on Facebook, Instagram, etc. becomes difficult.