Creating an Online Portfolio Step-by-Step [Ready-to-use templates!]
By Karol Andruszków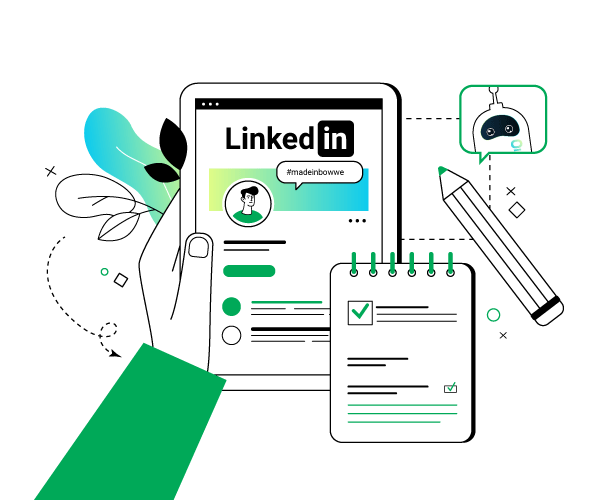 Online portfolio is the perfect way to present your professional accomplishments professionally and creatively
. At BOWWE, we know that a professional portfolio website increases your chances of gaining new orders, establishing cooperation with new clients, or finding a job. Therefore, this time we suggest how to quickly and effortlessly create an effective portfolio website that will arouse the interest of principals and recruiters.
Learn how to quickly create an attractive online portfolio using ready-to-use templates from the BOWWE Website Builder!
What is an online portfolio?
Who especially needs a portfolio?
6 Reasons Why You Should Create an Online Portfolio
In an age where online presence has become essential for everyone, having an online portfolio is necessary.
1. Huge time savings
2. The easiest way to present your offer
3. You will reach a much wider audience
4. Unforgettable first impression
5. Distinguishing and ahead of the competition
6. Certain customer trust
In which industries a professional online portfolio is essential? How to use them to develop your brand and business? If you want to know more about it, check out our article!
So what should your portfolio be like?
Creativity
Intuitive navigation
An excellent online portfolio should be dynamic, and browsing should be smooth and flawless. Users should be able to move smoothly between sections and also be able to reach your projects quickly. The gallery with projects is the essential part, which is the axis of each portfolio - therefore, access to it should be easy and visible. Overly long descriptions or unnecessary sections should not dominate the portfolio pageThe portfolio page should not be dominated by excessively long descriptions or unnecessary areas - this can effectively discourage visitors from staying on the site.
Infographics
Stay updated!
Do you think updating information in your portfolio is time-consuming? By creating an online portfolio in our website builder, you gain the ability to easily and quickly update with a few clicks.
Online Visibility
Having an online portfolio is the best way to attract new customers. Even the most beautiful portfolio site will not fulfill its function if no one knows about its existence. Therefore, it is worth taking care of online visibility and reaching the largest possible audience. By creating a portfolio in BOWWE, you gain access to functions related to positioning that will increase the visibility of your pages in search engines. Thanks to this, potential customers will quickly find out about your existence - all they need to do is enter the password related to your services in the search engine. Remember that in our website builder, optimization of your portfolio is automatic - so you do not need to have advanced SEO knowledge.
Responsiveness
Creating a portfolio of BOWW does not have to worry about this issue - our pages automatically adapt to different screens.
What tools to choose to create an online portfolio?
How to create a professional portfolio step by step?
1. Set a goal you want to achieve with a portfolio
Without knowing what you want to achieve with a portfolio, you will never achieve it!
The first and most crucial step to start creating any portfolio is to set a goal for it. Before choosing a portfolio theme (template), ask yourself a few key questions:
If you already have a lot of experience, a challenge awaits you - choosing the best projects. If you focus on one subject, e.g., you are a photographer specializing in wedding photography - it is worthwhile to diversify your photo gallery. So choose diverse photos. Thanks to this, you will create a visually engaging story that will interest a potential client and encourage him to discover more of your work.
2. Choose your best projects
3. Plan your structure
Our website builder gives you many editing options, so you can decide on the entire layout of your portfolio and plan everything accordingly. Here are sections that you can't miss in your portfolio, as well as tips on how to expand them and what information to include in them.
Home Page
What else to include on the home page? Remember that your name/nickname or company name should be prominently displayed. Thanks to this, customers will easily remember them, thus creating associations with your brand for the future.
About me
In this section, visitors have the opportunity to get to know you a little closer and learn more about your work, goals, values, ​​or interests. It's the most private part where you can introduce yourself. You can add your photo here, which shows that what you are doing is your passion. Then create a description that will interest your audience and will be easy to remember. Think about how you want to be seen by your audience and customers. Make your description sound like that! You can share the story of how your business started or what is your inspiration. Remember, a sentence or two about who you are and what you do is all it takes.
Gallery / My projects
Outcomes
Contact
An online portfolio should enable customers to contact you quickly. So don't forget to put your phone number or e-mail address in a prominent place. If you frequently visit social media, link to the channels where clients can contact you the fastest.
Trusted us
Ask customers for opinions and include them in your portfolio. There is no better way to confirm your skills than to post a section from Testimonials, i.e., recommendations from satisfied customers. The fact that others are willing to recommend you will surely inspire the trust of your audience. Make sure your reviews are authentic and add photos or names of customers (of course, after obtaining their consent). However, make sure that all opinions are genuine! Customers will quickly sense a falsehood, and then they will certainly not cooperate with you!
Integration with social media
Integrating the website with social media has a massive impact on the positioning. It is also an effective way to reach new customers and establish direct contact with them. So you need to ensure that your portfolio website is integrated with the social channels that are crucial for you. Icons referring to social media channels should be nicely designed and visible on the home page of your portfolio.
How to promote your online portfolio?
Use the power of social media to attract new customers with ease! Showing your works on social media is an entirely free way to promote yourself and your activities. Do you have a large group of followers on your business profile on Instagram, Facebook, or LinkedIn? Share a link to your portfolio there.
4. Choose a unique template
Create your own portfolio in BOWWE!