How to write a BIO on LinkedIn? 5 proven tips
By Karol Andruszków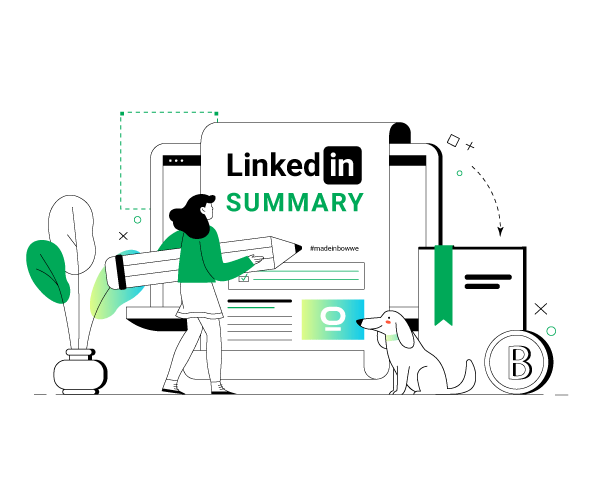 A business account on LinkedIn is necessary for most companies, especially in specialist industries. There is no other, so well suited to business communication - both internal (informing employees, engaging them in the company's life) and external (building the brand image) - a social networking site.
However, for the company's profile to fulfill its task (look professional, and arouse great interest), it must have a well-completed BIO. In this article, we'll show you how to do it best while standing out from the crowd. Enjoy reading!
In the beginning, we must remind you that LinkedIn is an entirely different portal than Facebook, Twitter, or Instagram. Solutions that work there are rarely appropriate here. LinkedIn is a portal much less used for conversations with friends and much more for broadly understood business communication and building your professional image. It is a professional portal, so your content published there must also be professional.
5 mistakes you must avoid on LinkedIn at all costs
Below we present a list of five mistakes you must avoid if you want to write a great BIO and build your company's best image. The advice given below will also help create company descriptions, wherever they should be presented briefly, concisely, and professionally.
First Rule: Forget Emoticons
As we already mentioned, LinkedIn is a different type of social networking site than Facebook, Instagram, or TikTok. Unlike the aforementioned, LinkedIn users don't use LinkedIn to connect with friends, find beautiful photos, or find fun content. LinkedIn is a portal where you build your professional image, look for a new job and get in touch with professionals from various industries. Such specificity of LinkedIn creates many advantages. Each company using it can use this portal to promote itself effectively on the Internet, become more recognizable, acquire new customers and increase sales. LinkedIn is an excellent tool for building trust in your business. With posts, graphics, videos, or articles, you can show how your company works, why you should start working with it, or choose it from the competition.
These differences result in a different way of communicating on LinkedIn. What works on other portals, on LinkedIn may be perceived as infantile. Therefore, an emoticon presenting a camera, which works well on Instagram, on LinkedIn, may be perceived as not very professional. You need to balance the content posted on LinkedIn and adapt it to the prevailing standards. Otherwise, your company may be perceived as unprofessional, which means - not worthy of trust. With emoticons, give up and take care of the professional nature of your business BIO.
Second Rule: Don't Be Too Serious
Remember that being professional doesn't mean being stiff. However, some people who want to take care of the most professional BIO do not keep even a bit of slack or humor, which is not a negative thing in the world of professional content on LinkedIn. A bit of slack, or a subtle joke woven into BIO, will show our company's human face. After all, you do not want your company to be perceived as one in which only robots work.
It is essential to keep a proper balance sheet. It is worth creating a description in which the professionalism is noticeable but will not be limited only to professional terms. Many people mistakenly build their professionalism by how many complex and industry-specific words are used. Take a look at the example below:
Our company has been involved in SEM, SEO, and RTB for five years. We offer display distribution models such as RON, ROS, and ROC. Our preferred billing method is a Flat Fee.
Who is this description entirely understandable for? How many people, after reading it, will be fully clear about what the above company does? A narrow audience from the industry certainly understanding this description, but is there anyone else?
That is why a professional description should also be understood as an understandable and legible description for the majority. Admittedly, it is sometimes impossible to escape from specific, more professional terms. Nevertheless, it would be best if you always remembered the transparency of your message.
Remember: the customer needs to feel that you are sending your message directly to them. He must think that he is the addressee of your words. This makes it much easier to convince him to buy. Moreover, it will allow you to start building a relationship with him. You will increase the trust that he places in you. Why is it so important? It's easy. A customer who doesn't trust you will never buy anything from you.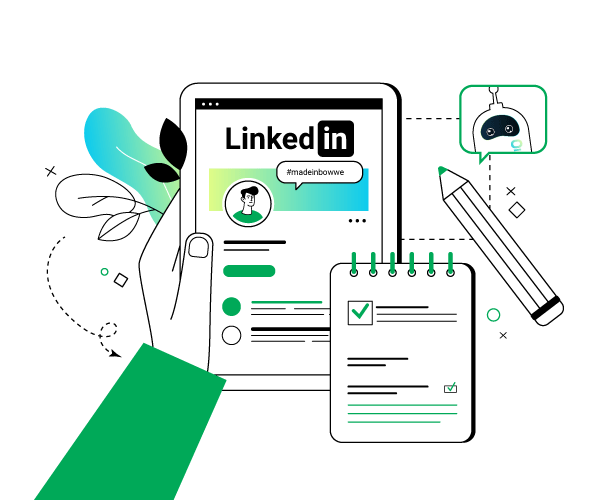 Third Rule: Don't write too much
Although LinkedIn is a place where longer texts, such as professional articles or industry analyzes, are most in-demand, BIO is not a good place to put long content there. It also does not mean that BIO must consist of just a few words (don't go to extremes!). Remember, however, that if you want to entice (not bore) your audience, a multi-page description of your business will be a terrible solution. This way, you will alienate someone who wants to know something about your company from the very beginning. Nobody has time to read such long texts these days!
For greater reading comfort, it is also worth taking care of the aesthetics of the content. Format the text, divide it into paragraphs, enter bullets, etc. Make reading your BIO easy and pleasant so that the potential customer remembers as much as possible from the read text.
Ready to create your website?
Use the most convenient website builder, trusted by thousands of designers and create websites that will provide you with customers!
Fourth Rule: Don't be too modest and show off!
Although bragging is perceived negatively by people, BIO is where talking about your successes and distinctions is the most appropriate. Therefore, at BIO, do not be afraid to present:
Awards received by the company in various competitions - Awards, medals, and laurels attract attention, promote the company, and build its positive, professional image.
Your biggest clients/contractors - Large, recognizable brands influence potential clients' imagination and build trust in the company. If you have worked with a recognizable company, others will automatically trust you more.
(Big) Numbers - If your company is involved in, e.g., trading and has many products sold - you should tell about it! You will then introduce yourself as an experienced player in the market. Also, service companies should be proud of the number of performed services or completed transactions. After seeing these numbers, potential customers will think: Many people have already bought/used their services and are satisfied. So I have nothing to fear!
However, if you do not have spectacular numbers or do not participate in competitions - do not worry! Present what your company has the best to offer. If you have been operating for many years - say so. If you specialize in rare activities - don't be afraid to show it off. Try to present the value that your customers receive thanks to your company in the most attractive way.
Fifth Rule: Tell what your company cares about!
Of course, the overriding goal of any business is to earn money. However, in modern times, consumers look favorably on companies that also try to carry out a specific mission to benefit others. These can be, for example, ecological activities or activities supporting the solution of local problems.
Therefore, in addition to successes, you can also tell about the values, goals, and ideals that guide your company. Show that your business is much more than just a way to earn money. Tell about the fact that you promote, for example, a healthy lifestyle, conscious shopping, or support the development of technology in the region. Contemporary customers attach themselves to such values ​​as environmental protection, a healthy lifestyle, etc. By talking about such matters ​​and showing that they are also crucial for your company, you make the customer, choosing from your competitors, easier to identify with you. Tell BIO what goals your company is facing, what you are striving for, and your adversities.
BIO and a professional company description will be helpful not only on LinkedIn but also on your website. If BIO and your profile are your company's showpiece on LinkedIn, then your website is your showpiece all over the Internet! So it's much more critical and should be at least as professional as your LinkedIn profile. All this to build trust in your company among potential customers, collect leads, increase sales and develop your online business.
On your website, you can use the same BIO that you used on LinkedIn. However, if your entire website looks, for example, unprofessional or outdated, your BIO will do nothing for you - your entire website will scare customers away. Here's how you can quickly fix it!
BOWWE Templates - the easiest way to improve your website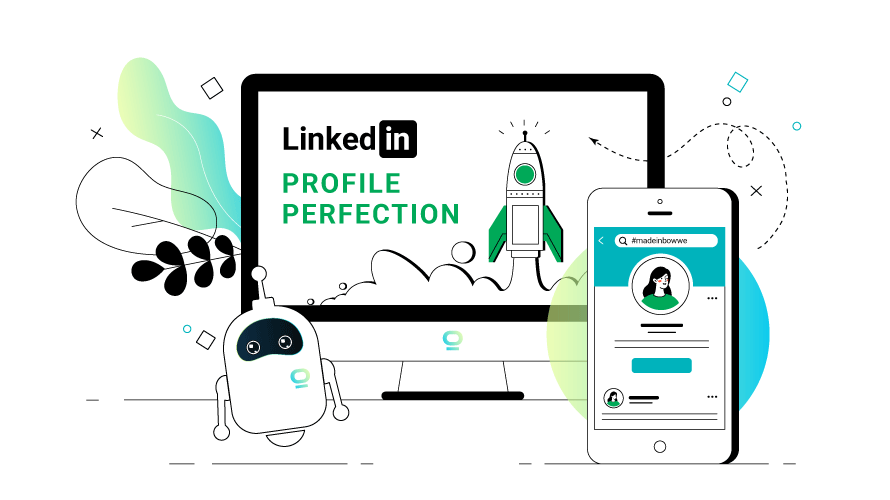 If you are thinking about setting up or refreshing your website and want to do it quickly and efficiently, you should use
our templates
!
The templates are so well suited to various industries that you need to put your company logo on them and insert your photos to act as your website successfully!
Their effectiveness is guaranteed because we created each of them after several dozen hours of careful analysis of the industry to which it is dedicated. For example, if you run a hairdressing salon/barbershop and decide to choose templates dedicated to
hairdressers
or
barbers
. You can be sure that they contain everything that can be useful on your website. They were created after a careful analysis of the industries, so you will find everything you need in them. Examples: application for booking visits to your salon, the possibility of buying cosmetics online, or a photo gallery presenting your salon or hairstyles made.