How much do you lose by neglecting the meta description on your website?
By Karol Andruszków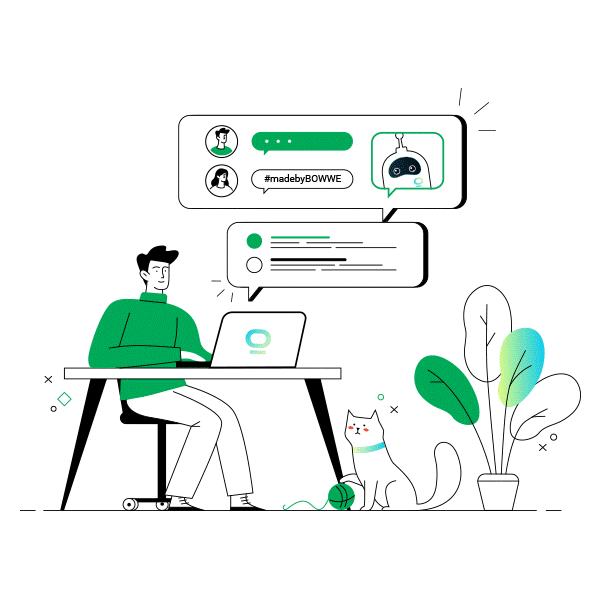 Do you know what a meta description is and what role it plays for your website? Would you like to learn how to write compelling meta descriptions according to search engine guidelines but don't have time to learn SEO? You don't need to be an expert to position your website effectively among the top search results. That is why we have prepared a short guide in which we explain in an accessible way what a meta description is and suggest how you can create a compelling meta description for your website.​​​​​​
If you have a website or online store, you probably know how important it is to optimize your website for search engines effectively. When setting up a website, we often focus on the content itself, paying attention to product descriptions' correctness or optimizing photos. However, the content on the website is not everything. SEO elements, which are most often forgotten, are meta descriptions.
What is the meta description?
A meta description is an element that helps identify your website in search engines. In other words, it is a summary of the content on your website. The meta description content is displayed on the search results page (called. SERP - Search Engine Results Page), to which the user is redirected after entering a particular query. You can locate it under the meta title and URL.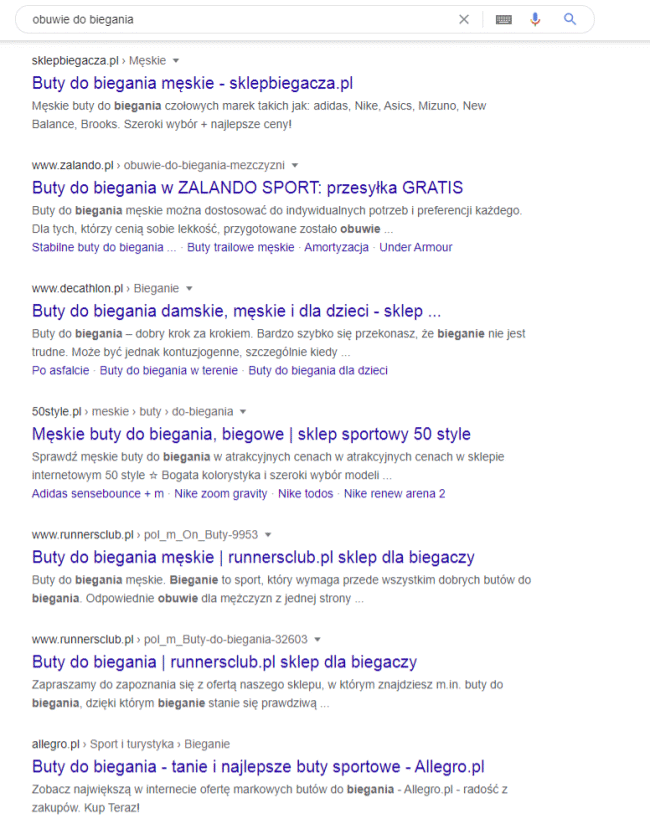 The blue headers are title tags, that is, your web pages' titles. The meta descriptions are just below them. The page's meta description is usually limited to 2 lines with a maximum width of 600 pixels.
Ready to create your website?
Use the most convenient website builder, trusted by thousands of designers and create websites that will provide you with customers!
Where can you find the meta description in the code of your website?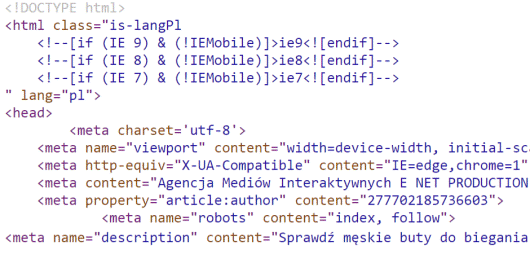 In the web browser, select "view" from the menu, then "page source," "edit," and "find." Now type meta description and hit enter. This way, you will check if your website has a meta description and what it looks like.
How long should the meta description be?
According to search engine guidelines, the meta description should consist of a maximum of 160 characters. It is even recommended not to exceed 155 characters, including spaces. For comparison, the meta description should not be longer than the tweet. You should pay attention to this because too long descriptions will be automatically shortened anyway and thus cut off in the middle of a sentence - which, of course, should be avoided.
Meta description vs. meta title - what's the difference?
Be sure not to confuse the meta description meta title, heading in the results list that appears in the search engines, just above the description. The meta title is the first thing that catches the eye of the user before entering the website. Contrary to the meta description, the title is treated as a ranking factor. The meta description is a smaller pixel, albeit longer text that is only an extension of the title. However, remember that both the meta title and meta description form a coherent whole and become part of your positioning strategy. Properly written encourage users to enter the site.
What is the purpose of using meta description?
The meta description is a kind of showcase of the website. First of all, it should catch the user's attention and encourage him to visit the website. If a user reads an informative, clear, yet interesting description, they will feel encouraged to act, and the chance of entering the site will increase.
What is a practical meta description?
First of all, it appropriately influences the user, encourages him to enter the website and guarantees its popularity. If you want to meta description fulfill its role, make sure it's short and concise. It should also clearly and convey what the user can expect after entering the website. Thanks to this, the user will know what users can expect from services or products. It is also a good idea to use the so-called Power words, strengthening your message. Words such as new, comprehensive, economical, fast are intended to evoke appropriate emotions in consumers and encourage them to act, e.g., make a purchase decision.
Does the meta description affect positioning?
It used to be assumed that meta descriptions influence ranking in Google. That is why many people wonder if a meta description can help you achieve a higher rank in search engine rankings. Currently, after updating the algorithms, it is proved that meta descriptions do not have a direct impact on the positioning. As a result, meta descriptions are often considered invalid, and thus they are sometimes omitted when creating or optimizing a page. However, this is a big mistake because a good meta-description attracts users and encourages them to visit your website.
What does the meta description affect?
The meta description has a real impact on increasing CTR ( Click Through Rate), i.e., the click-through rate. As we've established before, a compelling meta description summarizes the page's content, which helps the search engine viewer decide whether they want to look at a particular page or should head elsewhere. Remember - the website does not have to be immediately high in the search engine ranking to be well perceived by visitors. If a site becomes popular, search engine algorithms will also determine it as valuable over time. So an effective meta description can make a big difference to your website's visibility in search results.
What if you do not include the meta description?
If you forget to enter the meta description for your page or it is too short, search engines such as Google will generate the description themselves by downloading random content from your page. Why is it better to avoid it? The meta tags created by the search engine's algorithms are not very interesting and engaging for users. Self-description will be much more understandable to them than automatic meta description. If you do not plan to complete the meta description for some reason, nothing like that will happen. Google and other search engines can analyze the available content on the website in such a way that they can generate meaningful-sounding titles and descriptions. However, remember - the text fragment on your website selected by the search engine does not necessarily have to describe your business area accurately. Moreover, it is unlikely to be distinctive text that will encourage the user to click on the link. So you need to be aware that by resigning from adding a meta description, you lose the chance to improve your website's visibility in the search results.
Stay up to date with changes in algorithms.
SEO is an area that is still evolving, so you cannot apply one rule for many years. Search engine algorithms are periodically updated, so it's best to check positioning news regularly
. However, this does not mean that the knowledge you have acquired will be useless in a moment. The case of meta descriptions is a perfect example. Although they lost influence on positioning, which caused controversy around this topic, they did not become a redundant element. They are still important, for example, from a marketing point of view. Who knows if they will not be indicated again by search engines as necessary one day. In such a situation, we will certainly inform you about it on our
blog
!
Meta description - what do you need to remember?
Let's summarize what the meta description characterizes, its effects, and what it should look like.
The meta description is an integral part of the result of any search result (search snippets) and is found in the page code;
is a page title extension ( meta title);
it is a concise and unique description of the content of a given website;
its length should not exceed 155 characters;
properly formulated, it should encourage users to enter the website;
it doesn't matter to your search ranking, but it does matter to your users - so it should look good.
A well-written meta-description is the first step towards attracting Internet users to your website. Compelling descriptions give you a brief overview of what the page is about and a compelling reason to click on the title tag. While they are no longer of great value from an SEO point of view, they translate into marketing. Well-described meta descriptions generate organic traffic. Content that interests the user prompts him to visit the page. More interested people mean more page views. And this, in turn, is information for search engine robots that the website is valuable and presents exciting content. While the meta description's role has changed, we cannot deny that its use is essential. It can provide direct traffic to a specific website.
Want to easily set up your own website, landing page or online store? Create an account at BOWWE and use our website builder! Create whatever you want online, without writing any single line of code!