Audit SEO - everything you need to start boosting your SEO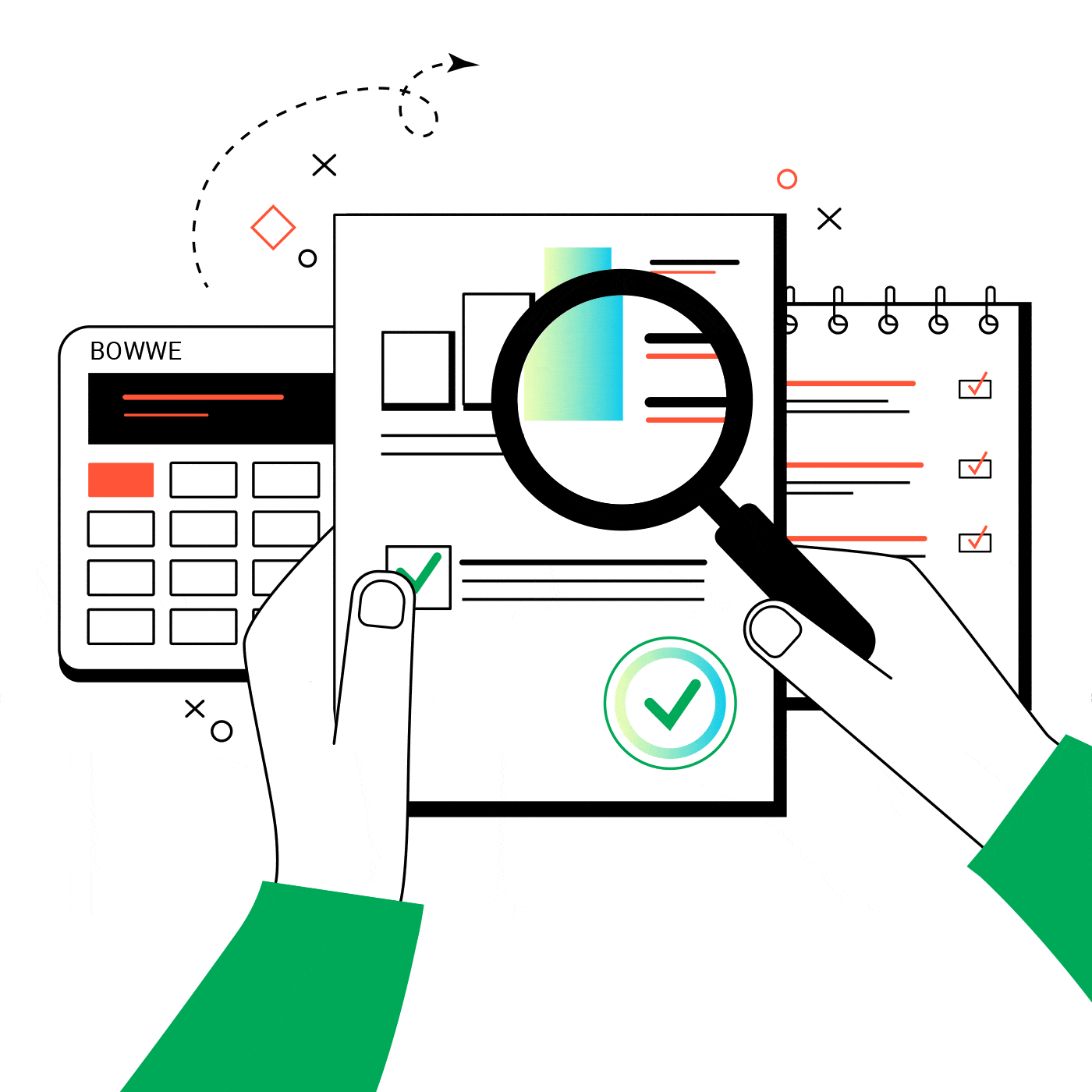 What is a professional SEO audit and how does it affect website positioning? Comprehensive audit and optimization will improve the visibility of your website for search engines. This may place it in the top 10 search results in the Google ranking. Find out how to carry out a step-by-step audit and what SEO tools are best for it. At BOWWE we know how demanding the optimization process is,so we will tell you what to look for when conducting or commissioning an audit. We will also talk about basic SEO concepts and the benefits of website positioning for your business.
Where to start an SEO audit?
Let's face it: there are many methods of doing an SEO audit. Whether you're starting your first business or running a small or medium-sized business, trying to optimize your website for organic search, it can be hard to know where to start. At BOWWE, we know how important an effective website is for business, so we will advise you on how to analyze your website in terms of SEO and what tools will help you with this.
Who is the SEO audit for?
Nowadays, practically every company is aware that taking care of the website's position in the search engine can help in gaining a significant advantage over the competition. If you have doubts about whether it is worth paying attention to visibility in search results, try to answer honestly the question: "Which results in the search engine do you click on most often after entering the password"? They are probably not items on the third or fourth page of searches. What draws your attention is probably the TOP ten positions on the first page of the results.
SEO audit - definition
To prepare for an audit, you first need to understand what exactly it is. An SEO audit is a website analysis that evaluates the visibility of individual website elements for Google crawlers (or other search engines).
What does the audit look like and what does it consist of ? This is a list of errors along with tips on how to fix them. Thanks to this, you will know what exactly should be improved on the page to achieve the highest position in the search results. The audit allows you to determine the target appearance of the website and also sets out the steps to be taken to achieve this goal. It is an inseparable element of SEO activities based on positioning and optimization. To determine a page's ranking in search engine (Google, Bing, Yahoo, Yandex, etc.), the search engine's algorithm must evaluate it. It takes into account a very large number of elements that are on the page and are important in terms of SEO.Sometimes the analysis may even cover more than 200 items. Some of them are directly related to the content of the page (on-site), e.g. meta-tags or headings. There are also factors that also significantly affect positioning, but we cannot fully control them. This is anoff-siteactivity. These are, for example, links coming from other websites, or sharing and mentions of our website, e.g. in social networks.
What does a comprehensive SEO audit include?
A comprehensive website audit covers the technical side (visibility for robots, eg Google), construction (information architecture), and the entire content on the website.
A sample website audit includes:
examination of elements on the website for SEO,
analysis for optimization,
a list of the website's strengths and errors to improve,
guidelines on how to fix errors and optimize the website,
identifying potential areas where problems may later arise.
What elements are taken into account when performing an audit? Most often, an SEO audit is related to two levels: on-page and off-page SEOthe meaning of which will be explained in this article a bit later. First, however, it's worth understanding what SEO means.
What is SEO?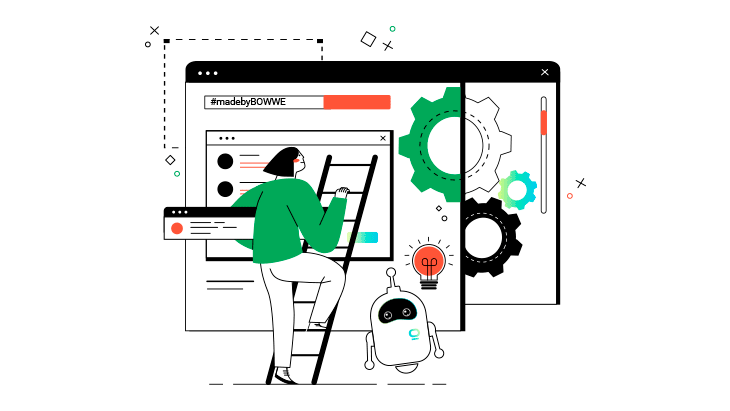 According to the definition of SEO, it stands for (Search Engine Optimization), i.e. search engine optimization. If you want your website to rank high in organic search results, SEO will help you achieve this goal. SEO is the process of optimizing online content so that a given search engine displays it in the best results for selected keywords. At BOWWE, we treat SEO as an integral part of online marketing, which is why we not only create pages but also focus on making them appear in search results.So we are happy to share our knowledge about the benefits of website positioning for your business. Let's start the SEO guide by explaining what areas it covers and how SEO differs from positioning.
SEO vs positioning - differences
SEO and positioning are often treated as synonyms. However, although these concepts are related, do not confuse them as there are some differences. SEO mainly relates to improving on-page content and is part of the SEO process. With the help of SEO activities, you can achieve the goal of website positioning. Along with SEO activities, we often take other steps to increase the position of our website in search engines.
To position your website, you should first of all take care of:
appropriate optimization of the HTML code
optimization and creation of content in accordance with SEO, i.e. taking into account relevant keywords and with the placement of appropriate headers
creating a well-functioning mobile version of the website
creating a clear and understandable structure of the website (a division of content into appropriate subpages)
obtaining links (publication of articles on industry portals, cooperation with portals)
What scope of activities does SEO cover?
There is a technical SEO, which, as the name suggests, mainly involves examining the website from a technical point of view. It is a sphere invisible to the user, but extremely important for Google, Bing, and other search engines. To be visible to robots, the page must be properly indexed. It depends on how the robot "sees" the page whether it will be noticeable to the search engine and users.
What elements are included in on-page / on-site SEO?
On-page SEO is "on-page" positioning. As the name suggests, it is an analysis of all elements and processes that occur within the page, e.g. internal linking, page structure, metadata, titles, URLs, adaptation to mobile versions, etc. These are examples of parameters that will later affect the page's position in Google ranking. On-site optimization makes it easy for algorithms to positively evaluate the content of your website code. These are elements that we have total control over and can change. Perhaps that is why, after the audit, what is happening inside the website is taken into account as the first step to creating an optimization plan. On-site optimization results in a quick improvement in the visibility of the website in the search engine, causing the website to frequently change to a higher position and that it will be much easier to position in the future. If we ignore the SEO audit and optimization in this area, all our future activities will simply have much lower results.
The main areas of on-page SEO include:
Increasing the website accessibility for crawlers. These are Google robots that scan the content of the page and then place the relevant information in the search engine index.
Appropriate planning of the structure of subpages and arrangement of internal links.
Posting valuable content, the so-called quality content that will educate and inform recipients. You should not forget to include keywords in the content so that they can be easily found by search queries.
Testing the quality of the website code (HTML, CSS, Javascript, ...), optimization of elements that improve the speed, efficiency, and appearance of the website.
To ensure the correctness of the code, all errors should be eliminated. Clean code means there are no error warnings on the page. It is also important that your website does not contain an unnecessary amount of elements that are not needed in everyday use. Therefore, in order not to interfere with the operation of the website, it is best to limit the number of libraries, plugins, or applications
What is off-page / off-site SEO?
These are activities that go beyond what is happening on the website, and therefore are more difficult to control. Off-site SEO is any activity that takes place on other portals, apart from the website. However, it has a huge impact on the positioning of our website. The main areas are external linking, that is, all links that refer to the page. That is why one of the key areas of SEO is link building. However, remember that they should be valuable, i.e. come from reliable websites. It is best if they are thematically related to your website. These activities are designed to build a strong position of the website in the community of your industry. Gaining valuable opinions, mentions, or shares in social media has a positive effect on the authority of the website and is a signal that your website can be trusted.
Ready to create your website?
Use the most convenient website builder, trusted by thousands of designers and create websites that will provide you with customers!
What are the benefits of an SEO audit for your business?
The assumption of the SEO audit is to analyze the technical parameters of the website that affect the positioning of the website. The main goal is a website that is friendly not only to Google robots but above all to potential customers visiting your website. A professional SEO audit will determine what you need to do for your website to find its place on the Internet per modern visibility standards.
An audit is the first step in website optimization that will help you plan the next stages of work on the website in terms of SEO.
Thanks to optimization, you can easily implement your company's marketing strategy.
Higher visibility of the website in Google rankings
Visibility is the sum of page views for all phrases for which it positions itself. Achieving good visibility in the search engine is one of the main assumptions of SEO activities. They consist in increasing the number of key phrases for which a given page is displayed. However, the next step is to increase traffic to your website from these so-called phrases. organic traffic. This means that we keep adding phrases to higher and higher positions until we reach the top 10 search results. Thanks to such activities, more and more potential customers appear on your website. As a result, sales and conversion increase, because more traffic means more chances that a potential customer will stay longer on the website and make a purchase.
Increase in sales thanks to internal links
Internal linking is all links on your website that refer to its pages. This is an important part of the SEO process for related keywords. Reference to specific products, services, or topics speeds up their indexation. For example, in e-commerce stores, it is often used in the so-called Cross-selling. This is a method of proposing additional purchases of other products on offer. Both Google and users perceive this as a natural way of recommending. This is a way to generate sales and improve internal linking on your site.
The website is fast and user-friendly
How does the page loading speed affect the position of the page in search engines? If the page loads quickly, preferably less than 3 seconds, it means that it is user-friendly for users who will want to stay longer or even come back. It mainly affects the so-called page conversion. Slowing a page down by as much as 1 second is of great importance and can cause a significant drop in sales. If the page takes too long to load, the user loses patience and exits the page. This increases the page bounce rate. A high bounce rate has a very negative impact on the visibility of your website in the search engine. Google's algorithm classifies such pages as unattractive to users and rejects them in the rankings. Your website loading speed has a huge impact on conversion. A page that converts well is an otherwise effective website that inspires trust among users. Each company strives to build lasting and positive relationships with customers. However, imagine that a customer who wants to make a purchase on your website has to wait for it to load. What will his reaction be? He will likely lose his patience and purchase from competitors. In order to avoid this, it is necessary to rethink the structure of the website and plan each element so that it is user-friendly.
Website builders and CMSs - influence on positioning
Website builders or CMSs allow you to create pages without coding. If you decide to go with one of the popular content management systems (CMS) such as WordPress, Drupal, or Joomla, you need to spend time maintaining the website. CMSs offer many opportunities for website development. Their advantage is the fact that you can do a lot of things yourself and learn a lot thanks to them. However, if you run a small business, you might not be able to find the time. As a result, you may need the help of a specialist for more advanced activities, which may not always pay off. You can also choose to use wizards such as WIX or Squarespace, which is the easiest and fastest way to create a website. A definite plus of wizards is that you don't need to have coding skills. Many small businesses choose to use this option because it is convenient. Unfortunately, the positioning issue is not very good in this case. Is it difficult to optimize the website created by the creator? Well, the main reason is the lack of access to the servers. As a rule, website builders use technologies that are not SEO-friendly. As a result, your website will not be visible to search engine crawlers.
Both CMSs and wizards have their advantages and disadvantages. Is there a golden mean - a solution that takes into account the issues of positioning your website?

It is certainly important to pay attention to whether a given company, apart from ready-made templates, also offers comprehensive SEO assistance when choosing a wizard or other tool. At BOWWE, we offer full SEO and optimization support. We not only create beautiful and user-friendly website templates but most of all we care about the functionality of every element of your website, constantly looking for improvements. We ensure the correctness and cleanliness of the code, good quality servers, and support at every stage of optimizing your website.
Step-by-step SEO audit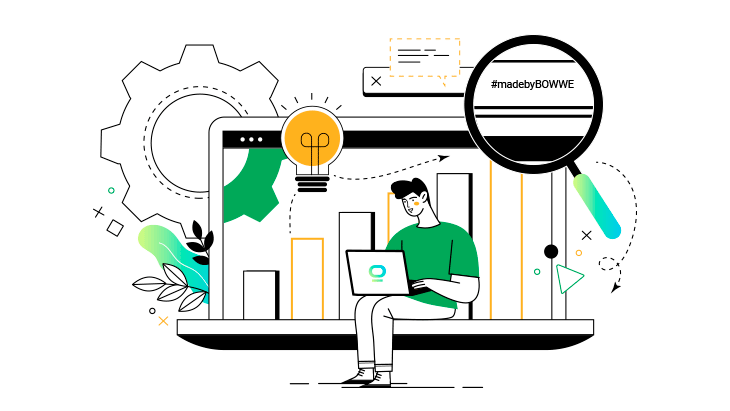 Let's take a look at what the audit looks like at individual stages and what exactly the website elements are subject to technical analysis.
The website analysis performed as part of the SEO audit covers three main areas: domain parameters, links, and content on the website:
Step 1: Analysis of the domain parameters
Because the domain has a large impact on the position of the website in search engines, the analysis of its parameters is the first important step that you must take into account when auditing the website. It is easy to skip this step because it is invisible to the naked eye, yet it has a significant impact on the effectiveness of SEO processes.
domain name- the internet domain should have a name compliant with the DNS (Domain Name System) rules, i.e. the network name system that responds to domain name queries, e.g. the name pl.wikipedia.org is subordinated to the IP address 91.198.174.192. Internet domains consist of a root name and an extension (i.e. a URL ending, e.g. .com, .net, .org, .biz, .info.) It is the domain name that allows you to locate the network, so it should be easy to remember and unique, to stand out from the competition. Therefore, it is best if it is short and does not contain too complicated phrases, hyphens, or numbers that may affect its legibility.
domain history - what and where happened before with our website before we bought the domain. If we do not check its parameters and history, it may result in problems with the positioning of our website. Therefore, before registering, you should check whether the domain has been used in the past by illegal, unprofessional, or unethical parties.
popularity it can be measured with the Alexa ranking or with other tools that show us the estimated traffic and the number of phrases in the top 10 or top 50. The Alexa ranking shows where in the world a given page is - the smaller the number the better.
page speed- we can measure it using the Google tool - PageSpeed Insights, which is reliable and frequently updated. A scale from 0 to 100 is used here, taking into account the division into desktop and mobile versions.
adaptation to mobile devicesdue to the huge popularity of mobile devices, nowadays every website should be displayed on smartphone screens without any problems. However, as you know, vertical smartphone screens differ from horizontal computer screens. For the website to be displayed correctly on both mobile and desktop devices, it should be responsive, i.e. adapted to various types of screens. Responsive pages intelligently adapt to the screens on which they are displayed, without the need to create several versions. Whether a site is mobile-friendly can be easily checked at https://search.google.com/test/mobile-friendly. If, on the other hand, you want to be sure that your website is responsive - create an account at BOWWE, create your professional website, or outsource it to our team of specialists. All websites built in BOWWE are adapted to mobile devices.
XML map indexation/generation- make sure your site is properly indexed. To check it, type the command "site: address of your page". This is also possible in the Google Search Console tool, which will show us suggestions for fixing in case of errors. To avoid indexation problems, it is best to add the previously created sitemap to Google Search Console.
Remember that if you use BOWWE services, you don't have to worry about aspects related to the optimization of your website.
We provide ready-made solutions, e.g. automatic map generation, so that you do not have to install anything and thus burden your website with unnecessary plugins. We make sure that your website is user-friendly, so you do not need to adapt it to the mobile version or improve its speed.
You get it all right from the start!
Step 2: External Linking
We divide links into internal, which are placed within the website, and external, i.e. leading to your website. Professional analysis of the link profile created during the audit should take into account:
the number of links that lead to our site - we must take into account here that Google, DuckDuckGo, and other search engines value links that are natural, so if too many links point to our site in too short a time, it may have negative consequences for your website's position in search engines.
brand or generic words- it is good if the links pointing to the website include the brand or generic words, i.e. those containing the name of the company or service.
external links- it's good if they lead from pages related to ours. However, a good link profile should be diverse and include links from a variety of sources. These can be links from (contextual) articles, footers, comments on forums, posts in social media, or other websites.
URL Rating (UR) - the strength of the external and internal link profile. It is given on a 100-point scale. The higher the UR level, the better the website's position in the search engine.
Domain Rating (DR) - the strength of the external and internal link profile. It is given on a 100-point scale. The higher the UR level, the better the website's position in the search engine.
backlinks - sum of all external links. Even those from a single site are taken into amount.
referring domains - the sum of all external links. Even those from a single site are taken into account. referring domains - this is the sum of the links referring to our site, but this time unique links are taken into account. This means they are counted as one if they come from the same page.
Step 3: Technical content analysis
It is worth checking all content on the website, e.g. articles for SEO correctness. Most of the subpages should contain elements:
title, or tag - information for users, but also search engines about what is on a given page. We can see it in the search engine. When we enter a keyword, we will see it in the top bar of the browser or the code. Its optimal length is 50-60 characters.
meta description- in the search engine, these are condensed information about what is on the page. It has little effect on positioning, but it affects CTR (Click Through Rate), i.e. the click-through rate. If a user is prompted to visit our site, then the CTR will be higher. To increase CTR, it is worth using special, attention-grabbing words called power words. You can read about them here!
Headings - they organize the text visually and make it easier to read. Users scan the text first, so it's good if its structure is already encouraging to read the content. To learn how to create the most attractive headlines check our article!
Graphics ALTs, i.e. alternative texts - all images posted on the website should contain well-matched descriptions of what is shown on them.
correct URL address- should be structured in such a way as not to scare the user, i.e. it should not be too long and confusing. It should contain the most important keywords and the most relevant content.
noindex / nofollow tags - check where the tags are located on the page. They should be placed only on subpages that we do not want to show.
duplication - occurs when we are dealing with a duplicate fragment of the text. We distinguish external duplication when the same fragment of text appears on several websites, and internal duplication - i.e. the copied text is on several subpages or in different places of the same website.
Content cannibalization - This is when several URLs compete with each other in the search position ranking. Typical symptoms of cannibalization are sudden changes, such as an unjustified decline in the position of one party and the replacement of another. Cannibalization is often the result of duplicate content when the same piece of text appears on several subpages. The effect is that the search engine does not know which subpage should be in a given position.
Audit and optimization - how do they differ?
Audit and optimization of the website are aimed at its positioning and adaptation to the requirements of search engines. Proper optimization is based on a previous audit, which is why these concepts are often confused with each other. Although both optimization and audit are necessary to achieve the dream position, they need to be distinguished. Optimization is the implementation of the list of problems found when conducting a website audit. These are specific actions to fix individual errors detected by the audit.
Shows the current state of the website and indicates areas with errors that need to be fixed
Specific actions are taken to correct errors on the website
Detailed website analysis in terms of search engine guidelines
Implementation of the selected SEO strategy
The first step towards optimization, identifying problems
Focusing on a specific audit component for repair
How often should a site audit be performed?
It is not enough to conduct an audit once. So how often should the audit be repeated? It all depends on the pace and the number of changes taking place on the website. According to Google standards, it is best if an SEO audit is performed at least once a year. These guidelines change frequently, so it's best to check them regularly. It should also be remembered that website optimization requires continuous work, and performing an audit is the first step in this direction. What should be the next step? If the audit has been carried out and the errors are fixed, you can continue to focus on improving the website and promoting it. It's best to always follow SEO principles and harness the potential of your keywords when creating new content. Attention to detail will result in increased traffic to your site. Implementing an SEO strategy is a long-term action, but it is extremely profitable. Therefore, it is worth approaching the topic professionally and after the audit, ensure the effective implementation of the guidelines on the website. The conclusions drawn after analyzing your website are best put into practice right away. Of course, in order to effectively start implementing the recommendations from the reports after the audit, we need appropriate tools.
You can find a list of the best ones here!

At BOWWE, we offer comprehensive solutions that support SEO activities, from the stage of website design to its optimization. You do not have to worry about updating the website - we will provide you with full support in terms of positioning and optimization, so that you have time and the opportunity to focus on developing your own business.
We deliver technical SEO of the highest quality because we know that search engine positions can have a very significant impact on your business, its development or problems with acquiring customers.

If you want to deepen your knowledge about SEO, we have prepared a whole series of articles in this area, which will appear periodically on our blog. You will learn what to do step by step, take advantage of SEO opportunities and grow your business.