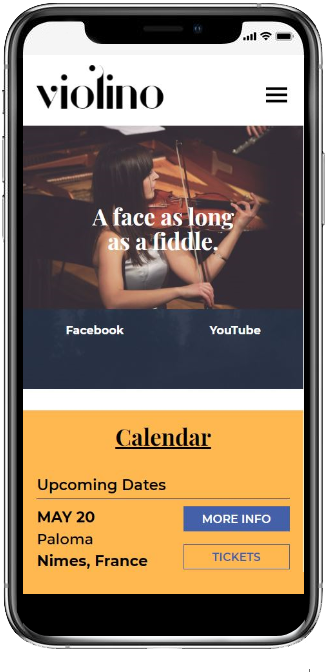 Violino
PURPOSE:
Template for musicians, vocalists, music bands and other people from the music industry.

TEMPLATE DESCRIPTION:
A professional musician needs a website where he will be able to present his artistry. This website will allow him/her to stay in touch with the fans and gain more of them. This is a great way to get people that are looking for a musical setting for weddings, baptisms, company banquets and all other occasional events. In the concert calendar, specify where your audience could expect you in the near future. Publish testimonials of your skills, and post photos of the performances in the Gallery. On the news page, publish information about recent events in which you participated, through the newsletter inform about upcoming concerts, and on the Offer page, describe what occasions you can play at. Such a website will open new professional opportunities for you.