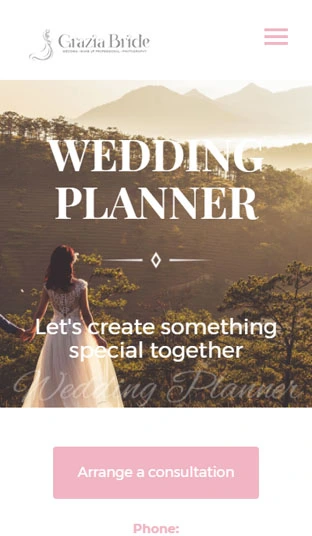 Wedding Planning Agency
PURPOSE:
Wedding planners, bridal arrangements, matrimony plans, wedding stylists and decorators

TEMPLATE DESCRIPTION
Everything needed to plan the perfect wedding – contained in your website.Made for wedding planners and those who provide services for wedding parties, soft, pastel pink colors, photos of the groom and bride in a scenic background as the banner, will attract any future married couple. A description of the years you have been in the field and the number of newlyweds served strengthens belief that the clients are making the right choice by choosing you. In the About Us section, you delve into the expertise of your employees, as well as the Reviews of past clients - you build the trust of your services. The Offer, aided by photos and definition of what you actually can serve, will make any eager future newlyweds Arrange a Consultation and click on the Contact form.The easy-to-navigate through site doubled with calm colors and cursive fonts, is a sure way for people to use your services. Frequent Call To Actions to contact you enhance the likelihood of couples reaching out to you for quality assistance.