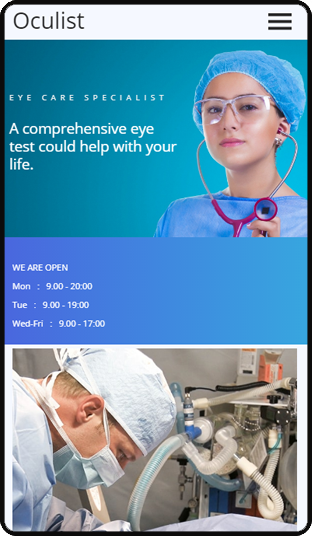 Eye Doctor
PURPOSE:
Eye doctors, ophthalmologists, oculists, eye clinics, and centres, eye care services, doctors, optometrists, clinics and medical centers, private hospitals, ophthalmological clinics and hospitals, specialist clinics.

TEMPLATE DESCRIPTION:
Eye Doctor is a template created for the medical industry, especially for ophthalmologists. The calm blue color used in the design creates suggests professionalism and build trust. A clear division into sections, large photos and icons illustrating ophthalmic services make the site legible, and the clinic's advantages are well emphasized. The template attracts attention from the very beginning. Visitors to the site built on its basis immediately see a banner with the figure of the doctor and a slogan and a button motivating to contact. Present a medical offer showing which eye tests and treatments are available in the clinic. Use numbers to present your experience and achievements. Enter the clinic opening hours, in the About us section write, what doctors work in the clinic and what are their specialties, and in the photo gallery, present the doctor's office and medical equipment. You can also show that you are an expert by publishing health tips on the clinic's website.