We often spend a lot of time and energy on creating our content. The problem arises when its results are not proportional to the amount of time we devote to it. Ideally, there would be a way to make an early and accurate estimate of the effects of our actions, right? Fortunately, today we have access to many tools that provide us with the data necessary for effective planning. We can learn from them what results our content achieves and how to improve it to outperform our competitors. By repeating our step-by-step analysis on Ahrefs, you will gain a lot of valuable data.
Table of Contents
1. Ahrefs - a short introduction
→ Ahrefs - what is it?
→ Ahrefs - Introducing Features
→ What does Ahrefs show?
→ Where does Ahrefs get its data from?
2. Part I. Competitor analysis with Ahrefs
→ Searching for competition
→ Analysis of competition
→ How to find the most popular pages of our competition?
→ Google Ads Analysis
3. Part II. Analyzing Ahrefs' Content Gap Using Your Competition
→ What is Content Gap?
→ Finding Content Gap using your competition
→ How to fill the Content Gap?
4. Ahrefs Alternatives
→ SEMrush
→ Ubersuggest
→ Moz
5. Ahrefs Pricing
6. Conclusion
Ahrefs - a brief introduction
Before we start the analysis, we should find out more about Ahrefs itself and its possibilities.
Ahrefs - what is it?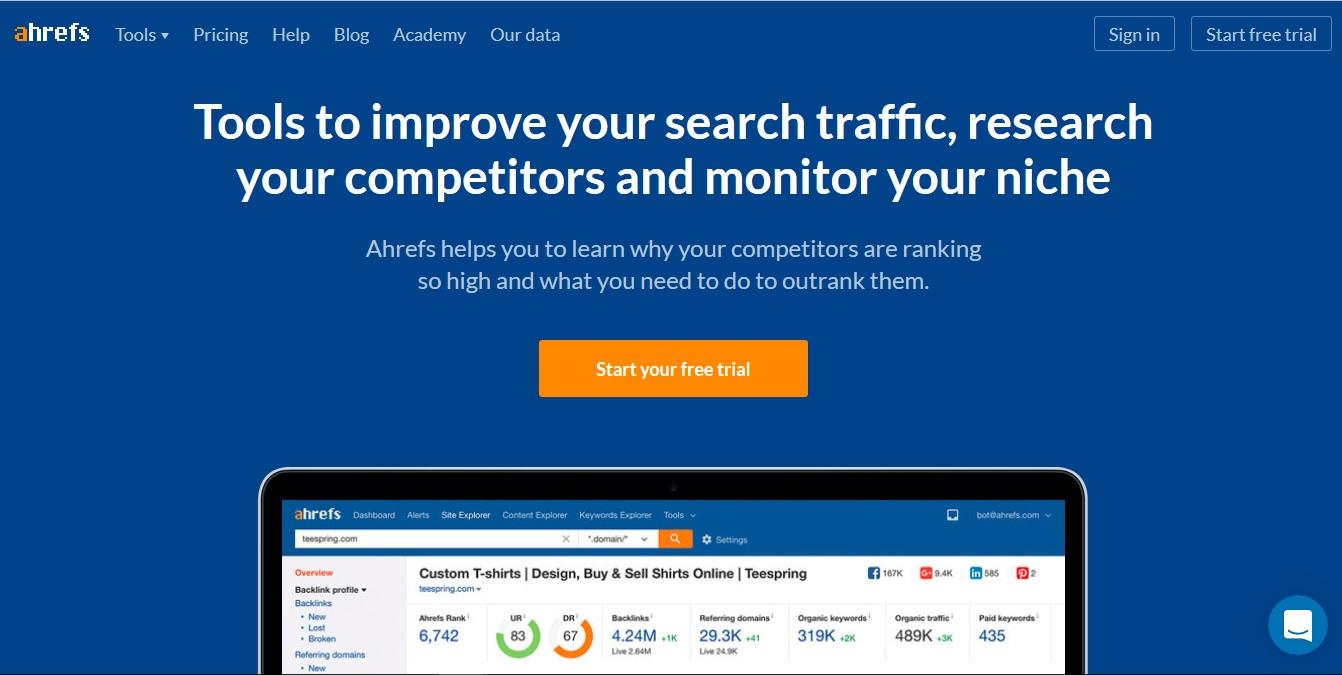 Ahrefs is a tool (thus, access to the program is sold as a service that must be paid monthly) that allows you to plan your online marketing activities more carefully. It gives us access to a lot of information about any website and any keyword.
One of the most significant advantages of the program is its very simple and clear interface, thanks to which our work with the tool is easy and pleasant. It may not be an excellent advantage for those who use the device from time to time. Still, if we are planning serious content marketing activities, we will quickly appreciate how easy Ahrefs is to use.
Ahrefs - feature introduction
For those who will meet Ahrefs for the first time, it is worth giving a short introduction to this tool. Let's start with the most basic things.

By logging in to the Ahrefs account, we go to the main page of this tool. So starting from the top left corner, we see the Dashboard. This is where we are at the moment. From here, we can see all our projects, and we also have quick access to other tools from Ahrefs. Going further right, we see:
→ Site Explorer - this is a powerful SEO tool in which we will learn more about organic traffic, paid traffic, or backlinks. All we have to do is enter the URL of the page in Ahrefs, about which we would like to know more and… it's ready.
→ Keywords Explorer - a tool that will tell us everything about keywords. Thanks to it, we will find out what difficulty the selected phrase has and what related keywords we can use to better position our content. Keywords Explorer allows us to check one word as well as the whole group.
→ Site Audit - a place that allows us to audit the site. You will learn about what an audit is by reading our article. The audit report by Ahrefs will show you how your website is doing in terms of SEO. You will learn what doesn't work, among others, and you will get precise directions on how to fix everything.
→ Rank Tracker - allows us to check the ranking of the website and compare its results with the competition. All you need is keywords, country details, and links to our competition. Such research will tell us a lot about our SEO activities.
→ Content Explorer - a tool for finding ideas for our content. We can analyze the content of others here and find ideas for new content. We enter only the keyword that interests us into the search engine, and we get detailed data, such as the results of articles containing a given term.
Then we see more side functions of Ahrefs, such as Domain Comparison or Batch Analysis. It's also worth checking out Ahrefs Academy, where you'll find many helpful tutorials on using every Ahrefs functionality. The tutorials are available in English.
What does Ahrefs show?
The number of links leads to a given page, where they were published, how many people visit a given page per month, and how they influence the position of the analyzed website.
The number of key phrases and where the website positions itself for a given keyword in search results.
Organic traffic on a given site - the value is approximate, but it gives us a definite idea of ​​how many people visit a given site per month.
How much is the traffic (in dollars) on a given page worth, if we would like to get it, for example, with the help of Google Ads. * We can also see all of the above information in a historical context - from the very beginning of Ahrefs' discovery of the domain.
How the positions of all keywords of a given domain change every day.
Comparing several domains with each other shows differences in estimated traffic and keywords.
Which page of the competition is visited by the most people.
What content from our competition is the most popular on social media.
What Google Ads ads are used by a given domain and its effectiveness (photo below).
Keywords for ten different search engines - Google, Bing, Yandex, YouTube, Amazon, Baidu, Daum, Naver, Yahoo, Seznam.
Access to hundreds and sometimes thousands of alternative keywords with their statistics.
Much, much more ...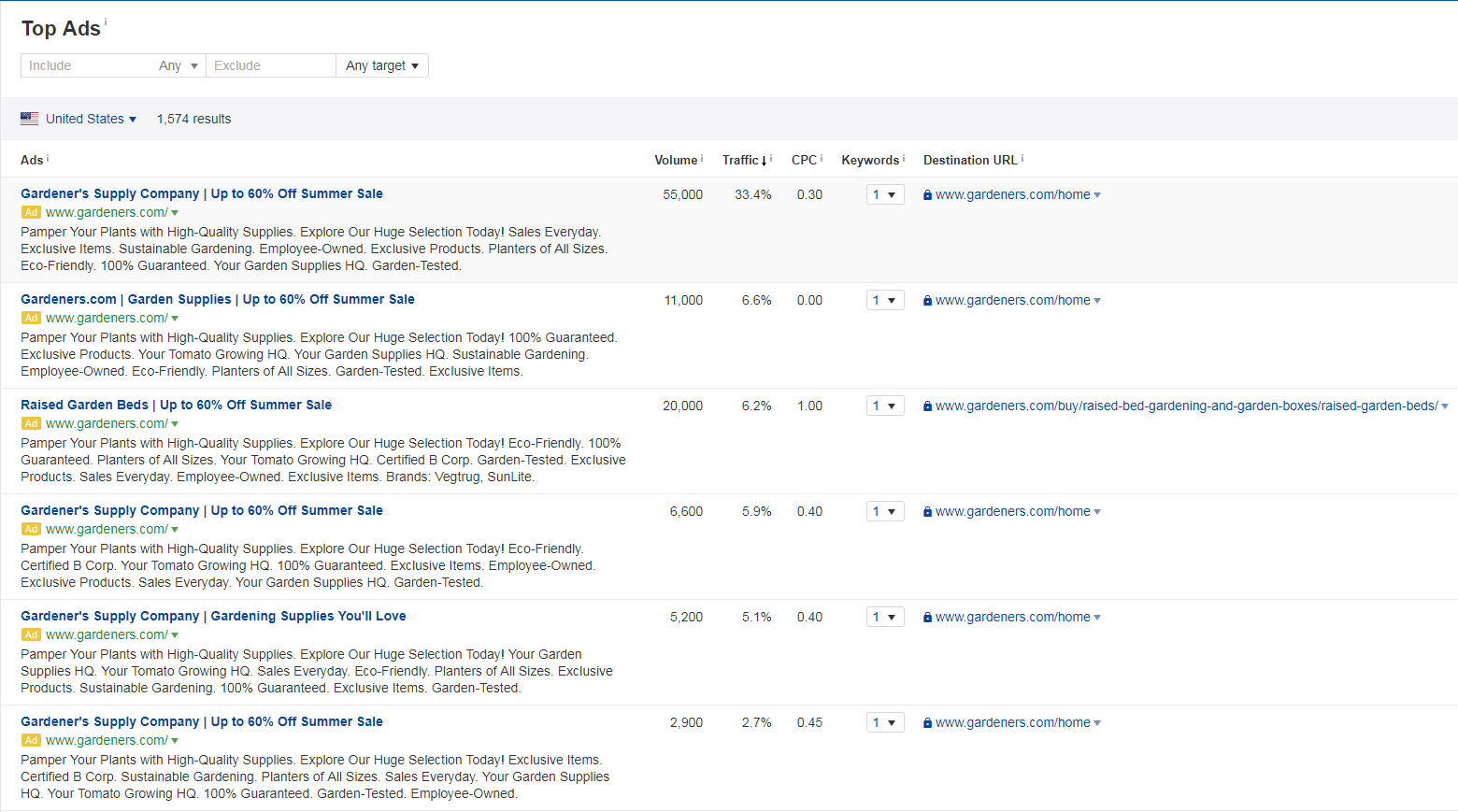 Top Ads Search Results at Ahrefs.com
Where does Ahrefs get its data from?
This is a fundamental question many users ask themselves. No wonder, since it is based on the data presented by Ahrefs, that we want to make the right decisions. Ahrefs collects data by scanning the internet 24 hours a day for links, keywords, traffic, etc. This data is then combined and analyzed against the rest of the information from Google servers and other tools. For Poland alone, Ahrefs has over 199 million keywords. Find out more about it
here
. However, it should be remembered that the data provided are approximate values ​​and do not always reflect the reality in 100%. Nevertheless, they allow for an exact definition of the situation of a given website.
Part I. Competitor analysis with Ahrefs
For competitor analysis you will need:
→ Ahrefs account
→ Ok. 30 minutes of free time
Analysis of competition in short:
1. Define your competition
2. Start of competition analysis
3. Analysis of keywords competition
4. Analysis of the most popular sites on competition
5. Analysis of advertising on GoogleAds
1. Search competition
Imagine that we want to set up a shop, which will sell gardening tools. Online stores are popular with all age groups, and the number of people buying online is increasing year on year, so the idea of ​​a new online store seems pretty good. However, we want to set up a store abroad, and because we have friends in the USA, we plan to open a store for customers from this country: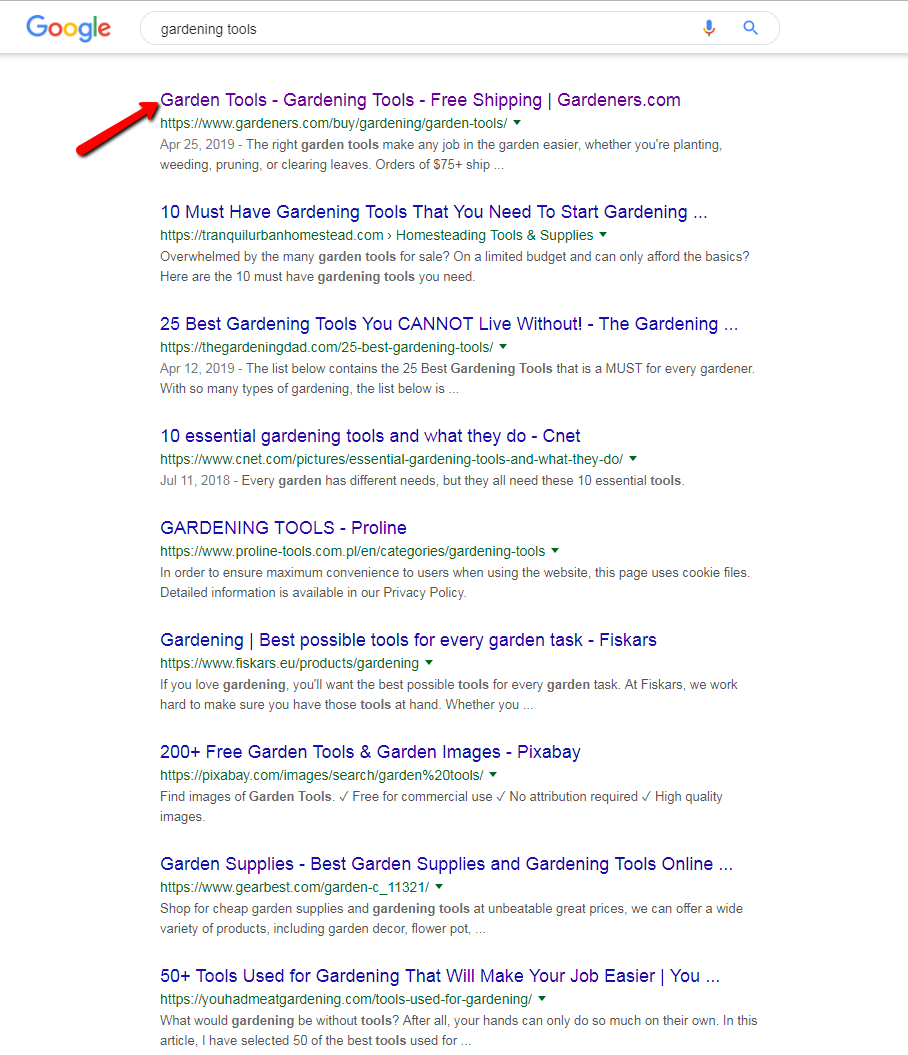 Let's start with a simple search - "gardening tools". These will be the main products we will trade, so it is worth checking who we will fight for the first positions. As you can see, gardeners.com is in the first position.
Usually, you would start by looking at the layout and content of your competitors' pages to know what your site should look like. You would probably also note a few post topics that interest you, thinking, "wow, I have to write about this on my website in the future!". At the end of the whole process, you already have pages of notes, and you feel good - this knowledge will allow you to prepare a good marketing plan ...
While taking time and giving you a feeling of a job well done, all these steps will not help you in the long run. While the information on the website architecture and menu arrangement can be helpful, information on what you think should be on the blog and what products or subpages should be on the website to be successful is only a reflection of your interests and taste. Fortunately, we have the tools to keep us guessing away.
2. Basic competition analysis in Ahrefs
Instead of guessing, open Ahrefs, go to the Site Explorer tab and then enter the domain name of our competition. After a few seconds, the data about the website is collected and presented on the website in the form of a clear table. Let's start with the basics to gradually delve into the analysis of our competitors to create our marketing plan.
At the top of the screen, you will see a table presenting the essential information about the gardeners.com domain.

What can we learn from this table, and what do the individual fields mean?
1. Ahrefs rank – indicates the position of a given domain in Ahrefs ranking based on the number and strength of links leading to the given domain. The site at # 1 position is the strongest (according to Ahrefs) site in the world!
2. URL Rating (UR) – points on a scale from 0 to 100, showing the "strength" of a specific link, e.g., yourdomain.en/about-us (when you analyze the entire domain, Ahrefs will show you the UR for the home page). The scoring includes all links leading to a given address (external and internal). This indicator also has a strong relationship with search engine positioning. Usually, a higher UR also means a higher rank.
3. Domain Rating (DR) – points on a scale of 0 to 100 represent the "strength" of a domain. The leading indicator for its evaluation is the number and strength of other external domains that link to gardeners.com. The more traffic, trust, incoming links from other strong domains, including gov and edu domains, or keywords, the stronger the domain is than others.
4. Backlinks – the number of links leading to a given page from other domains. Remember that multiple links can lead from one domain to another.
5. Referring Domains – the number of individual domains referring to a given address, in this case to gardeners.com.
6. Organic keywords – the number of top 100 keywords for which a given subpage is positioned in the Google search engine in all countries. If gardeners.com displays the phrase "garden tools" in the Polish and German versions of Google - this indicator will increase by two points. Below is the PPC information, and it means the number of keywords used by the website through Google Ads ads.
7. Organic traffic – an estimate of the monthly traffic from all keywords in all countries for which the store is positioned.
8. Traffic value – the indicator describes how much we would spend in Google Ads if we wanted to get traffic similar to that described in point 7 using paid ads targeted at given keywords.
As you can see, the first table gives us a surprisingly detailed insight into the condition of our competition. Based on the above picture, we can see that the analyzed page is quite strong regarding the "domain strength" itself and for a new website that is just being created, reaching such a level can be a real challenge.
In order to set up an effective online store with garden tools, we should focus on three elements in this situation. First of all - we want to know which pages on the gardeners.com domain are the most popular and why. Secondly, we care about what content and products should be published in our store to quickly make up for losses and not waste time on something that will not bring us traffic. Thirdly - we know how competitive the eCommerce industry is, so we will help ourselves with advertising. For this purpose, we will also analyze the Google Ads account of the competing store and find the best and most effective promotion strategy.
3. Analysis keyword competition
Time to one of the most important points of analysis. Thanks to Ahrefs, we will check the most popular keywords of the gardeners.com store and see what content is worth investing time and money in.
3.1. What are keywords?
Before we proceed to the keyword analysis, we should explain what keywords are and what they mean for our store. A keyword, simply put, is a phrase that a user types into a search box to find information on the web. A search engine, such as Google scans the content of web pages beforehand, looking for information about the page's topic and matches the information found on the pages with the keywords provided by the searchers. Thanks to this, when we enter a phrase in Google, we receive specific search results in pages related to the phrase.
However, not all keywords are worth our attention - positioning for specific phrases is difficult and time-consuming, while other words have traffic close to zero. Therefore, we should focus on keywords that have a low level of difficulty (so promoting them to be on the first page of Google results will require less effort from us), but at the same time offer a lot of traffic. Fortunately, Ahrefs offers us information on both of these factors.
Returning to the merits of the case. To go to the keyword analysis for the gardeners.com domain, select the option Organic search from the menu on the left and then the option Organic keywords.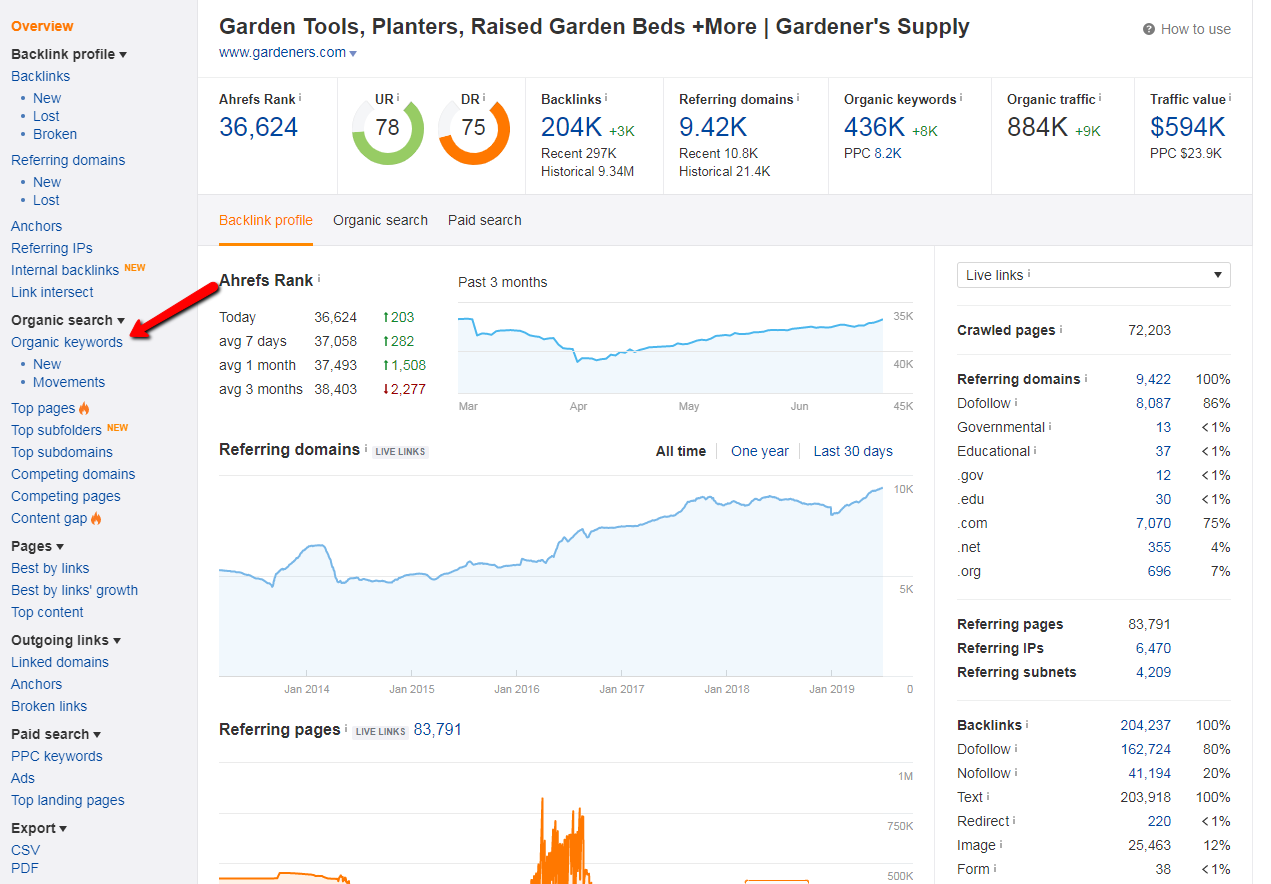 After selecting this option, we will see a table with a list of keywords assigned to the gardeners.com domain. The list includes information such as:
→ the keyword and the number of searches for a given keyword during the month, the level of difficulty of positioning for a given keyword, the cost of clicking on an ad related to a given phrase,
→ approximate traffic that a given keyword generates in the store during the month,
→ position of gardeners.com on Google for a given phrase,
→ exact link to the page that is positioned for a given phrase.
We also have access to additional information, such as a SERP preview (list of the first 10 pages) for a given keyword. So let's see what the list of gardeners.com keywords looks like and if we can find out something interesting.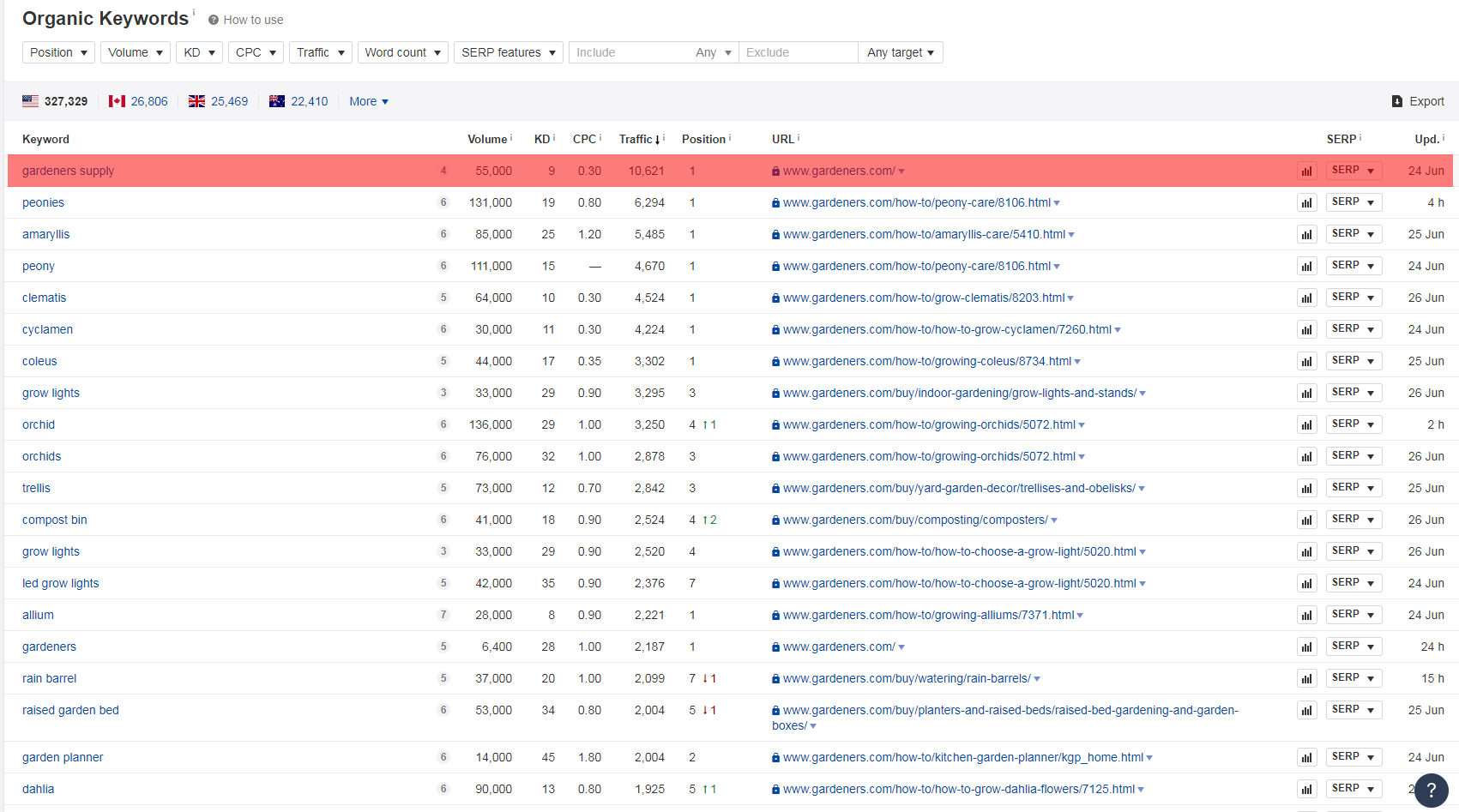 *There is an error in the attached picture. For the guide's purposes, let's assume that the KD for the first word is 4.
The keyword we are interested in is marked in red. What can we learn here? The keyword itself is not a very difficult one - the level of difficulty (Key Difficulty, KD for short) was rated 4 by Ahrefs. This means that to get to the top ten search results, we need about 5 links from external portals. Of course, if we want a higher position of such links, we should have more. As we'll see in a moment, Gardeners has over 29,000 of them, and they come from two thousand different domains.
Second - the keyword "gardeners supply" gets a lot of searches. Over 50,000 people search for this phrase within a month. So this expression meets our requirements - it is not particularly difficult and generates many inquiries per month. Ahrefs also reports that about 10,000 monthly visits to the store's website are generated thanks to this phrase.
As we can also see in the table - gardeners.com ranks first in searches for a given phrase. In the column Position we can see that some numbers have arrows next to them and additional numbers. As you can guess - they mean a decrease or increase in the position of a given keyword. In this case, we see gardeners.com losing four positions to the keyword "garden".
However, these numbers tell us nothing about what we can do. Click on the displayed keyword to open the Keywords explorer for more specific information about our possibilities.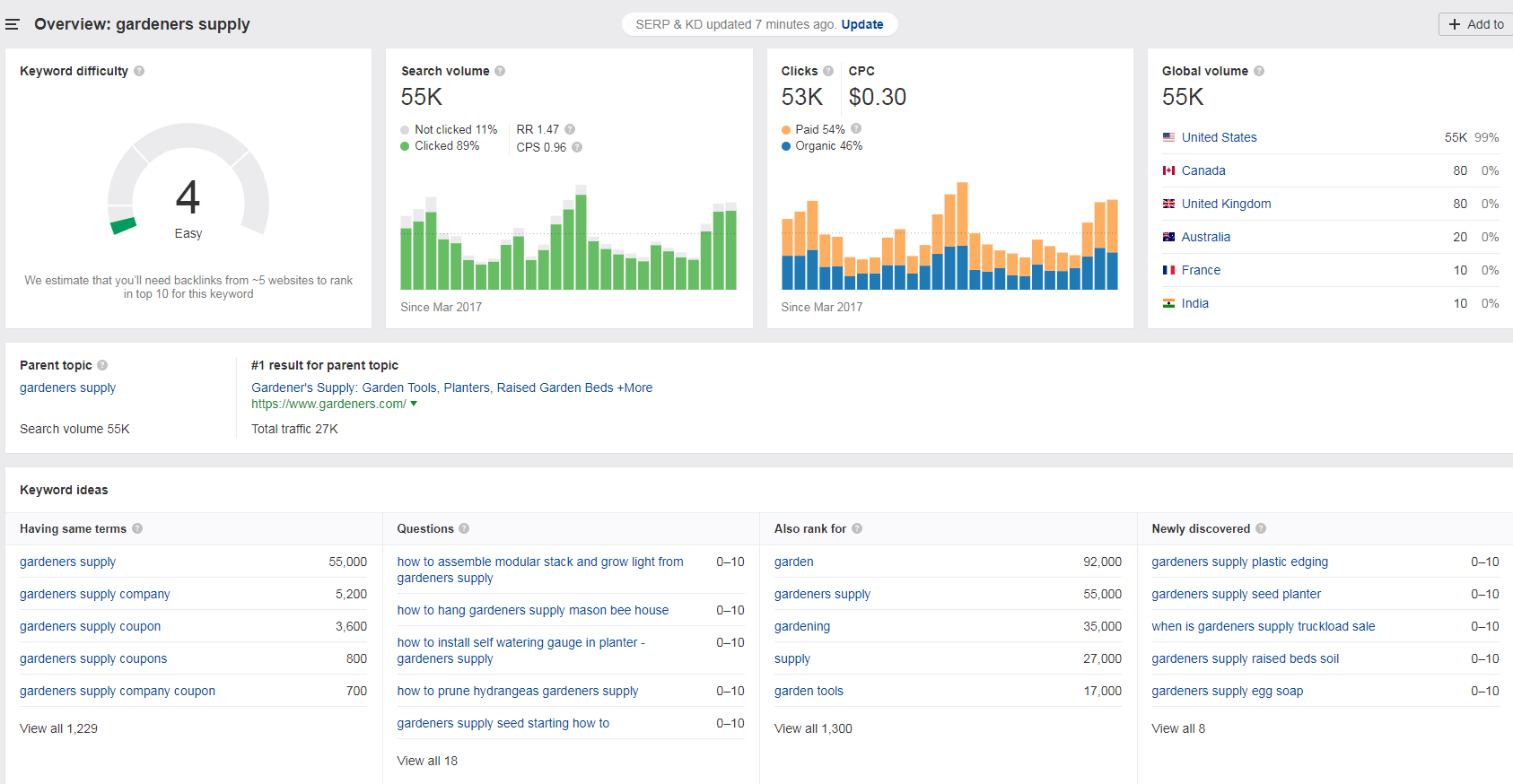 As we can see - Ahrefs again gave us literally a lot of different information. However, we will focus on the most important data for us. How can they help us?
As before - the difficulty level (KD) of a given keyword is not high, and on the Ahrefs scale, it is 4. It is worth emphasizing here what a given number means. Ahrefs ranks pages on a logarithmic scale. This means that it takes less work for us to jump from 12 to 13 than jump from 97 to 98, even though our position increases by one in both cases.
In this case, the difficulty level means that to be in the top 10 of Google, we have to get at least 5 links pointing to our website. It is also best if they come from websites whose domain has a higher rating than ours.
Some charts offer additional information on the right side of the difficulty level rating - how many searches a given phrase has per month, how many of these searches end with a click, etc. This information is vital to us, for example, when we are looking for phrases that generate many search results per month and lead to a click. Sometimes, a keyword has a lot of searches per month, it is easy to position, but due to the specificity of a given phrase, it does not lead to clicking on the result.
Now, attention! Before us, the most exciting and valuable information will allow us to discover what our potential customers would like to read. Without minimal research, we can only guess. Reliable data analysis is always better than guesswork and intuition, so it is definitely worth paying attention to the table presented below. Keyword ideas, a valuable source of ideas for content that we can place on our website. In a moment, you will learn how much value table data from Keyword ideas can bring to your projects.
Let's imagine that we want to create a "Shovels and spades" category in our store and maybe start publishing thematically related articles on the blog. So let's take a

In the first column, we can see the keywords and the monthly number of searches containing words from the phrase "gardeners supply". So we can say that in addition to this phrase, it would be worth using the words "gardeners supply company" in our category descriptions or blog entries. This key phrase will help us display another 5,200 Internet users per month.
When writing a blog in a store such as gardeners.com, it is worth noting an article from time to time answering potential customers' questions. In this case, we can see that all the potential questions proposed by Ahrefs answer approximately 10 user queries per month by the search engine. It may not be the traffic we expect, but let's not forget that websites can position themselves for many different phrases. As you can see in the picture below, pages that position themselves on the phrase "gardeners supply seed starting how to" also position themselves on over 1000 other phrases.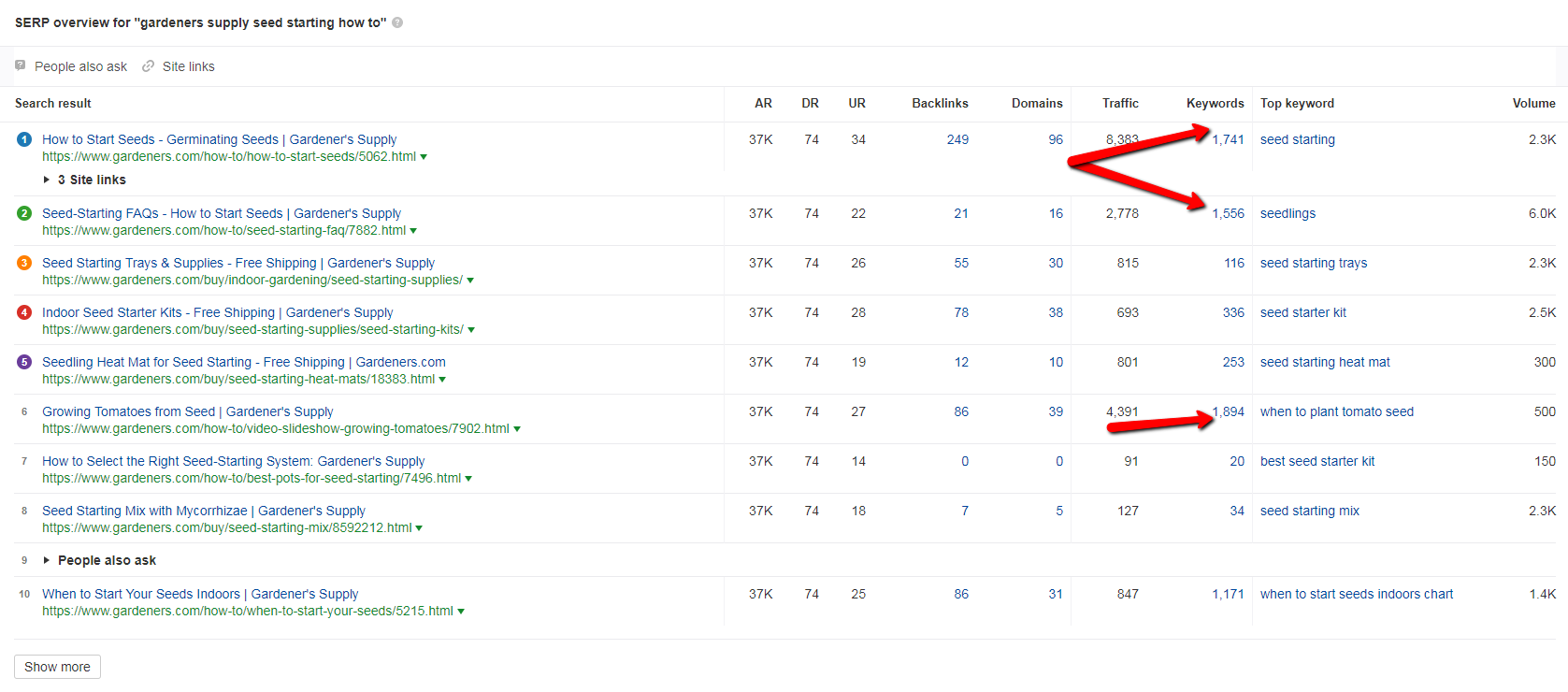 Writing an article on "How to start seeds?" and using additional phrases given in the table can have impressive results - as you can see on the example of gardeners.com, it paid off, so why not do it in your store?
The third column presents a list of keywords for which stores from the top ten results are positioned. It is useful when we want to quickly analyze and remember - we just came up with a new business idea and do not want to go into details (yet).
Now is it enough to repeat the whole process for a few other keywords using the combination of low difficulty / high number of searches, and we have a ready-made list of phrases around which we should build content on our website to achieve concrete, measurable results as soon as possible.
4. How to find the most popular pages of our competition?
We have already learned the basics of the competition's website. Now it's time to look a little deeper and get some information that will help us prepare an effective marketing strategy. We will start with the most popular pages on gardeners.com - thanks to this, we will see what pages are worth adding to our portal and find out who links to these subpages with our competitors. Thanks to this, we will be able to copy this tactic in the future to gain new traffic to our website as quickly and painlessly as possible.
When in the detail view of the gardeners.com domain, we have access to a set of statistics on links, keywords, and the most popular pages on the site. This information is located on the left side of the side menu.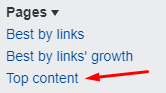 To find out more about our competitor's most popular social media pages, select Top content. After clicking, you will see a list of subpages of the online store with several options for segregating the results.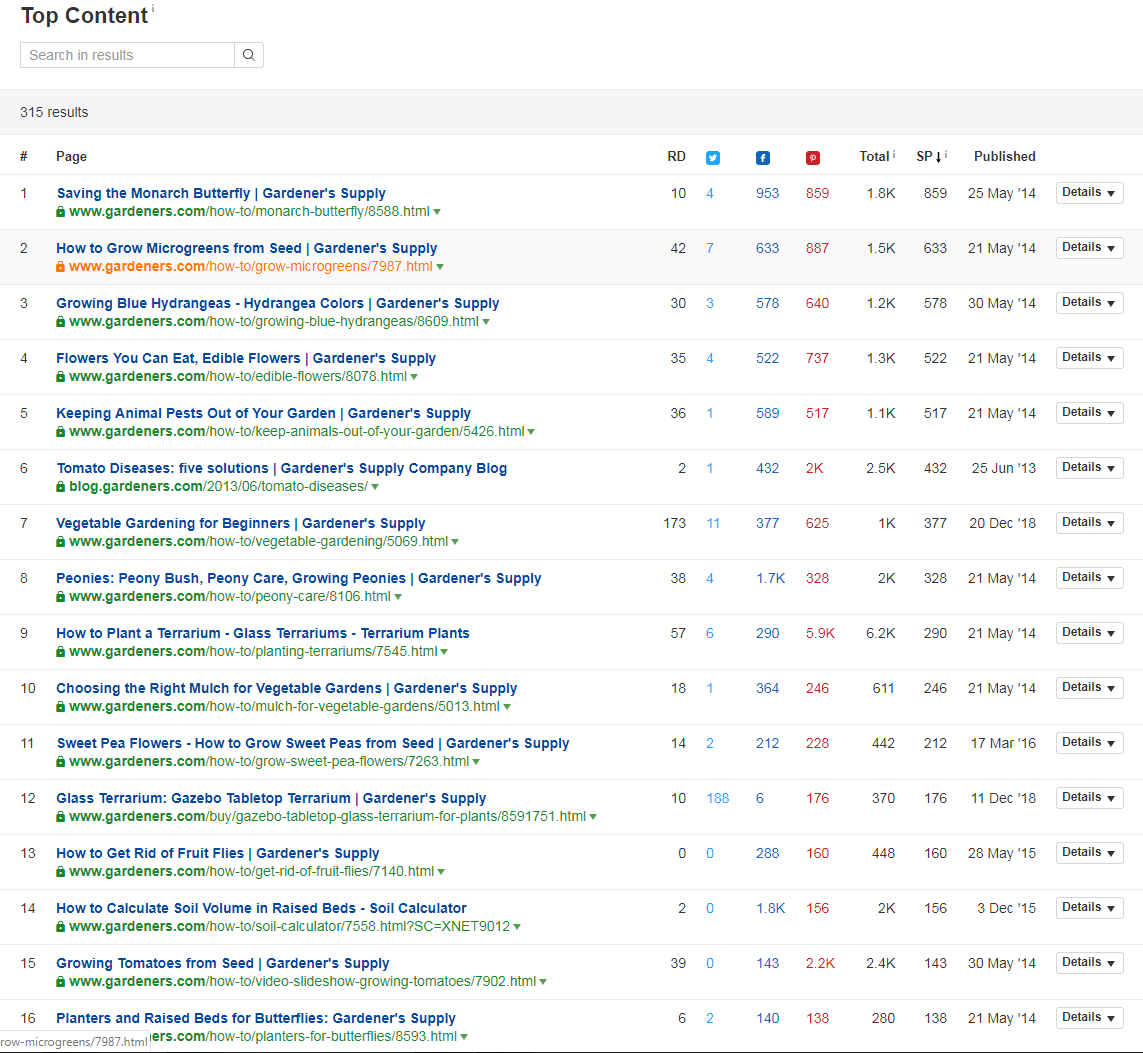 The available options (from left to right) are:
1. RD - domains on which Ahrefs found a link to a given subpage
2. Twitter - number of mentions on Twitter
3. Facebook - number of mentions on Facebook
4. Pinterest - number of mentions on Pinterest
5. Total - a sum of all mentions on the topic of a given subpage
6. Social Power - calculated according to Ahrefs algorithm, has the "power" of all mentions on social media. This result is more reliable than the Total option, which only sums up the results.
7. Date of publication - contrary to the name, it is the date when a given subpage was discovered by Ahrefs + robots.
Thanks to this, if we are interested in, for example, the most popular pages of the gardeners.com store on Facebook, after clicking on the name of a given column, we get a list of subpages in the order from the most popular to the least distributed subpages in this social network.

Next to each result, there is also a small button Details that gives us access to additional information about each subpage. When you click a menu appears with the following options:
1. Backlinks - list of pages that display the link to the sub shop
2. Referring domains - the list of domains maintainable to the sub shop
3. Anchors - a list of "anchors" or text displayed instead of the link, leading to a given subpage.
Let's move on. Let's assume that we plan to sell garden tools in our store. Then, for example, Pinterest will be a good website for promotion. So what can we learn from Ahrefs?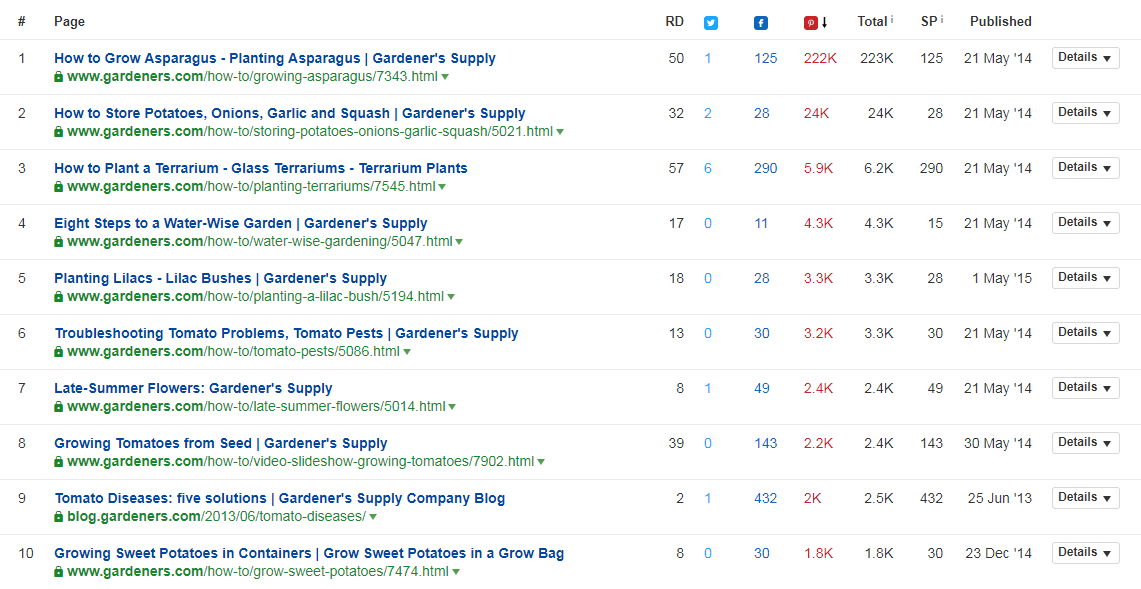 By sorting the results according to popularity on this social networking site, we list the most willingly shared articles. As we see, the article on "How to Grow Asparagus?" is by far the most popular text. However, let's look at the indicator, Social Power. We notice another article that was willingly shared, and which, according to Ahrefs, has a much greater potential - "tomato disease - five solutions". Thanks to this, we can slowly start building our content marketing strategy - of course, before we start, it would be worth checking other competitive stores as well.
However, this is not the end of the possibilities that Ahrefs offers us. Perhaps we would like to learn more - for example, gain access to a list of viral websites among Internet users? There are two more options in the side menu under the tab: best by links and best by links growth.
4.1. Where to start?
The first option - best by links shows us a list of the store's subpages according to the number of obtained links. What's more - we have access to some additional information there. For example, we can display a list of sites that have received the most external links - for example, from forums or blogs. However, we can select Internal to display the most linked pages from gardeners.com itself. What is the use for us? Thanks to this, we can, for example, find out which subpages are considered the most important by the administration of a given portal.
However, we are interested in the most popular websites according to customers. For this purpose, we do not change the settings that have been selected for us by default.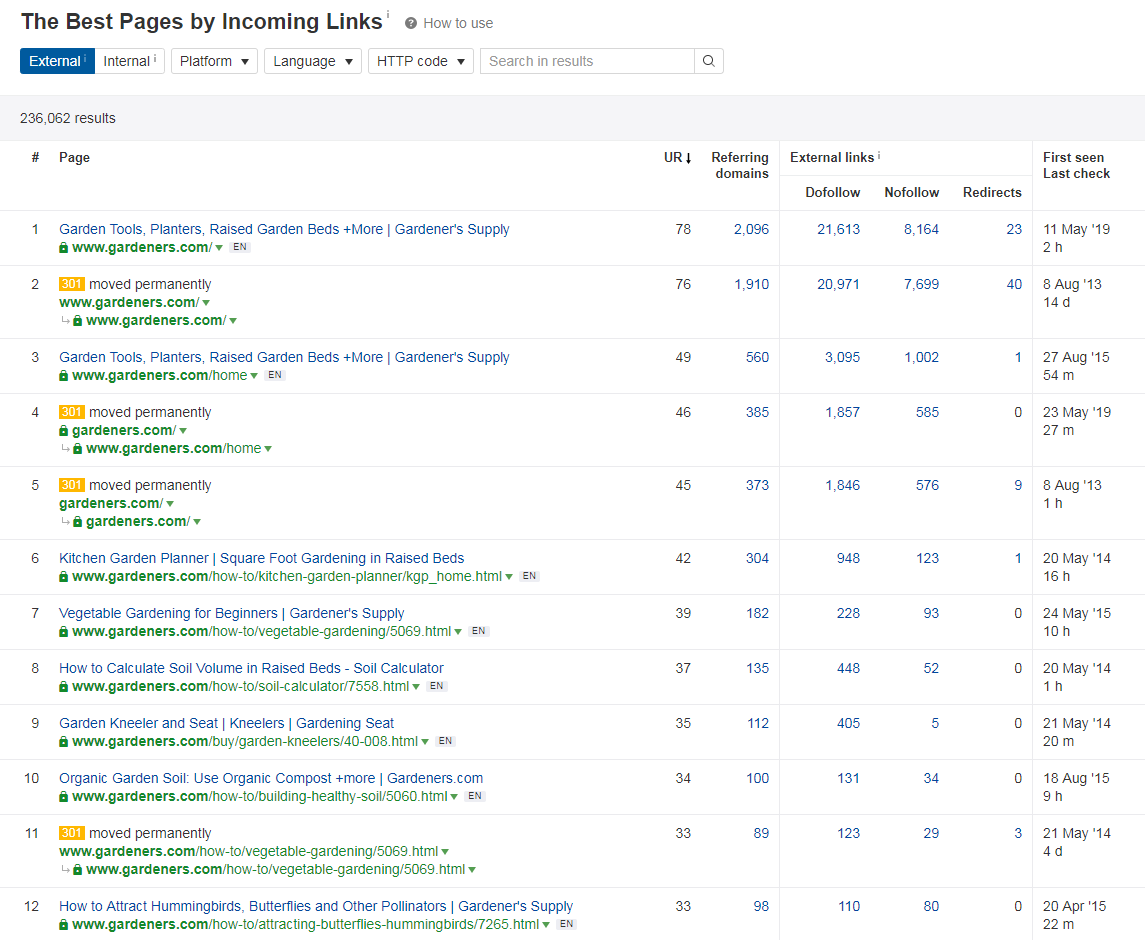 The information is contained in the table, which gives us access to much important information about each subpage. In this case, the presented data is crucial in the preparation of the subsequent promotion strategy. Some of them have already been described earlier, so I will focus on what is worth paying attention to.
1. Dofollow - links with this attribute are essential in SEO, so this value will be the most important for you. What is their impact on SEO? Dofollow links convey the "power" from the linking domain to the landing page. The "strength" of a link depends on the strength of the domain it comes from. Links from new domains that haven't made a name for themselves yet are of little value. However, those from strong domains are of great importance (for example a link from a little-known local newspaper website is not as powerful as a link from an article published on the Forbes.com domain).
2. Nofollow - the number of links from external websites that do not provide any additional information outside the page target. Popular opinion says that these links do not affect your SEO. However, they are still helpful - just like any other links, they can help bring new visitors to your site.
3. Redirects - number of redirects to a given subpage. For example, in the past, the link pointed to the page "example.com/item", but after some time a redirection from this page to "example.com/category/item" was created - Ahrefs will note such a case, but it does not affect the link itself.
4. First seen / Last check - this information tells you when Ahrefs first found the page on the web and when the last time Ahrefs checked to see if the page was still there.
When analyzing the competition, first of all, we should focus on the number of links Dofollow. So let's check which pages in the Gardeners store gained the most from these links.
So let's start with narrowing down the search parameters: select "from the HTTP code tab 200 ok"- this number means that the page exists and is available for viewing. Another possible code to choose from is, for example, the famous "404 not found", which means that the page in question has not been found on the server.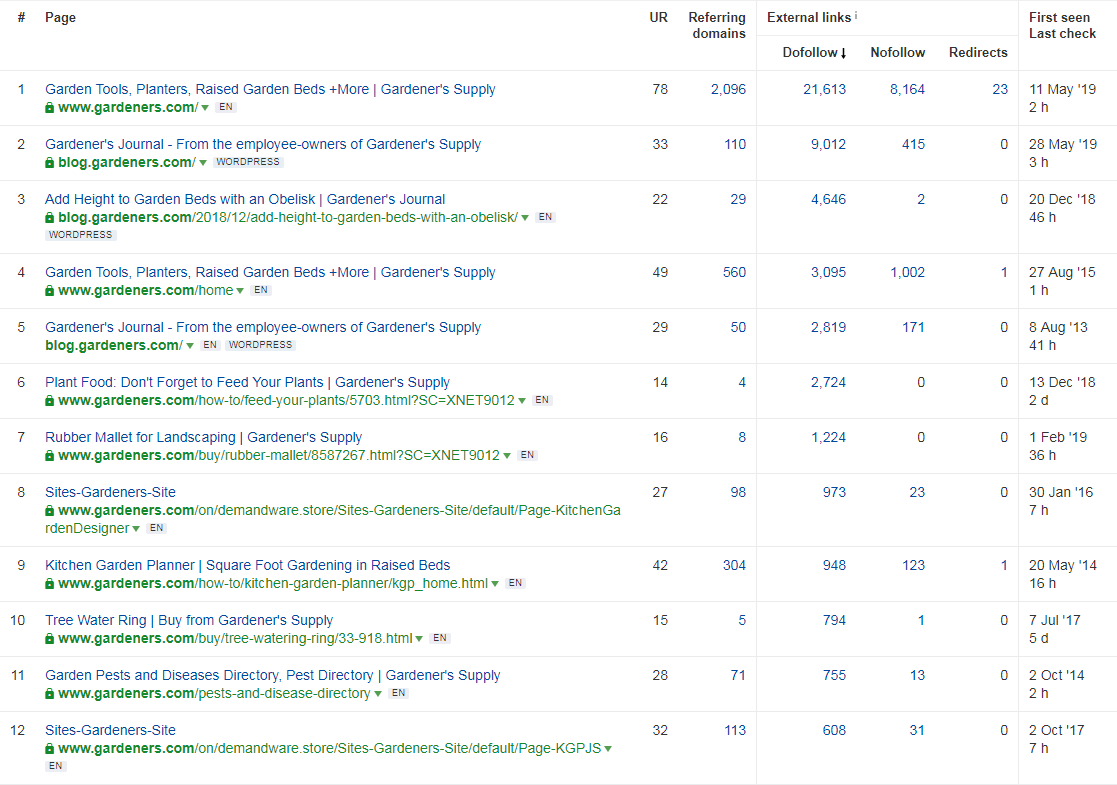 After selecting the appropriate code from the table, select the "column Dofollow", thanks to which we will see a list of pages that have gained the most meaningful links. As we can see, the five most popular subpages are:
→ Home
→ Blog
→ Article
→ Home page version with subfolder
→ Blog entry
What to do with this information? By clicking on the number given in the table Dofollow, you will display all links with the dofollow attribute leading to a given subpage. Three columns deserve special attention: Referring page, Traffic and Anchor and Backlink. They display information about the subpage on which the link to gardeners.com is located, estimation of organic traffic to the subpage on which the link was published and the form in which the link was published.
Thanks to this, we can, first of all, choose the strongest domains to link to our sites in the future. Secondly, information about the traffic on a given page also allows us to assess how much time is worth investing in publishing such a link. If the page pointing to our store does not have a lot of traffic, it is not necessarily worth spending too much time preparing information because such a link will only affect our SEO. However, if we notice that the website from which gardeners.com obtained the link has a lot of traffic, it is worth considering publishing better quality materials in this place - thanks to this, we will also gain image.
4.2. The 10x Rule
A popular principle in positioning is the 10x rule, which says that to outdo the competition in organic search results, we should fight for the content we publish to be ten times better (more substantive, more accurate, easier to digest, etc.) than this, published by competitors.
Speaking of building links to an online store - when I wrote about narrowing down the parameters on the website, Best by links, I also mentioned the possibility of HTTP code. We can select codes corresponding to various situations or errors - for example, codes reported by websites that once existed but for some reason have been removed or moved.
Thanks to this information, we have an excellent opportunity to build valuable links to our website at a low cost. We start by choosing the HTTP code - in this case 404.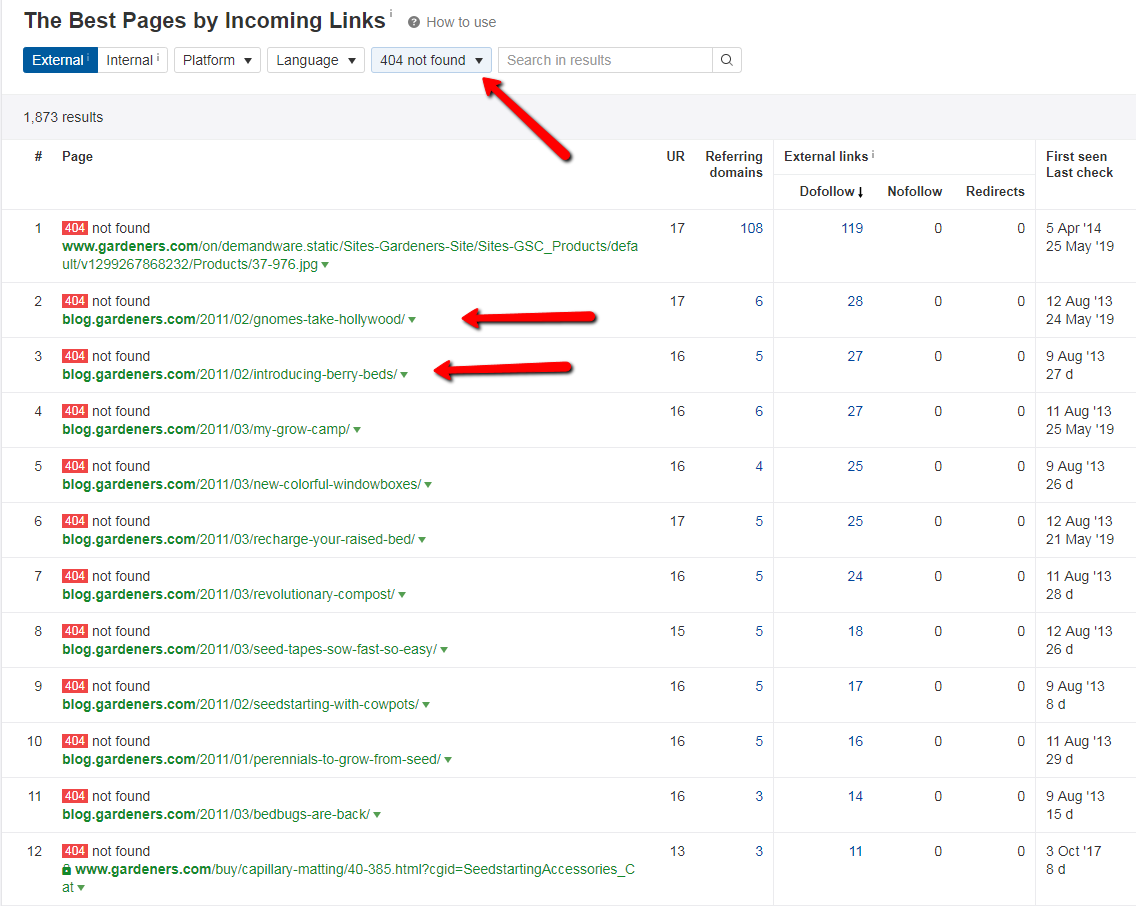 Then we choose the option Dofollow to see the list of pages with the strongest link profile.
Let's look at the results. As you can see in this example, most of the "missing" pages with a large number of links are blog entries. This is a potential promotion opportunity for us. It may turn out, for example, that we have prepared articles on given topics and we want to promote them in some way. Let's see how we can do this in the article "Gnomes take Hollywood" and if we can somehow use the information we find.

Let's start by clicking on the little arrow found at the end of the link. This will allow us to display a drop-down menu from which we will select the backlinks option to learn more about the links referring to the given post.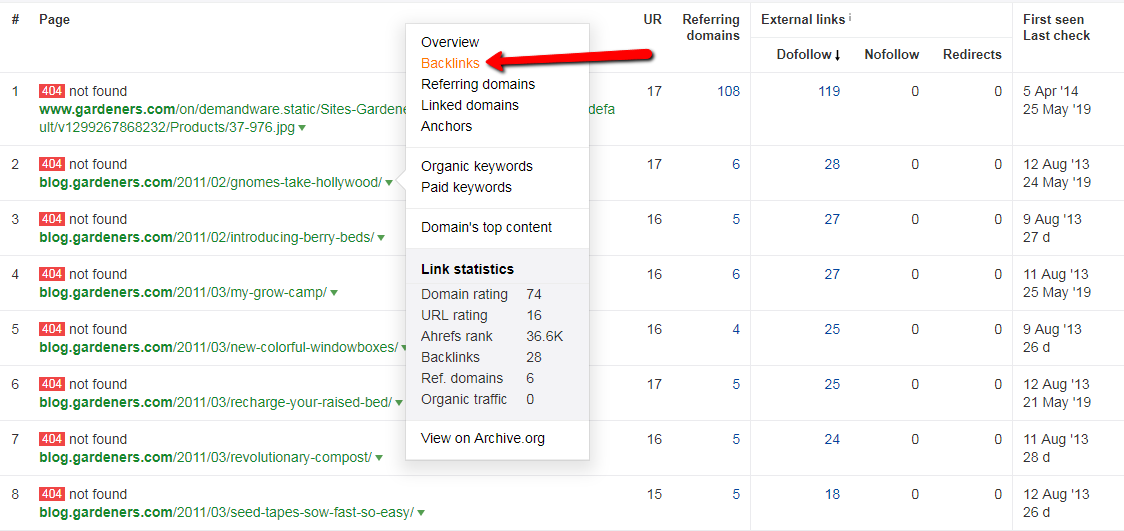 Unfortunately, when we start checking links, we will discover that this practice will not tell us much - the links probably come from a low-quality SEO background and cannot be used in our strategy.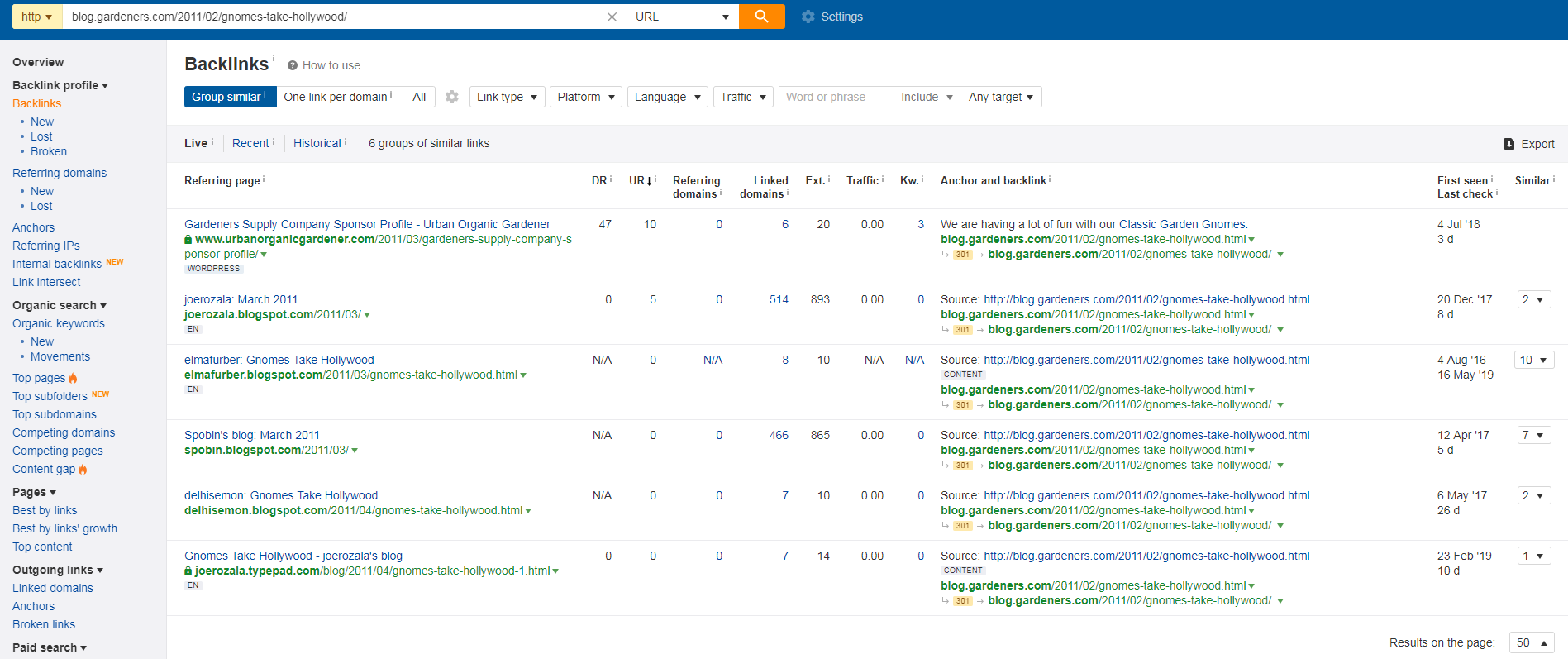 If we were given a list of actual pages that lead to non-existent subpages on a competitor's website, we would do a simple thing: we would open each page that linked to our competitor's store, and we would evaluate if a link to our store would help the page. If someone has created a list of the best guides for gardeners and one of the links does not work, we should write to the author of the text or the website owner and suggest replacing the links with the one leading to our website. Sometimes it will be at an additional cost, but on the whole, it is a win-win arrangement for us.
Now let's look at the last option from the Pages tab.
Best by link's growth also contains a list of pages with the number of links to them. However, there is a significant difference here - this tab sorts the subpages of the gardeners.com store according to the increase in links over time. In other words - it gives us a preview of the subpages that have recently gained the most links. This allows you to identify photos, products, or blog entries gaining popularity with our competitors in recent days.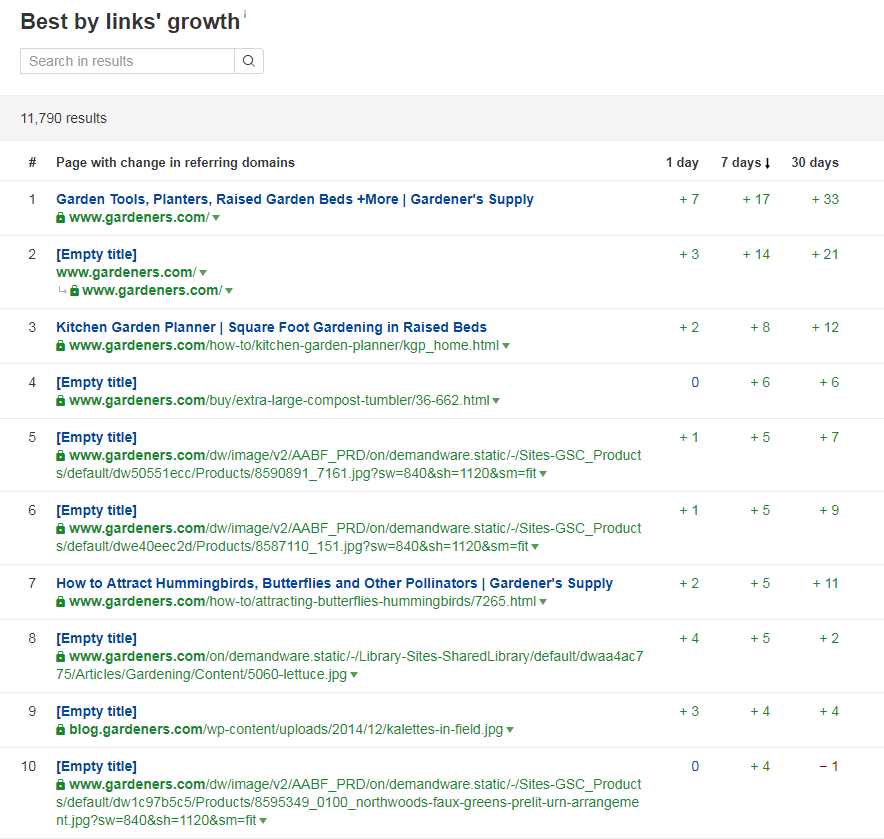 It pays to take a more extended look at this tab. It is possible that while browsing the available options, we will come up with other, non-standard methods of promotion.
Now let's move to the last point of our guide - check if gardeners.com is using and for what ads.
5. Analysis of Google Ads
Let's think - what does an online store need to be successful? A wide range of products? Great artwork? Convincing texts? All these answers are correct, but without traffic, even the best-designed online store will not be able to sell the cheapest product. Traffic to the website can come from a variety of sources. One of them is paid advertising in Google Ads (formerly Adwords) - a good solution that almost immediately allows us to gain traffic, which will be limited only by our budget.
However, for an advertising campaign to be successful, it should be well planned - we do not want to spend (ineffectively) our entire budget in a few moments. Therefore, before starting the campaign, it is worth checking whether our competition uses this form of promotion and what exactly they do. This will allow us to assess the profitability of our activities.
There is a Paid Search tab in the menu on the left side of the screen.

As we can see, the tab gives us access to several subpages. Let's start with something simple - let's check what ads are currently displayed for the gardeners.com brand.
The list below shows some of the ads promoted by gardeners.com. Among the available information, you will find the content of the ad, monthly traffic for the keyword that causes the ad to appear, the percentage share of a given ad in traffic from all ads (33.4% means that a given ad is responsible for over 33% of traffic from all ads displayed for the store). We can also see the average cost-per-click (CPC) for a given ad, the keyword that shows it, and the page's address to which the ad is pointing.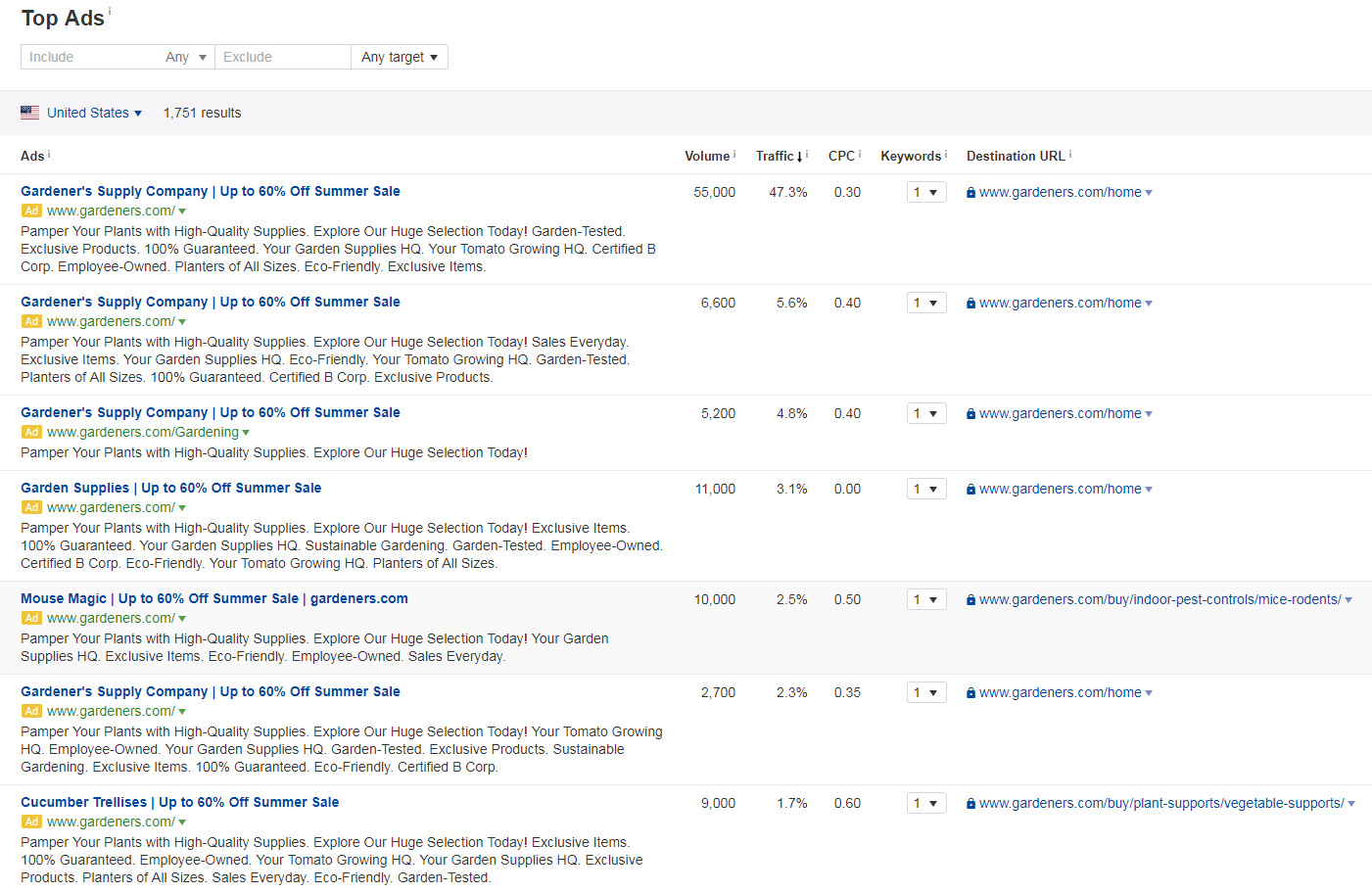 As shown in the table Ahrefs returned, gardeners.com mainly promotes the home page instead of the categories. This is not the best idea, because we pay for each entry from such advertising. In Google Ads campaigns, our primary goal is ROI (return on investment) - so we should want the user who clicks on the ad to make a purchase as soon as possible. For this reason, we should primarily target ads to products or, even better, to categories. Remember - the main goal of the Google Ads campaign is sales.
Considering the cost of clicks provided by Ahrefs, the entire cost of the promotion will not ruin our budget. However, it should be remembered that Ahrefs gives indicative amounts without taking into account any external factors. So it is better not to plan the advertising campaign budget based only on the data from Ahrefs, but to compare it with the data of Google Advertising Manager.
In the following tabs, we have access to information on keywords used to promote the gardeners store and top landing pages.
Considering the accuracy of the data available for the campaign - this tab is rather illustrative and will allow us to understand the situation and assess whether it is worth starting a paid promotion. If we want our brand to be visible at the top of the SERPs (search results list), we should invest in promotion.
Summary
Several years ago, tracking the activities of competitors was a complicated and costly process. Today, however, thanks to tools such as Ahrefs, everyone can easily trace how companies promote themselves online, with whom they cooperate, and how they reach customers. As we found out while reading this guide - we do not have to act blind and guess because we can quickly gain access to a lot of information about the actions of the competition. What's more - even the competition for a seemingly strong position on the market makes basic mistakes in the promotion that we can take advantage of.
Part II. Searching for Content Gap by analyzing your competition in Ahrefs
For your competition analysis, you will need:
→ Ahrefs account
→ About 30 minutes of free time
Content Gap analysis in short:
1. Definition of domains that position themselves on similar keywords phrases as our domain
2. Performing a Content Gap search
3. Searching for valuable, unused keywords
4. Competition content analysis
5. Creating new content or updating an existing one based on the results of the analysis
1. What is a Content Gap?
Content Gap is nothing more than the deficiencies in our content. It is something that our recipients (potential clients) are looking for and, at the same time, something they do not find in our content. So this is our weakness that we should eliminate.
If there is a content gap in our content, we are losing recipients in these places. Why? Because if they do not find what they are looking for with us, they will go to someone from our competition who has information on the topic they are looking for. But don't worry, as scary as it sounds, it's not such bad news.
If the competition actually has content that we lack, it makes this task easier for us. It is enough to conduct a content gap analysis to quickly find what needs to be supplemented. Content gap analysis is, therefore, an ideal way to update e.g. a blog.
2. Finding Content Gap in Ahrefs using competition
We open the Site Explorer tool in Ahrefs and enter the URL to which we want to search for Content Gap (remember about the correct mode for example - domain, if you're going to analyze the entire domain/URL). In this tutorial, we focus on blog content, but of course, all kinds of pages can be analyzed.

In the menu on the left, we are looking for the Content gap tool (under the Organic search category).

We enter the links to the websites that are our competition in the table and click Show keywords.
Attention! In this case, we only added three links from competitors, but you can add as many as 10! In addition, we can also select the option that one of our goals should position itself with its keywords on TOP10 places in the search engine.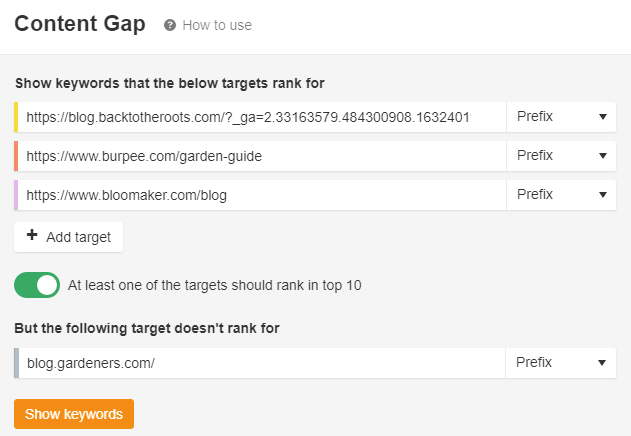 The search showed us that our website does not rank for as many as 583 keywords. The list of results is long, so consider reducing it by narrowing down your search. So we will narrow the search down to, for example, max 20 KD (Keyword Difficulty) because in the initial period of website development, targeting more difficult keywords is pointless. Okay then - now we've got 295 keywords.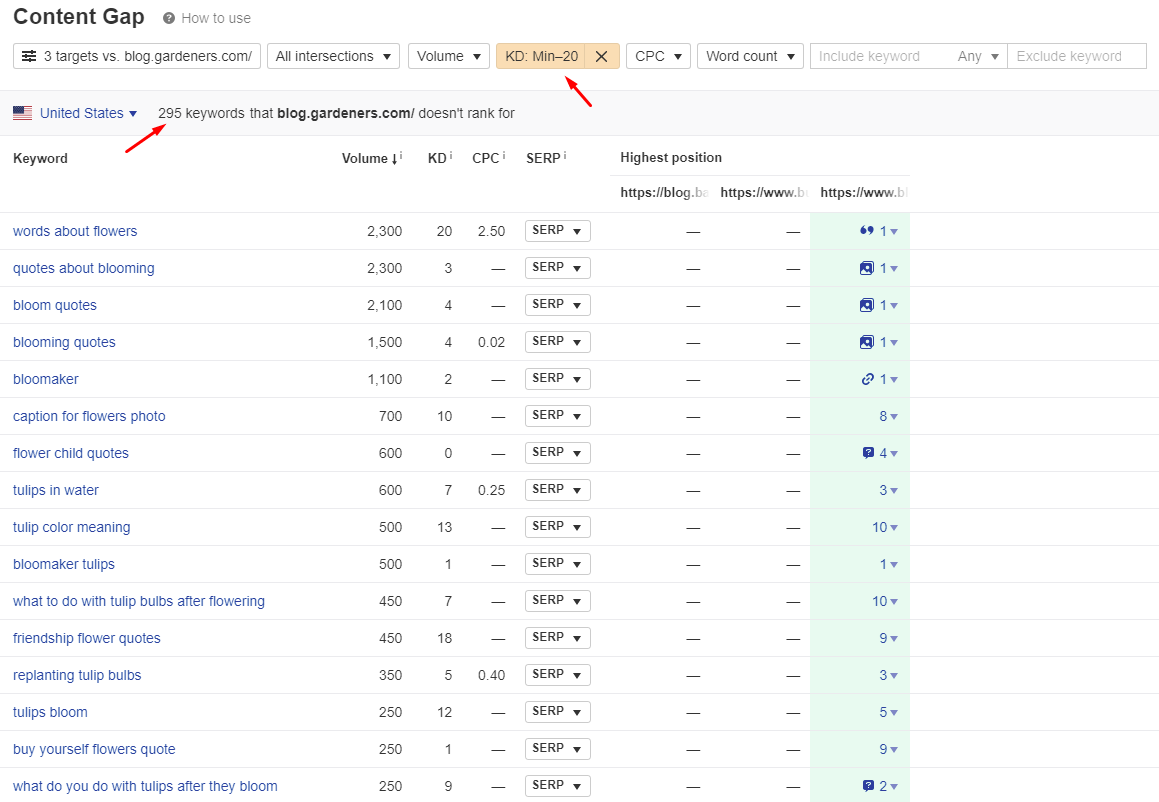 It's time to go over the results and see if any keywords are worth our attention. From the beginning, we can already see 5 terms whose estimated monthly number of searches on the web exceeds 1000, and the difficulty is at a very low level.

By developing the SERP option next to the keyword we are interested in, we will see valuable content positioning under this slogan. This is where we can get inspiration to create our own content.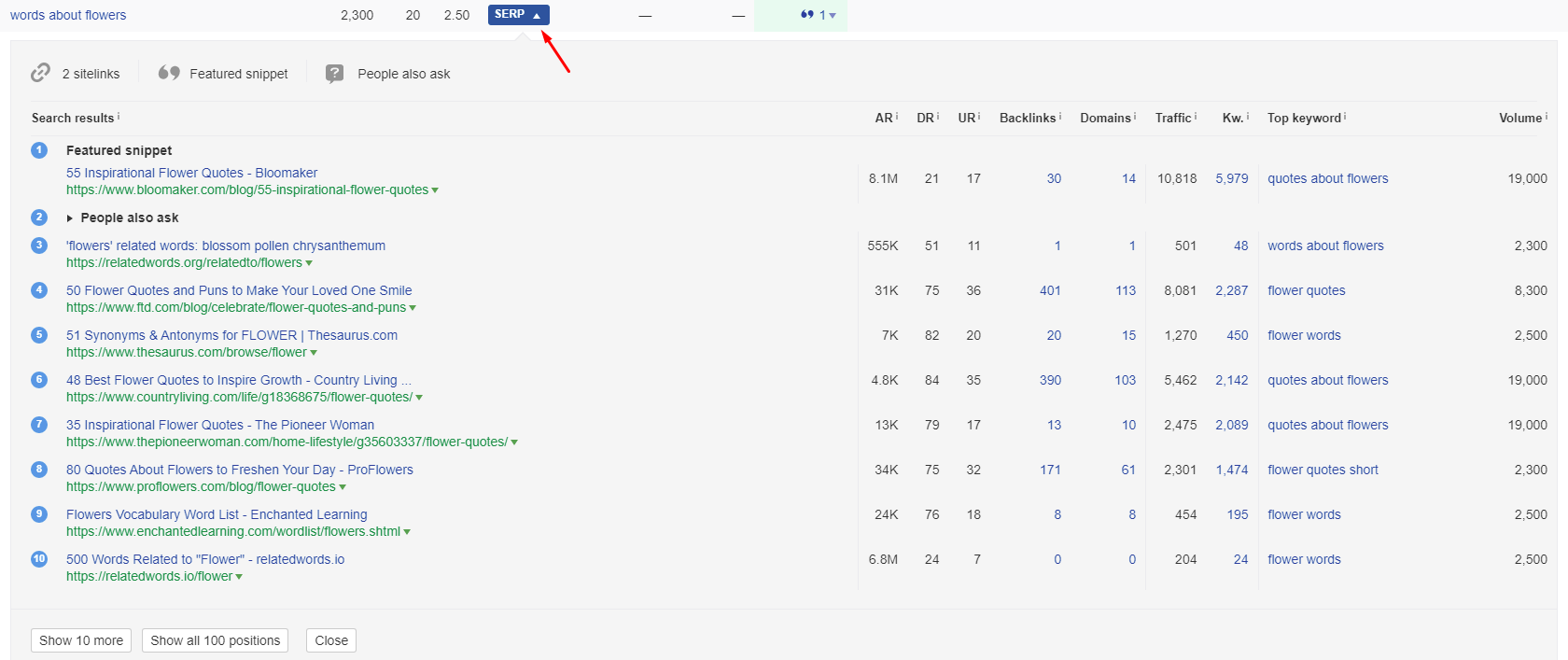 It is worth taking a closer look at the form of the content presented here. In this particular case, it is immediately obvious that virtually every article is a kind of list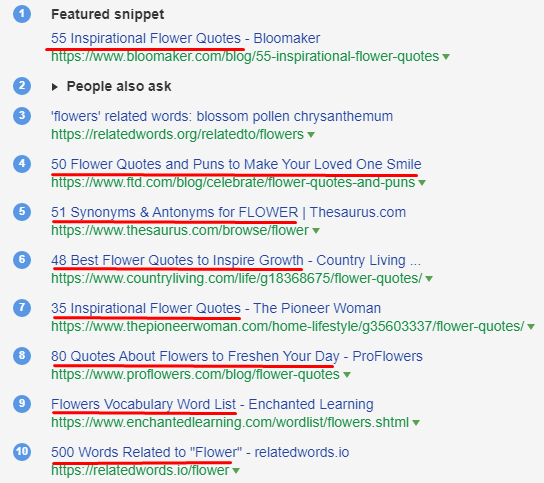 You can expand the list next to the position number in our competition's search engine for even more information. We then access information such as Backlinks, Domain rating, Ahrefs ranking, Organic traffic, etc.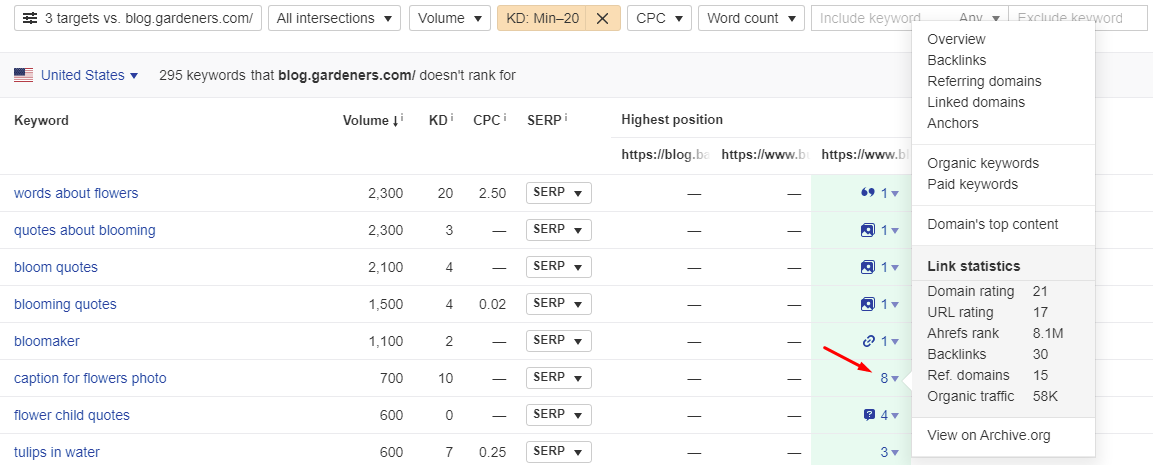 Additional note: in this case, the first two competing pages showed up without their ranking for a given keyword. In the third link, e.g. with the term "caption for flowers photo", its position was 8th. Why did such data not show up in the first two cases? This resulted from selecting the "At least one of the targets should rank in top 10" condition at the beginning of the search. After typing in the keywords they received, the first two competing pages are not showing up in the Top10 search results!
If you want to get more results and see their position for specific keywords, do not use this condition when setting the search. In the case at hand, the results after such a change would look like this: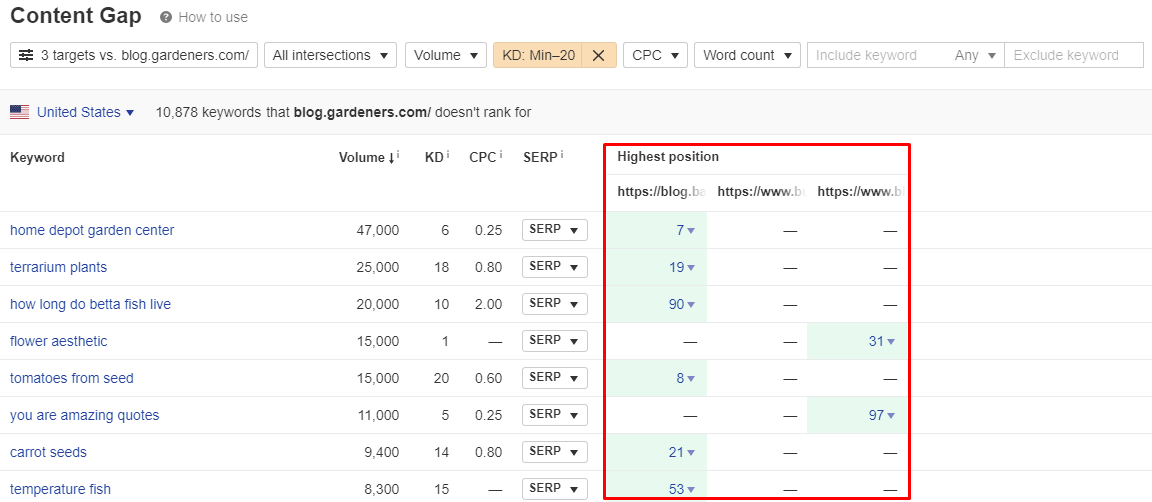 3. How to fill the content gap?
There are several ways to fill in content gaps now. You can update existing blog articles or create new content based on the previously conducted content gap analysis.
3.1. Content update
We go back to the Search Explorer tool and enter the address of our blog in the search engine. Then we go to Organic keywords (in the menu on the left). We then see a list of keywords along with our articles that rank for them. We can refine the list by entering constraints in the Position option.

What should we pay attention to?
→ First, the position of the article in the search engine. For example, if you see that an article is too low in the search engine, it means that it may need some changes.
→ Secondly, on the date of updating the content. It has been said that updating old content more often gives more profit than creating something completely new. Therefore, it is worth checking if an article has a low position due to its out-of-date status.
In the case under discussion, it can be seen that most of the articles rank in Top5. In addition, when looking at the column with the dates of recent updates, you can see that each of them is constantly being corrected.
But what if an article turns out to be out of date?
We are doing Content Gap analysis!
We can take competition links in two ways. We can expand the SERP option and take the URLs of the showing pages there.

We can take the keyword for which the article we want to improve is positioned and enter it into a search engine, e.g. Google. Then you just need to take the links from the Top10 published articles.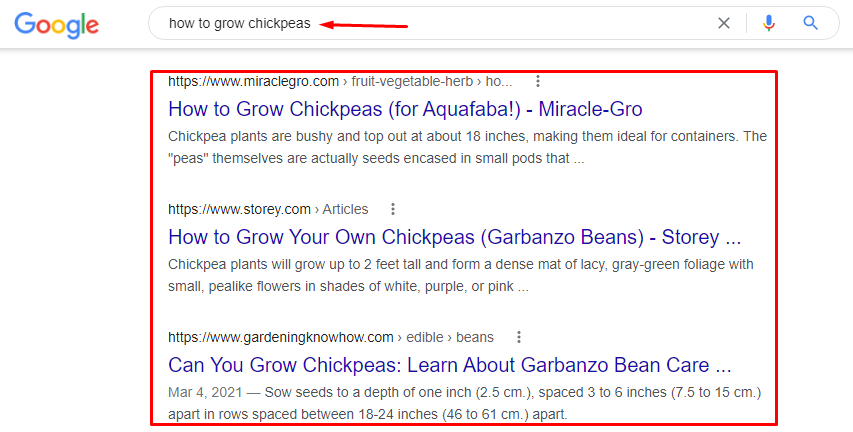 Now you just need to repeat the previous example of searching for a content gap for blog.gardeners.com and correct our article for missing content.
3.2. Create new content
While doing the content gap analysis for blog.gardeners.com earlier, we distinguished a few keywords based on which it is worth creating new content. They were:
→ words about flowers
→ quotes about blooming
→ bloom quotes
→ bloomaker
They all had a low level of difficulty and high values.
Before we start looking for more similar keywords that we could still use, let's consider if the ones already highlighted fit the topic of our blog at all. In this case, we will omit the slogan "bloomaker", because it is the name of the brand and our competition. We can move on with the remaining keywords by entering them in the Keywords Explorer search engine.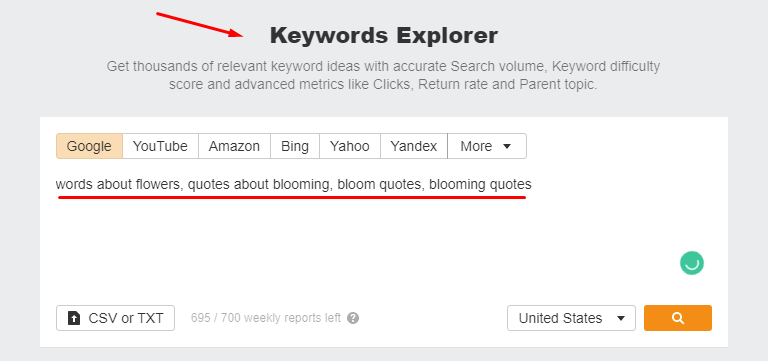 In the overall report, we first look at the Parent topic category, where we have suggestions for related keywords that we can use. However, we can find more by going to Related terms (in the menu on the left).

We get an even more extensive and more accurate list of related keywords that we can use. It is worth introducing restrictions in the search to make the selection easier, such as a specific KD or Volume range.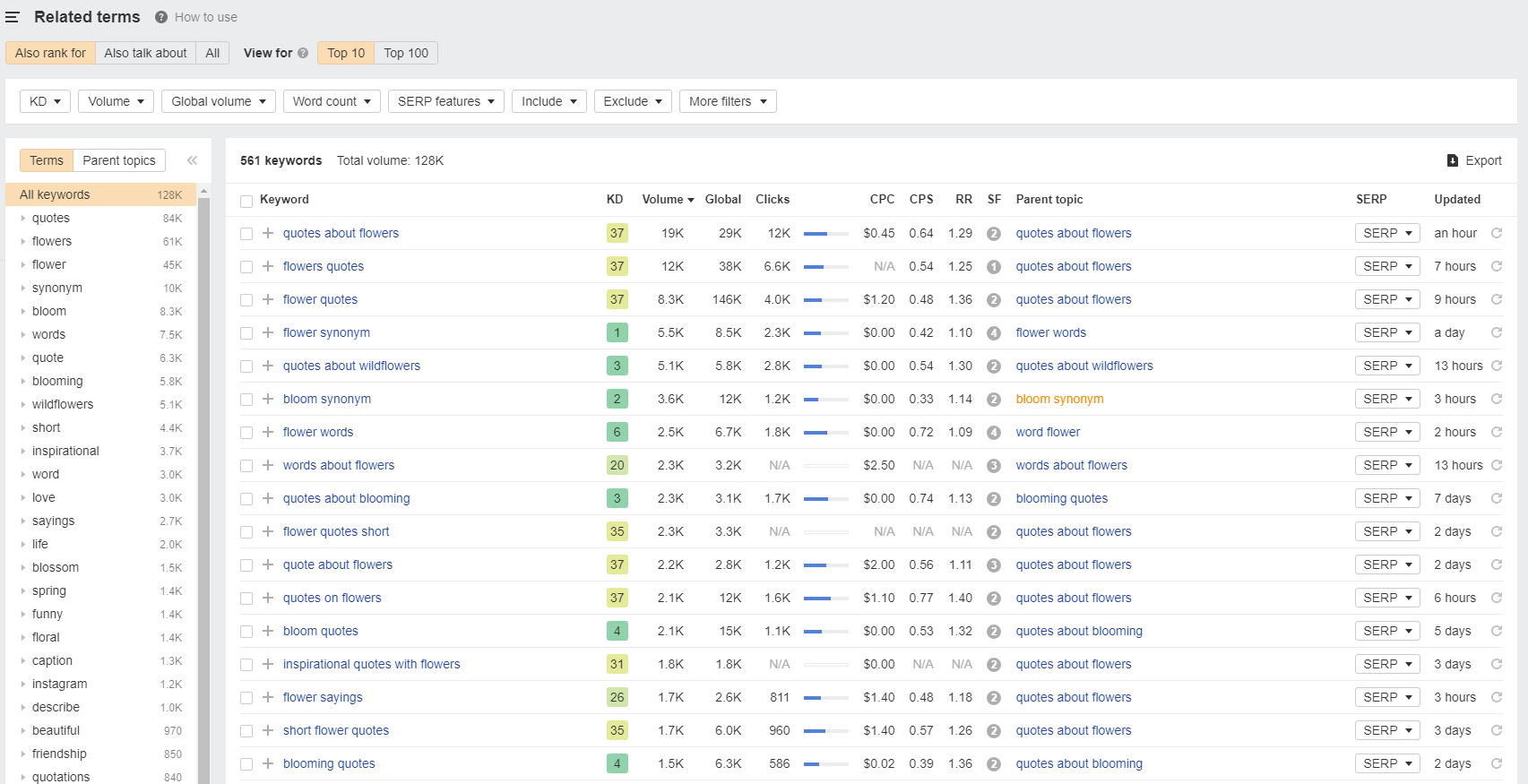 Having a list of valuable keywords, we can start creating new content. For inspiration, we can check what types of articles rank in the Top10 for the key phrases we choose, to know whether it would be better to create our article as, for example, Top 5 ..., How to ... or in another way.
Ahrefs alternative
As with most tools, there are better or worse alternatives on the market. Some people use Ahrefs and yet another similar tool as some form of data supplementation. So, if you are not convinced of Ahrefs, here are some examples of similar tools:
1. SEMrush
A tool that will help you develop in the field of digital marketing. SEMrush has been on the market for many years and is still very popular among people looking for accurate SEO reports.
→ Price - three payment plans: Pro ($ 119.95 / mo), Guru ($ 229.95 / mo), and Business ($ 449.95 / mo). Access to features increases with each plan. Of course, we only gain full access with the Business option. For those undecided, there is an option of a free trial for 7 days with access to all tools.
→ Tools - more than 50 tools. SEMrush divides them into the following categories: SEO, Content Marketing, Market Research, Advertising, and Social Media. Essential tools such as Keywords Research and less common ones such as Competitor PR Monitoring are available.
→ Overall Impression - The number of tools SEMrush offers is enormous. It can be pretty overwhelming for first-time users of this type of tool. SEMrush is primarily aimed at people who already have some SEO knowledge and for more significant entrepreneurs for whom controlling the results and making sure that they bring large profits is a must.
2. Ubersuggest
Tool by Neil Patel with extension for Google Chrome. Ubersuggest specializes in keyword searches
→ Price - there are also three payment plans here: Individual ($12 / mo), Business ($20 / mo) and Enterprise / Agency ($40 / mo). In this case, the first plan is the most popular. An interesting thing here is the LIFETIME option, i.e. for life. Of course, there is also a free 7-day plan to try out the tool.
→ Tools - Ubersuggest is constantly evolving. At the moment, we can use such availability as Domain Overview, Top SEO Pages, Keyword Suggestions, Content Ideas, or Backlink data.
→ Overall Impression - Due to its functionality and transparency, this tool is very easy to use. The lack of unnecessary data and color-coding makes Ubersuggest perfect for people taking their first steps in SEO. It is accurate and effectively searches for a lot of ideas for effective keywords for us. This tool is best suited for individual users, freelancers, and small and medium-sized businesses.
3. Moz
A platform that offers many SEO tools. Its advantage is to include them in one place with the possibility of free access to some of them.
* In this case, we will only cover two products, but it is also worth taking an interest in the rest of them.
→ Price - Moz offers several collections of tools based on the needs of users.
Moz Pro
There are four plans to choose from: Standard ($ 99 / mo), Medium ($ 179 / mo), Large ($ 249 / mo), and Premium ($ 599 / mo). The Medium plan is the most frequently chosen one. It is possible to pay annually. There is also an option to test the tools for free for up to 30 days!
Moz Local
Three payment plans - Lite ($ 129 / year), Preferred ($ 179 / year) and Elite ($ 299 / year). Attention! In this case, there is no possibility of monthly payments. There is also no free trial plan
→ Tools - here too, differences depend on the choice of the product.
Moz Pro
We gain access to Keywords Explorer and the ability to track our position (and competition) in the search engine. We can also use Site Crawl tools or see our Page Optimization Score. Thanks to this, we will control the results of our website on an ongoing basis, and we will quickly fix its errors and shortcomings. In addition, we can also create our own report interestingly and simply.
Moz Local
This option allows you to observe our position in the search engine and on platforms such as Facebook. It also reminds us and helps us manage opinions about ourselves on the Internet. We also receive reports full of data on our visibility and our online performance.
→ Overall impression -Thanks to the breakdown into individual products with a dedication to users with specific needs, Moz makes it easy to choose the perfect offer for us. In addition, we are sure that it will contain only the necessary and important tools for us. Moz Pro is a solution tailored to larger businesses that will make it easier to control your online presence internationally. On the other hand, Moz Local is an excellent choice for local entrepreneurs who want to reach an audience closer to them. Thanks to the friendly and straightforward interface, navigating each tool is not difficult. Free access to some of the tools is also a big plus.
Another noteworthy tool is:
→ Pagerank Checker
→ Monitor Backlinks
→ Mangools
→ Google Trends
→ Keyword Planner
→ Majestic
→ SE Ranking
Ahrefs pricing
Finally, we will present the cost of Ahrefs and its payment plans.
Starting from the beginning - it is not possible to create a free account. However, there is a trial version of the tool that costs just $ 7 for seven days. If you just want to test Ahrefs, this is a great option. You can cancel your account right after registration. In this case, the trial period will end after seven days, and no fee will be automatically charged from our account.
At the registration stage, we must select the type of subscription (starting at $ 99 per month) and the payment method. Without providing this information and choosing a subscription, it is not possible to fully use the tool.
In total, Ahrefs proposes four types of plans:
→ Lite - the cost is $ 99 per month. It is most suitable for private individuals, freelancers, or people with small businesses. Only one user has access to the account, and the maximum number of projects is 5. In this case, you can get up to 500 keywords, and the ranking for our competitors' websites will only reach Top10.
→ Standard - the cost is $ 179 per month. This is the most popular plan for those who want a little more data and the ability to create more projects (10). Here we can already get over 1000 keywords, and the ranking for the competition increases to the Top50.
→ Advanced - the cost is $ 399 per month. A plan for people who are definitely more experienced in using Ahrefs, managing many projects, or running a medium-sized business. In this case, there is already room for three users and 25 projects. One of the most valuable advantages of this plan is the increase in available data in the Site Audit category (we can crawl up to 1.25 million pages per month) and Site Explorer (we can research almost 2,000,000 domains per week).
→ Agency - it is a truly advanced machine. This plan is ideal for agencies, people managing a (very) large number of projects, and large companies. The number of available options increases significantly. In this case, there can be 5 users and 100 projects. In addition, there is the possibility of tracking over 10,000 words or searching 7,000 pages per month. Such opportunities go hand in hand with a higher price. The cost of Ahrefs top plan is $ 999 per month.
There are a few more things to keep in mind. Each plan can also be developed with individual functions/availability. For example, for an additional project that exceeds our plan, we will have to pay an additional $ 10, and for an additional user, it will be $ 30.
You can also choose to pay for the entire year in advance. Thanks to this, we will save and get 2 months of using Ahrefs for free. Of course, such a solution should be decided by people who are absolutely sure what they will need this tool for and who often use it.
Conclusion
Building a content marketing strategy to be effective and profitable is not easy. However, we have many new solutions that allow us to define what our recipients want from us and indicate the right ways to provide them with what they expect. It is worth using Ahrefs and other SEO tools and making exhaustive use of the data received from them.
What's next? The next step in the effective promotion of your projects should be to prepare a marketing plan and, above all, to use the acquired knowledge.
Finally: you can create an account in Ahrefs here.
If you are going to create your own website now? Find out what a website should contain to avoid common mistakes and dynamically develop it from the very beginning
Article by
Karol Andruszków
Karol is a serial entrepreneur, e-commerce speaker m.in for the World Bank, and founder of 3 startups, as part of which he has advised several hundred companies. He was also responsible for projects of the largest financial institutions in Europe, with the smallest project being worth over €50 million.
He has two master's degrees, one in Computer Science and the other in Marketing Management, obtained during his studies in Poland and Portugal. He gained experience in Silicon Valley and while running companies in many countries, including Poland, Portugal, the United States, and Great Britain. For over ten years, he has been helping startups, financial institutions, small and medium-sized enterprises to improve their functioning through digitization.