Power Words - What Are They, and Why Should Everyone Use Them? [Full list]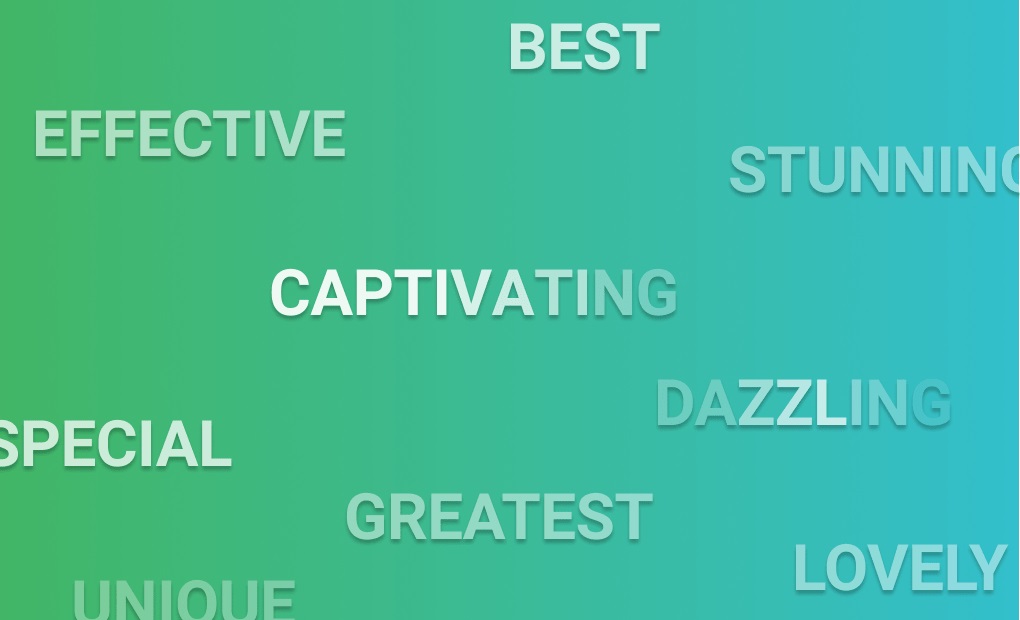 It's not easy to create content that will attract tons of audiences. Fortunately, there are many proven ways to make this task easier. One of them is the so-called Power Words that enrich any content, making it more attractive to the recipient. But how to choose them according to our goals? You can learn about this and more in our article about irreplaceable Power Words.
What are Power Words?
Power Words (or "power words" or "strong words") are unique words that evoke strong emotions in the recipients. Copywriters and other content creators widely use them. Why? Because they work.
Often one word makes us take a specific action. Such as purchasing a product. Skillful use of Power Words can produce many positive outcomes. It can increase Click Through Rate or website conversion. However, if misused, they can also cause considerable damage. Fortunately, learning to use them properly is not very difficult or time-consuming, especially when there is a specific division.
All Power Words are assigned to specific categories. This is a division into the words:
Greed
Curiosity
Sloth
Lust
Vanity
Trust
Anger
Fear
Thanks so much easier to find the right words to the genre or subject matter of our content.
Why do you need to start using Power Words today?
People don't like bland content. They want to read or watch something that will evoke emotions in them. Strong feelings are best. Therefore, the saturation of Power Words content will make them much more attractive and more eagerly watched. Remember how often you clicked a link simply because it caused disbelief, anger, curiosity, or fear. Indeed all this content had the Power Words in it, which caused all these reactions in you.
Power Words are a really effective way to attract audiences and make them stay with us longer.
Where to use Power Words?
Everywhere. The Power Words list is rich in different words that fit a great many contexts and formats. They are suitable both for purely entertainment topics and for those more serious. Here are some examples of where it is worth placing them:
Subtitles
Newsletters
Buttons Call To Action
Names of products
We encounter Power Words more often than we think. We even used them many times completely unconsciously because we got used to using them in specific situations. Therefore, contrary to even their conscious selection, it should not cause significant difficulties.
How to choose Power Words appropriate to our content?
Step 1
To get started, you need to know well what your content is about, what you want to convey, and to whom you are addressing it. Only then will you be able to proceed to the actual selection of the right words.
Step 2
Look at all the categories first (there are 8) and see if any of them match your content entirely. Thanks to this elimination, you will save yourself a lot of time.
Step 3
Once you know which categories you will choose specific words from, you need to familiarize yourself with all the categories left behind. It's best to select which you find helpful at first glance while familiarizing yourself with them.
Step 4
Review them again but limit yourself to those that previously caught your attention. Make sure that all of them are appropriate for the content you want to use them for.
Step 5
Now you have your Power Words list ready. Depending on its length and the length of the content itself, you can use all of them or limit yourself to only those that will fit well with your content.
Are the more Power Words, the better?
No! In the case of Power Words, the situation is similar to that of keywords. So there should be as many of them as are needed. If you bet on quantity and not quality, your content will suffer. It won't do you any good if you put countless Power Words in them, losing the value of the content at the same time. These kinds of words should be used with caution and per the needs. Only then will they work properly.
Power Words list for each content
If this is your first time using Power Words or looking for a quick way to spice up your content, be sure to check out our list of the most influential and valuable keywords for each content!
Greed Words
Greed words have a significant effect on our desire to possess and acquire items, especially money. When used in shopping offers, consumers decide to buy more often, even if it is unnecessary.
List of the most common Greed Words:
Bargain, Before, Best, Big, Bonus, Cash, Cheap, Deadline, Discount, Don't Miss Out, Double, Economica, Exclusive, Fast, Final, First, Gift, Giveaway, Greatest, Last Chance, Limited, More, New, Now, Premiere, Profit, Save, Special, Ultimate, Value
Last Chance! Don't miss out last day of the Spring Sale.
Congratulations! We have a huge bonus for you to use now!
Earn more: a quick and easy way to triple your savings
Your insurance expires. Extend it now and take advantage of the special price break
Curiosity Words
People are naturally curious. If they see an opportunity to discover a secret, they take advantage of it immediately. Words in this category only fuel this desire.
List of the most popular curiosity words:
Banned, Be The First, Behind The Scenes, Controversial, Crazy, Eye-Opening, Hidden, Hilarious, Illegal, Limited, Myths, Private, Secret, Shocking, Spoiler, Top Secret, Unauthorized
Only here! See behind the scenes of the Oscars
Bizzare myths about the black market. Find out how it really is!
Stunning fireworks show! Book your tickets today.
Access to this article is limited. Log in to unlock.
Sloth Words
Nobody likes to work more than necessary, especially when they see an opportunity to facilitate their compulsory work. Creators willingly use this, promoting their content with words such as free, free, downloadable, templates, etc.
List of the most popular sloth words:
Accessible, Basic, Clear, Complete, Copy, Downloadable, Easy, Economical, Formula, Free, Gift, Guide, How-To, In Less Than, Instant, List, Now, Ready, Simple, Steps, Swipe, Template, Tools
Complete list of mandatory books for this year. Downloadable.
Complete the report by filling in the blanks in the template.
The best recipes for easy and light desserts! [Printable]
An all-inclusive vacation in Hawaii! Free flight - book now!
Lust Words
The words related to lust act on the senses. They don't have to be relevant only to controversial or sexual content. There are also words that will be suitable for a wide variety of content: cute, lonely, alluring, or forbidden.
List of the most popular lust words:
Alluring, Captivating, Charismatic, Desire, Exotic, Exposed, Fascinating, Lonely, Lovely, Magnetic, Mind-Blowing, Obsession, Scandalous, Sex, Shameless, Steamy
Captivating pictures of Denmark. See the photo report.
Dirty secrets of Politicians. Do you know them all?
Behind the scenes of detaining a famous celebrity. Uncensored photos!
Lovely ways to make a mouthwatering family dinner
Vanity Words
Vanity is an essential part of purchasing decisions. That is why it is worth using words related to it when creating content to convince someone of something. Make your offer more attractive to them.
List of the most popular vanity words:
​Ahead Of the Game, Amazing, At The Top, Attractive, Beautiful, Bold, Boost, Brilliant, Effective, Epic, Fearless, Genius, Good-Looking, Gorgeus, Sensational, Smart, Strong, Stunning, Successful, Ultimate
Smart ways to successfully get rid of headaches. Check them all!
A epic triumph one of the largest corporations in America.
A jaw-dropping result of a world football player. It was a spectacular victory!
How to start a moneymaking business? 7 brilliant ideas
Trust Words
Your audience must trust you, regardless of whether you offer them knowledge, services, or products. Words of trust will help you convince even the most unconvinced that you are trustworthy.
List of the most popular words of trust:
According To, Approved, Authentic, Because, Best, Best Selling, Cancel Anytime, Case Study, Expert, Improved, Lifetime, Official, Privacy, Refund, Reliable, Research, Results, Safety, Secure, Tested, Verify, Wordwide
Security of your website. How do you take care of it?
According to experts, global warming can mitigate.
Anonymous research on trust in the health service [Online]
How do the biggest brands deal with the image crisis? Case Study - Nike
Anger Words
Anger often causes us to act on the spur of the moment. Therefore, it is a great idea to evoke this emotion when we want the recipient to, for example, click on the link immediately after seeing it. Words of anger may not apply to every context, but they are essential to influencing your audience.
List of the most popular anger words:
Abuse, Arrogant, Broke, Brutal, Bully, Corrupt, Evil, Fear, Hate, Lies, Loser, Lying, Pitiful, Victim, Violent, Waste, Weak, Worst, Wounded
10 Disgusting Lies All Of Us Told
The Worst Ways To Get Your Audience. Never use them!
How not become a victim of bank fraud? Expert Advises
Wastage Food: An Brutal Problem of Today's World
Fear Words
Like anger, fear also causes us to act without thinking. Often, out of fear alone, we prepare in advance for things that may happen to us. We are looking for proven ways to avoid mistakes or quickly fix those already committed.
List of the most popular fear words:
Apocalypse, Armageddon, Assault, Blood, Catastrophe, Corpse, Crazy, Crisis, Danger, Death, Devastating, Dumb, Epidemic, Fail, Fired, Fool, Hurricane, Lawsuit, Mistake, Murder, Nightmare, Painful, Panic, Scary, Victim, Warning, Wounded
Examples of applications:
The worldwide crisis is coming: Frightening predictions of experts for 2022
How to protect yourself from a lawsuit? Proven advice from a lawyer!
A scary book by a young debutant. Now in the sale!
How Can I Avoid a Painful Breakup? 5 Proven Ways
Summary
Power Words are a straightforward yet effective way to create compelling content. I can be used in any message with any topic. It is worth remembering them every time we build something to win a considerable number of recipients. With them, each content will gain a new momentum!
Start using Power Words today!
Download a PDF with a complete list of up to 350+ words that will enrich your every content!
Want more about creating engaging and effective content? Also read: