Website Creators or WordPress. What is the difference? Which one to choose?
By Karol Andruszków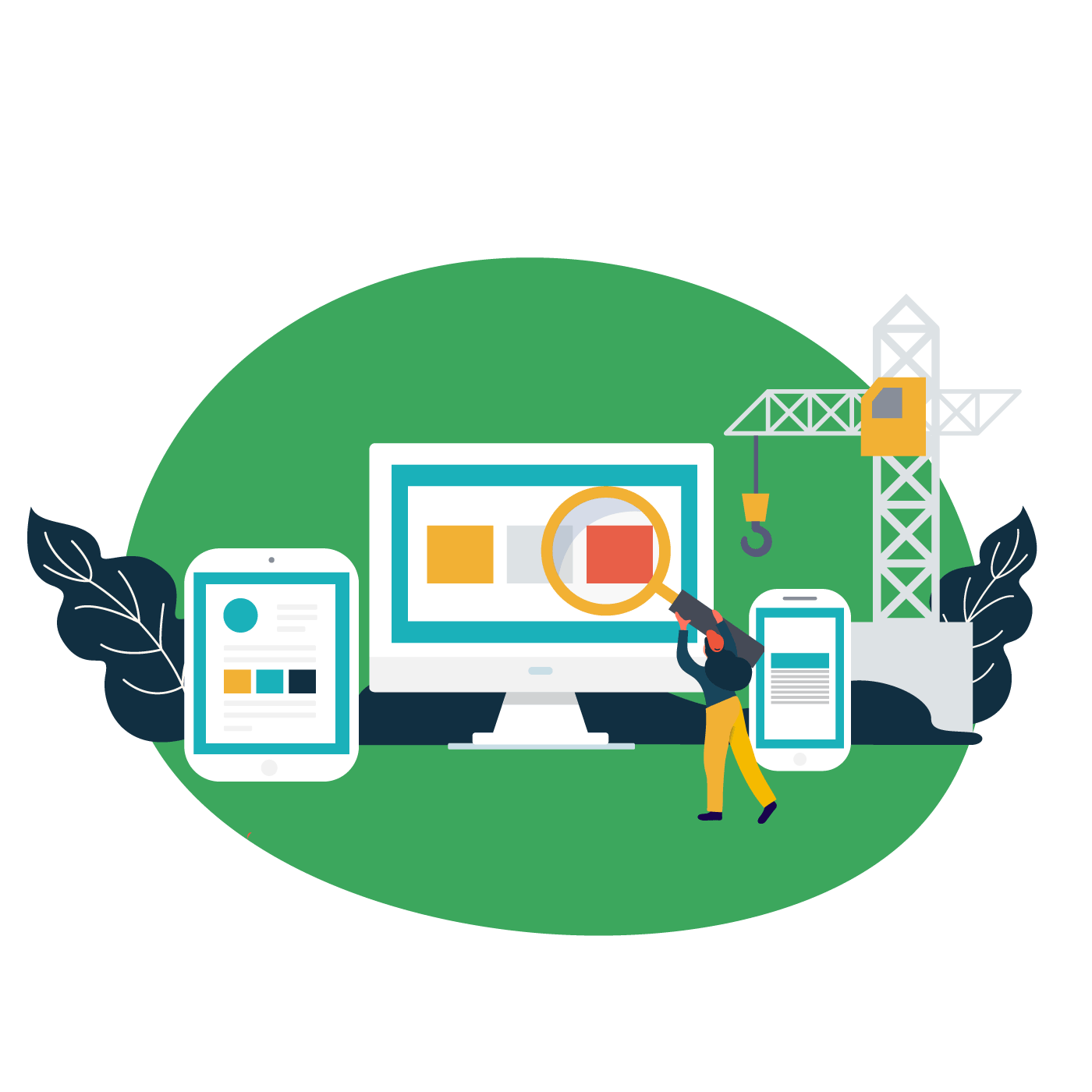 Do you need a website and you don't know which platform to use to create it? Reading this article will allow you to quickly expand your knowledge on this topic and make a decision that you will be satisfied with and will allow your business to grow effectively . However, before you start reading, think about what purposes your website should serve. Do you plan to update it often? What is the budget for its implementation? Have you already answered? Let us begin!
How to choose the best platform for your site?
Why is this so important? Because if you make the wrong choice, you will be condemned to inconvenient and time-consuming use of the site, and not being able to add new content. A slow-loading, non-intuitive site will prevent you from conducting effective marketing activities, and may even make it difficult for potential customers to find your business online! Choosing the wrong platform can have a long-term, negative impact on business - it could limit its profits and even contribute to its collapse, because it is not without reason that you say: " if you are not on the Internet, you don't exist".
Choosing the right platform might seem complicated, but our guide will help you make this important decision. All you have to do is follow the points listed below:
Find out what you can do with WordPress or another content management system, and what you can do with a web builder.
Analyze what your company's needs are and how you want to use the website.
Make an informed decision that you'll be happy with.
Time for some useful theoretical knowledge that will help you understand where the difference between website creators and WordPress is.
What is CMS?
Platforma CMS The CMS (Content Management Software) platform is equipped with an administrative panel that allows you to make changes to the page through the user interface (and not directly in the page code). This is a great facilitation that allows you to update the content of the page, and making such changes has a significant impact on the results achieved by the page in search results and, most importantly, on the trust of customers who see that the company really works. Sometimes it's just necessary to update the page - when a business changes its business profile or address details.
However, the average user will not be able to make every change in the CMS that they would like to make. Adding a new blog entry is usually not a problem if you know the CMS, but modifying the appearance of the page or even the arrangement of other components is risky and often ends with a shaky, mixed-up page.
Building websites based on the CMS system requires IT skills. You can do it yourself only if you limit ourselves to very small changes in the website template - changing photos or adding a subpage with a very simple layout. In turn, creating a good-looking and working website when you don't have coding skills is impossible.
What is WordPress?
WordPress is, basically, a CMS system, and at the same time the most popular software used to build websites. It is estimated that over 30% of all currently existing websites were created in it. This is open source software , which means that users are given access to its code, which can be changed according to their needs. WordPress also provides access to regular and free updates , but you need to spend time introducing them.
However, it is not the only such CMS system. Drupal, Joomla!, Serendpity, Typo3 and Chamilo are competing platforms that many web developers use to build websites.
It's worth choosing popular CMS because they offer more options than the lesser-known ones - many functionalities, useful plugins, various website templates and tutorials showing how to use them. Such content management systems are proven and constantly developed, which is important for the future of the company's website . Unfortunately, their popularity also has a dark side - because of it they are much more susceptible to hacker attacks
What is a website builder?
A website builder is a tool in which a web page is created. It should be designed so that everyone can build their own website in it - by dragging the elements to be included in the project. Instead of a content management panel, an editor is available to add new subpages or to insert and modify individual items. Thanks to this, we can see what the website will look like live.
Good page builders should be very easy to use, while allowing you to design good-looking, fast websites. The best of them give the opportunity to create pages to both "ordinary users" and web developers and allow, for example, to implement their own code. There is both the possibility of using a ready template, as well as building the page from scratch.
WordPress vs. website creators
The difference can be seen when we start using any CMS system and any website creator. If you just want to check what this process looks like, create a free account on WordPress and in several website generators. Here you can create a free account in the BOWWE Website Creator. All you have to do is enter your email address and password. Thanks to this, you will be able to check how the page creation process looks in various tools and assess in which of them is the easiest and whether the end result meets your expectations.
However, the differences between WordPress and page builders also apply to many other issues. Below you will find an overview of them.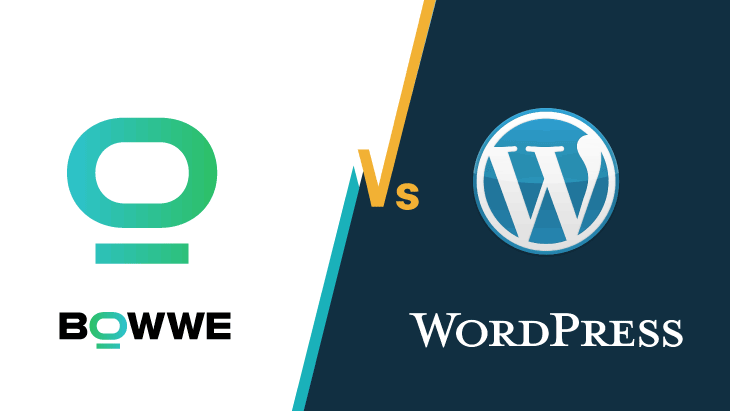 8 differences between page builder and WordPress
1. Purpose of existence
WordPress was initially created as a blogging platform, and over time it has grown a lot and began to offer so many opportunities that today you can successfully build even a very extensive website. CMS systems are designed so that they allow basic editing of the page content also for people who do not have coding skills. Without such knowledge, however, it is very difficult to create a website in CMS and modify its appearance or functionality. However, this is possible in web builders.
Website builders were designed to enable the creation of a simple website for anyone who can operate the computer, but many of them also offer options for designing much more complex websites. In it, you can manage content, but also create a page and adapt it to your needs - also when you have not mastered the programming skills. The owner of a small business does not have to hire anyone else and can take care of the site himself. In turn, the graphic designer is able to learn how to create pages and offer such solutions to clients.
Bottom line: Both page builders and WordPress are web development tools that can work well. However, if we do not have technical knowledge, it will be very difficult for us to create a website in WordPress and even manage it. For the average user WordPress can work if someone helps him in the selection of plugins and if it will be used mainly for basic updating of content, e.g. publishing entries on the portal. However, if we want to have a website over which we have full control and which can be quickly created without IT skills and easily and freely changed - a better website builder will be the better choice.
2. Ease of use
There is a widespread opinion that WordPress is easy to use. When it comes to its very basic functionalities, such as publishing entries, it really is so and you can learn it quickly by learning about the information available on the web. However, if we want to do something more than replace the content on the ready template, you cannot do it without knowledge of HTML and CSS, and obtaining such knowledge is difficult and time consuming.
In turn, the best web creators are very easy to use and built so that the user intuitively guesses what action to perform to achieve the desired effect. Website generators are equipped with a friendly interface with signed icons, which makes it even easier for inexperienced people to create websites. Just drag the elements into the project and place them where you want them to be. Everyone is able to learn it, even a person without prior technical skills.
Both WordPress and popular website creators offer many educational materials showing how to use them. In the case of website builders, such tutorials allow not only to broaden knowledge or learn tools, but they clearly show how to create your own website step by step. All you have to do is follow the instructions to realize your own website design.
3. Design and customization
WordPress allows you to create an extensive website, but to do this you need a thorough knowledge of this system and the ability to program in HTML, CSS and JavaScript. An unquestionable advantage is the availability of a huge number of templates for WordPress (paid and free), on the basis of which you can create your own website. However, the ability of the average user to customize these templates is very limited. In WordPress, you can also create a website based on your own graphic design, but this requires programming skills.
When it comes to website builders, some offer dozens or even hundreds of templates, others offer a much smaller number. As in the case of WordPress, there is no shortage of templates dedicated to a particular industry, and such templates are eagerly chosen by small business owners. The difference is that templates can be modified much easier and faster - by removing or inserting elements in a website builder. It is also much easier to create a website from scratch, using your own ideas. It is enough to design the layout well and upload all its elements, and finally put them in the right place. At the beginning, such "page building" can cause minor difficulties, but it is incomparably simpler than designing a page in WordPress. For these reasons, web builders are often used by graphic designers to create company pages. Thanks to this, they can earn more: not only get paid for creating a graphic design, but also for its implementation . They also do not have to bear the costs associated with purchasing graphics software, such as: Adobe Photoshop or Adobe Illustrator, because in the page builder they immediately create a page, not just its design, and work almost in the same way as in graphic tools.
Importantly, the best page creators allow you to preview how the page will look on different devices (desktop, laptop, tablet or mobile phone). A separate editor for mobile devices allows you to improve the appearance of the site and achieve the most user-friendly effect possible when viewing pages on mobile devices, which today constitute about 50% of all users.
4. Template quality
WordPress offers a huge number of website templates - both free and paid. You can easily find a template for a blog, company website or online store for very different industries. Selling your own WordPress page templates is quite a popular activity. Such people may have a great sense of aesthetics, but they do not always have marketing and business knowledge, which is why these types of page templates will not necessarily help companies attract new customers and generate sales.
A similar problem may occur in the case of page builders, so it is worth paying attention to whether the template is equipped with elements that allow you to attract customers and build their loyalty - e.g. opinions, coupons, booking visits online or portfolio. Such solutions have been included in BOWWE templates.
Some website creators offer very high quality templates, others are average or not very good. It is always worth comparing a template for a given industry with several page builders and assessing their pros and cons. Aesthetics are very important, but it's not worth it solely to follow. A good template should be structured to help you attract customers online. When reviewing the available templates, pay attention to it and think about whether if you visited such a site, you would feel motivated to send an inquiry, use a coupon or book a visit.
The popularity of WordPress templates is also an important issue. When choosing such a template, we must be acquainted with the fact that thousands of other company websites have already been created on its basis, perhaps also a competitor's website (you must check that). In a well-thought-out page creator, you can easily implement your own graphic design, change the order and arrangement of elements, so you will avoid a situation in which someone will have almost the same website as mine. Such a page will look unprofessional, and in addition this situation will adversely affect page position in search results.
5. Plugins and applications
Thousands of plugins and add-ons - that's what WordPress offers us. However, such a large number of them is often not an advantage but a hindrance. Plugins are created by various companies and offered on WordPress - for free or for a fee. With so many options, you can easily get lost and have trouble choosing the best plug-in of the type. You should also pay attention not to install two plugins with similar operation, because they not only take up space, they will also "interrupt". In general, too many plugins will slow down the page, lower its position in Google and make it more difficult for us to manage their settings. The problem is also the lack of automatic plug-in updates and the need to check frequently for updates. If we forget to do it, the plugins may be incompatible with our website or dangerous because they will expose us to hacker attacks.
For page builders, the situation is complex. There are those that do not offer plugins or applications at all, and others offer many such solutions. The most important thing is that these are tools that support business operations, i.e. the process of acquiring customers and building their loyalty. Some website creators often offer plugins from other providers, and others also have their own plugins. BOWWE only offers its own applications that work together perfectly and use the same customer base. For example, the Coupons application can send a coupon to any user who has used the Events, Online Reservations, Opinions or Coupons applications, and often applications can do this automatically, e.g. the Opinions application can itself send a request for feedback to the user who downloaded the Coupon.
6. SEO and optimization
WordPress allows comprehensive optimization of the site in terms of search engines, but doing this requires specialist knowledge. Usually, users who know that it is worth refining the website for SEO are limited to supplementing meta tilte and meta description. Sometimes they use SEO plugins, e.g. Yoast SEO, plugins for caching (generating a static version of the page) or for optimizing images. As WordPress gives access to code, it allows you to modify it so that it is more search engine friendly. You can also use the plugin to optimize the code. The disadvantage of WordPress is that it is complicated and its adaptation for SEO requires a lot of knowledge.
The lack of this particular knowledge might be an obstacle for users who make pages from WordPress templates. Such templates are also often of low quality and reused, which reduces the position of pages made using them. Installing a large number of plugins makes positioning difficult, and slow and poor-quality servers on which pages are often installed negatively affect the position of the site in search results.
Many users built on WordPress websites do not even update the content, and doing so has a positive effect on the positions achieved in the search results . What's more, many WordPress users forget to update the plugins or don't know how to perform them, which causes the pages to contain errors that also affect the positioning of the site.
It is also worth remembering that websites created on WordPress very often fall victim to hackers, who send spam from domains they have broken into. After such an attack, good site positions in such a domain are no longer recoverable, and in addition, when such spam is sent - the owners of the domain from which it was made might have legal problems.
When choosing a page builder, you should pay attention to whether he grants access to the code, because if so - it allows you to optimize it. As a rule, the pages created in them have automatically performed optimization in the basic scope, eg "friendly URLs" (xyz.pl/oferta/uslugi-ksiegowe, not xyz.pl/2452657) or offer the possibility of supplementing meta title and meta description for each subpage. It is also worth paying attention to whether the tool allows you to use H1 and H2 headers, add ALT and title attributes for images, and whether you can set redirections from outdated subpages to current ones . Some builders may additionally offer (usually paid) plugins that will speed up the site and help it adapt to Google requirements.
Often, it may turn out that in terms of SEO, the page builder will be a better solution than WordPress or other CMS systems. This is because developers that usually work on creating page builders are decisively more skilled when compared to those who create website templates. It is worth adding that the creators of web builders have the same servers as the clients, that is why they will care about the quality of these servers, as it has a great impact on the future of business.
BOWWE is a website builder that was designed with the goal to maintain the highest SEO standards and positioning of the pages. The developers who created it made sure that all the issues discussed above were resolved, so the user wouldn't have to worry about them.
7. Security and Updates
Due to the enormous popularity of the WordPress CMS system, the pages built on it are often a target of hacker attacks. Hacking is often used to make further attacks or to send spam. This has serious and often irreversible consequences . Even if you manage to restore the page, bad domain history will prevent you from achieving good positions in search results, so the number of people coming to your site will definitely decrease, and this will translate into fewer customers. Usually, after such an attack, there is nothing else to do but rebuild the page again and place it under a different domain.
Hackers use programs that visit websites, and when a page that is made in WordPress is found- the program automatically attacks.
Sometimes a site built on WordPress is in danger due to the inattention of users who download related templates and plugins that can be infected. Hackers can also upload a malicious file and take control of a website or blog.
In WordPress, a frequent problem is also the need to frequently update plugins and WordPress itself . It's easy to forget about it, and besides, oftentimes, the people who administer the site want to do it themselves to check if the site still looks good after plugins are updated. They usually do this after some time, and outdated plugins can be infected, making the older version of WordPress potentially dangerous .
Website builders are more "resistant" to break-ins than CMS systems. No mass attacks on them were observed, and the widgets and plugins available in the builders update automatically.
Ready to create your website?
Use the most convenient website builder, trusted by thousands of designers and create websites that will provide you with customers!
8. Prices and real cost
Theoretically, WordPress is a free software, but this does not mean that the site will be free. If you create a page on WordPress.com, it will be located on WordPress servers, and if on WordPress.org, we can download files and install them on our own server. It can be done for free, but you have to take into account other costs - hosting, template, domain or plugins.
The biggest cost is designing the page in WordPress and then paying for the changes to be made to the site, which users won't be able to do themselves. Entrepreneurs are usually not aware of these additional costs. However, most companies are developing, changing the offer, and therefore need changes to their website. In WordPress, it is difficult to modify the content of the page by yourself. So as not to spoil the visual effect or remove any functionality, you need to hand over the job of implementing corrections to a specialist. Companies also often pay a fee for administering their website. There is also a need to update the site several times a year, and if someone does it for us - we also bear the costs. In addition, as a result of updates, often some website functionalities stop working, and you also have to pay for the repair.
Companies also often pay a fee for administering their website. There is also a need to update the site several times a year, and if someone does it for us - we also bear the costs. In addition, as a result of updates, often some website functionalities stop working, and you also have to pay for the repair.
Most site builders give the possibility of creating and publishing the site for free. The downside is that ads of the web builder will always appear on the page and the site will be published in the domain of this creator - not your own. Prices for the page created in web creators are very diverse, so you need to carefully analyze them. Check if the price is a monthly or annual fee. In some builders you can find a basic package for a dozen or so bucks per month. Make sure that if you decide on this package, then there will be no ads on the page. At BOWWE for very attractive price you will connect your own domain and be able to create a responsive, SEO friendly website without ads.
In the case of page builders, just like with WordPress, you have to take into account the costs of hosting, domain and application. However, if you make the page yourself - you will save a lot of money. You will certainly be able to manage it and make changes on it yourself, so you will avoid the costs associated with administering the site and making corrections .The money that you save in this way can be used to promote or expand your website.
Website creators vs. WordPress: which option should you choose to create a website?
Now that you have more knowledge, it will be easier for you to answer this question, but you will probably need a hint.
If you want to have a website on your own server, choose WordPress. Remember - this involves costs that you must pay to build, maintain and update your site. However, if this is not an important aspect for you, a good page builder will be a much better solution that will allow you to edit content quickly and easily, as well as to focus on developing your business.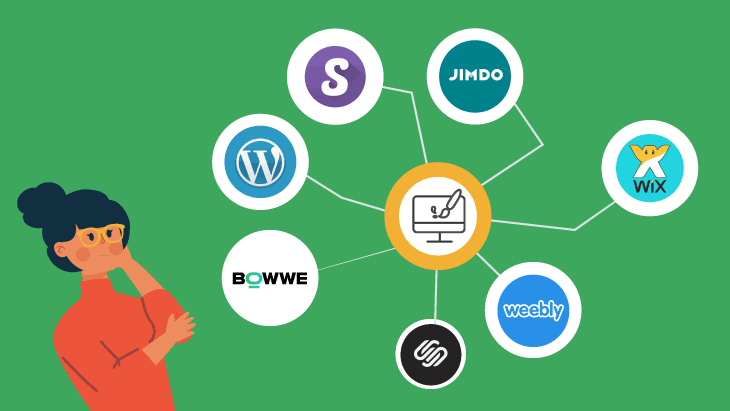 Website builders - advantages and disadvantages:
Advantages:
Simple and intuitive in use for the average computer user,
Self-sufficiency: the ability to make the page yourself and make changes to it,
Relatively low costs *,
Short time of making the website,
Regular updates and backups,
Impervious to hacker attacks,
No coding or graphic skills are needed
* It is worth analyzing the price lists, because there are also website builders that charge large fees.
Disadvantages:
Web page creators may not contain some functionalities needed for a company from a specific industry,
The need to use the servers of the given page builder,
Difficulty building a large page with a complex structure,
At times, there is no access to the page code and possibilities of its optimization,
Sometimes it is not possible to implement complex solutions,
In some cases - a small number of instructional materials available.
WordPress - pros and cons:
Advantages:
The ability to host the page on your own server,
A large selection of templates and WordPress plugins,
Website management panel that allows you to add simple, new content,
The popularity of the tool guarantees a large amount of materials related to WordPress support,
Stability of software - it has been around since 2003 and is constantly being developed.
Disadvantages
Fairly high costs related to website administration and making corrections,
You must ask for help to update and modify the page,
The need to update the WordPress plugins frequently,
Vulnerability to hacker attacks,
The site is not adapted to the needs of small businesses.
Do you choose WordPress or page builder? Before you decide, test BOWWE - an easy-to-use website creation tool created for small businesses.