24 Crucial Questions to Ask Your Website Contractor Before Hiring!
By Karol Andruszków
Are you planning to start your own website?
Do you want to start selling online? Do you run an association or foundation? Do you want to build a community or organize a big event? Or maybe you run a blog? Whatever your motivations are, you'll probably need a professional website! Online visibility is an absolute must nowadays! However, if you want to get a great created website, you have to make a crucial and well-thought-out decision - choosing the contractor for your website.
Selection of a website's contractor. How to start?
Since the website is an absolute must-have, you should have it done by professionals.
It's kind of obvious ... But here's the problem.
If you search the Internet for a contractor's website for 15 minutes, you will quickly notice that prices, waiting times, and the scope of the offer are entirely different! So who to choose? After all, you only pay to get the website done, right? Not really...
What do you really pay for when you buy a website? What does the price depend on? How to distinguish real professionals from amateurs?
For this purpose, we have prepared 24 questions for you that you MUST ask the contractor of your website. They will allow you to choose a reliable web designer or agency!
What exactly will you learn in this article?
What affects the price of the website
How to distinguish a reliable company from an amateur
How to choose a website contractor so that you do not have any problems in the future
How not to be deceived
How to make a conscious purchase of the website
What service will be the best for you
We have also prepared a questionnaire for you to send to all companies and freelancers who offered their services to you. Just download and send them the file prepared by us, check the answers to the questions and choose the best offer in 15 minutes!
Now let's discuss in detail all the questions that you should ask the contractor of your website, no matter if it is a web developer, freelancer-designer, or agency.
Part 1. Planning and organization
1. Do you have experience in creating websites for companies in my industry?
You'll find out: Does the web designer understand you and your clients?
Has the designer already cooperated with a company operating in the same industry as you? While this is not the main factor to consider when selecting a website contractor, it is undoubtedly helpful. If the designer has already dealt with a company similar to yours, he understands you much better: the specifics of the industry you operate in, and what you want to achieve. Importantly, it also understands your customers (your target audience) and knows how to keep them on the site for longer.
Of course, the process of creating effective websites is similar for most industries. If you choose an experienced designer or agency with positive opinions, you can be calm. Even if they haven't implemented a project in your niche yet, they're likely to be very good at it. Remember that there are contractors on the market that specialize only in a few industries. Consider using their services.
2. Will you do an analysis of my industry before making the website? What will it be about?
You'll find out: You'll find out: Will, your website, be built based on reliable data, which will guarantee its higher effectiveness
As with any other business project, when creating a website, you should follow a specific strategy, including:
Purpose of the website
Specifics of the industry
Target group
The company's business model
Marketing strategies
…and many others. However, how do you outline the entire strategy? This cannot be done without a thorough industry analysis. It will indicate what elements the website should consist of and how to act to implement the company's strategy. Freelancers and agencies who conduct industry analysis before creating a website gain a practical map. Thanks to her, they know what they should strive for and what to avoid. For customers, it is a guarantee that they will get what they expect.
The more advanced the analysis carried out by the website developer, the better the results you can expect from it. Of course, thoroughly conducted research takes many hours and significantly impacts the final project valuation. In this case, however, do not look for savings. Correct industry analysis is for a website the same as a solid foundation for a home. Without it, building a house threatens to collapse. So do not make such a basic mistake and verify how the contractor approaches the analysis of your industry before choosing him.
3. For the amount of..., can you create a website that fully complies with my needs? If not, what can we opt out of?
You'll find out: What website can you afford
Did you know that a website can cost both 150$ and PLN 50,000? Really. Such significant price differences may seem absurd. However, they are fully justified. Remember that you are paying for the contractor's working time and the technology you will be using! A website built by a technologically advanced creator, positioned by SEO, including e-commerce functions (enabling sales), a contact form, beautiful photos, and high-quality copywriting texts will be more expensive than a business card page containing the address and description of the company. However, with the former, you will also achieve many more business goals than with the latter.
How do you find what functionalities you need on the website?
Think about which ones are for you:
Absolutely necessary
Helpful but not essential.
You can opt-out.
Then give your contractor guidelines for what page you want to get and submit your budget. Perhaps it is so spacious that you will be able to afford the implementation of all planned functionalities. However, you may find that some of them are too expensive (or redundant). Then talk to the agency or web designer and think together about which functions you can give up to lower the project's total cost.
If you cannot give up any functionality anymore, and the project's price is still too high for you, talk to the contractor about the terms of cooperation. Follow the principle of reducing the contractor's working time on your website as much as possible. This should reduce the price of the project. You can propose, for example, reducing the available revision turns. Remember that a reliable contractor cares about customer relationships and a good reputation, so you will probably find a solution to this situation after talking honestly.
4. Will you work in-house or outsource my project?
You'll find out: Who will be involved in the work on your website and how it will affect the final effect.
An effective website is most often the result of the cooperation of many people with different but complementary competencies. Developer, UX / UI Designer, SEO Specialist, Marketer ... the more extensive the project, the more specialists you need.
However, no one is an expert on everything. So don't be surprised that more people will be involved in developing your website than just the one with whom you agree on the terms of the project.
Remember that there is nothing wrong with subcontracting some (or even all) of the work! It is often even beneficial because companies delegate some of the duties to more competent people. Although this increases the cost of the project, it gains time and the quality of its implementation. As a customer, you have the right to know whether the work on your website will be carried out by only one agency/freelancer or by possible subcontractors. This knowledge will allow you to analyze the offer more effectively and avoid errors and misunderstandings in communication that could affect the date of delivery of the finished website to you.
If your contractor works with multiple subcontractors, also ask about the risk of delaying one of them, resulting in a delay in the entire project.
5. Who and at what times can I contact regarding the project?
You'll find out: Who is responsible for your project and what the contact with them looks like.
What should the contact with the contractor look like?
Although the first contact with the contractor - whether it is a freelancer or an agency - can be made, for example, via e-mail or chat, you must have a lively conversation when you provide him with guidelines for creating a website. It can be a phone call, a remote conference, or a meeting in the office, but you must conduct the conversation. Why? It is always easier, faster, more precise, and cheaper. Most importantly, however, you will likely start a better relationship and avoid misunderstandings that cost you nerves, time, and money. This way, you will be able to make sure that the contractor has a good understanding of your purpose and situation and answer any questions you may have most likely to arise. During the meeting, you can also prepare a brief, which is an invaluable help in creating a website and a standard in the industry.
Be careful if your potential contractor:
He only wants to be contacted by e-mail and does not allow a meeting (also remotely)
Does not answer calls,
He is slow to reply to your messages.
If communication problems occur before choosing the contractor, it does not bode well. Remember that your cooperation will probably not end with the implementation of the website. After publishing it, you still have to work a bit: the website will have to be optimized, promoted, and positioned. If the contractor doesn't have time for you now, they probably won't have time for you in the future. Save yourself the nerves, thank him and browse through the following offers.
However, do not be afraid of remote cooperation with good relations! Traveling to you and meetings are costly, and in the end, you will always pay the price when you pay for the entire project. Time is money, and by respecting the contractor's time, you not only build a valuable relationship with them, but you can also pay less for equally valuable, quality work.
Who should I contact?
If you decide to use the services of a freelancer-web designer, the matter is simple - you will contact him directly regarding your website.
This does not work like that with agencies. Depending on their size, the project details will be arranged with the owner of the company, the person responsible for customer acquisition, or the Project Manager. They will get all the necessary guidelines to start work from you, which they will then pass on to their colleagues. It is an invaluable practice to write down these guidelines, in brief, thanks to which both you and your contractor have the guarantee that you will not miss anything.
The primary communication between you and the contractor must occur only through one person delegated to it - in this case, the principle applies the fewer intermediaries, the better. Why? More people could introduce unnecessary difficulties in communication, which could translate into a worse, final quality of your website. Of course, don't be surprised and don't hesitate if you are asked to arrange details with one of the agency's employees, e.g., a graphic designer or copywriter - providing some information directly may turn out to be faster and more effective than through a Project Manager. Our advice? Use the previously agreed brief and explain what you care about. Make sure you and the agency worker understand each other well. If you need to, don't be afraid to spend a little more time fixing it - this will save you from making corrections later, which is much more time-consuming and costly.
6. What is your design process? Will I be involved in it?
You'll find out: How much time will you need in the process of creating the website?
Most of the agency's clients and web designers would like to:
Provide the contractor once with guidelines as to the appearance and operation of the website.
Constantly monitor the progress of work while not getting involved in it.
Get your website ready and run a business as soon as possible.
Unfortunately, life's not so simple. You have to understand that your contractor's time costs money, whether a freelance designer or a marketing agency. So the more you require, the more he consulted, and the more time is devoted to you, the more likely you will have to pay for everything.
The better you understand the process of creating a website from start to finish, the more accurate selection of a contractor you will make, and you will not overpay.
Cooperation between web designer or agency and the client is the basis of a well-done website and customer satisfaction.
7. Should I deliver texts and images to the website?
You'll find out: What materials on the website are additionally paid.
This topic is a real bone of contention between web designers and their clients. Why?
Clients often expect web designers to design the appearance of the website and the location of all the elements on it (layout), to put excellent, original, and never seen anywhere else) graphics and texts on it, and finally, to program and publish it on the web that works without any faults.
As you know, no one is an expert on everything. One person can't do such work. Texts and graphics for the website must be commissioned by graphic designers and copywriters. Their work is an additional cost that affects the overall price of the project. You can't expect photos and texts to be posted for free! (unless the offer says explicitly that this service will be included in the price).
What to do to save in this situation? If you have photos, pictures, or graphics that can be useful in creating your website, do not hesitate and send them right away to your contractor! The longer you wait, the more time it takes to work on the website.
Don't you have any quality photos? Take advantage of free stock portals such as Pexels and Pixabay. As for the texts, you can use the ones on your old website... but if it was created many years ago, don't forget to refresh it a bit.
8. Do you have a portfolio? Can I get links to your previous implementations or talk to former clients?
You'll find out: What projects have the potential contractor done, and what do former clients think about cooperating with them?
The
portfolio
is the best and unquestionable proof of agency/freelance skills. The higher the level of completed projects, the more talent, and experience the contractor has. Of course, this translates into the price.
In turn, former clients are a great source of information about the final effect of the work and the entire course of cooperation. Of course, when you ask a potential contractor to contact former clients, he will most likely send you contacts to the most satisfied ones. However, a large number of them will be good proof that you can trust him. If a potential contractor is reluctant to send you his previous projects or contacts to former clients, this should raise your additional vigilance.
Let's also answer the question: Is there anything wrong with choosing a contractor without a portfolio? No, as long as you are aware of the risks you are taking, the service price is sufficiently low.
9. What are the payment terms?
You'll find out: How you will pay for the project.
Before commissioning a website, you need to know that the down payment is an absolute standard in this industry. It protects the interests of both parties and guarantees that part of the contractor's labor costs will be covered, even if the client does not pay the price due. All of this should be specified in detail in the contract between you and the site's contractor. Make a rational decision and read it carefully before signing the contract to find out all about payment terms.
10. How long will it take to complete my website?
You'll find out: When expecting a finished page to be delivered and how much delay it may be.
Before ordering a website, you must be aware that IT projects (and the website is undoubtedly one of them) are so complicated that it is impossible to determine when exactly the project will be completed. Of course, you can estimate (usually in the number of hours) how long it will take to work on the website ... but the more complex the project, the greater the number of potential delays.
Industry delays are typical, but it is always worth bringing up this topic when talking to a potential contractor. Usually, those designers/agencies with a well-structured work process complete projects quickly and avoid significant delays. However, you should include it in your plans just in case. It is good to include appropriate provisions - protecting you and the contractor in the event of delays - in your contract.
Part 2. Design & Development
11. What CMS do you use? Will I get access to it to test it and see if it's convenient?
You'll find out: What CMS system for website management is offered by the contractor.
What is CMS?
CMS (Content Management System) is your website editor. It allows you to manage website content and is one of the most critical factors determining the choice of a website contractor!
Why is it so important? Because without an easy-to-use CMS, you won't be able to make corrections on your own website! For each of them - even the smallest one, such as changing a phone number - you will have to pay the contractor or developer! Therefore, do not waste your money mindlessly and choose an easy-to-use CMS.
How to judge (without knowledge and skills) how easy is using of CMS?
Ask your contractor to show you how the CMS works - before you even sign the contract! The demo sent by him (video material showing the operation of the system step by step) will allow you to assess whether you will be able to edit the content on your website yourself and without any additional learning. After all, you don't have time to learn complicated new tools!
It may also happen that a potential contractor will provide you with a CMS system as part of the test before signing the contract. Then try to edit the page in it or add a sample product. See how long it will take, is it intuitive and hassle-free. You will probably use the CMS often - every time you upload new content to your website. Remember that an outdated website is positioned worse in search engines, and the website itself looks obsolete, not very active, or even not working for customers!
Our tip: Also, find out if a website design company offers training or tutorial materials!
What else do you need to know about CMS?
You may have heard about the most popular CMS in the world -
WordPress
. According to estimates, over 60% of all websites on the Internet are built on this platform. For this reason, many people consider WordPress to be the best website builder and maintainer. The advantage of WordPress is its popularity, so many tutorials and exciting functionalities are devoted to it. However, this system has drawbacks. These include the need to use often defective plugins (enabling new functionalities on the website, but usually not working correctly), low-security level and susceptibility to hacking attacks, and time-consuming and complicated website editing, especially compared to websites created in the website builder.
12. Will you create the website from scratch or use a template?
You'll find out: Will your website be created from a template or will it be built from scratch, based on an individual project?
Is it wrong to use website templates?
The use of
ready-made templates
is a fast, inexpensive, and widespread practice for creating websites. It gives visually stunning effects. Often the decision to use a template is influenced by the available budget. There is nothing wrong with that because creating a website based on a template allows for significant savings!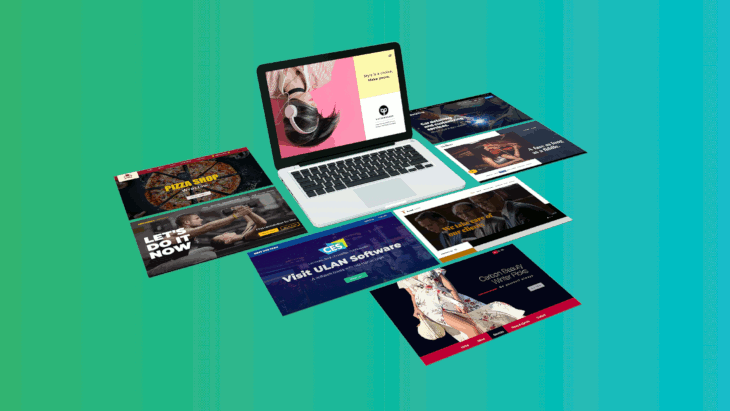 BOWWE templates are created on the basis of many hours of careful analysis. If you're wondering about a template website, ask your contractor to create it on BOWWE - it's convenient and effortless!
Template website. How much should it cost?
So what exactly? It depends. A page based on a
template
can also be edited to a large extent: by replacing its texts, graphics, or graphic design. You can also optimize it for SEO and conversion. All these treatments will raise their final valuation.
Remember, however, that even such a website should be cheaper than a website built from scratch. Editing a template (replacing texts and photos, changing the layout) takes only a few hours of work. It doesn't require any special knowledge or skills, which you should pay a lot for! Unreliable contractors can demand thousands from you just for replacing texts, photos, and sometimes colors. Pay particular attention to the price with this type of offer!
Ask the contractor if he uses
templates
, and if so, with what and to what extent he changes them. The greater the customization of the website, the better, although it is naturally associated with a higher price.
What do you need to keep in mind when buying a website built from scratch?
A website built from scratch based on an original project is a service whose goal is to create a website that perfectly fits the client's requirements. It can be compared to a tailor-made suit - it costs more, but the customer is guaranteed that it will fit perfectly.
A website built from scratch - is it worth it?
To answer this question, you need to analyze your situation - what you want to achieve with the website, how much effort it will take, and how much you can invest in your website.
Write down your answers to the following questions on a piece of paper. They will help you make a decision.
Are you going to sell products or services on your website?
Do you operate in an innovative industry, e.g., are you developing a startup?
Do you offer premium products or services in your niche?
Will your website be involved in complex customer service?
Will your website have more than 5-7 subpages (tabs)?
Is image essential in your industry?
Will your website have more than 3 language versions?
Should your website have many marketing functionalities, such as discount coupons, booking system, newsletter, customer reviews, social functions?
Should your website display different content to users due to, for example, its location or search history?
Should your website allow users to create profiles and interact with each other?
Do you want to create a website-marketplace (e.g. Allegro, OLX, Amazon)
If you answered YES to most of these questions, probably a website built from scratch is a better solution for you than a website from a template. Remember that if you decide to create a website according to an original design, ask for such a provision in the contract.
13. Will you build the website following SEO rules?
You'll find out: Will you have to pay for additional SEO services?
Building a website in accordance with SEO guidelines from the very beginning will save you from the need for costly website positioning in the future and will greatly facilitate positioning. This does not mean that it will end there and you will not have to position it anymore - it should be done constantly - but it will make your SEO work much easier.
Choose a contractor who knows SEO principles and won't make mistakes that will cost you dearly.
14. Will my website be responsive?
You'll find out: Whether your website will be displayed correctly on all devices.
More than half of the web traffic comes from mobile devices. According to the principle introduced by Google Mobile First, non-responsive websites (not displaying correctly on all devices) have no chance of high positioning. Creating responsive websites is now an absolute requirement and standard in the industry. Resign from contractors who do not offer this.
15. How many rounds of revisions will I get?
You'll find out: How many times you will be able to make your changes to the website's design.
To get you exactly the page you want, you'll have rounds of revision. During one round, you will be able to submit corrections to the preliminary design of the website. Remember, however, that your amendments may not apply to the fundamental guidelines you established at the beginning of cooperation. In other words, you cannot change the direction and nature of a project after it has started.
1-2 rounds of corrections are standard in the industry. If you need more, you will probably be billed for the extra man-hours spent on your project. Remember that the longer the work on the website, the higher the price.
16. What securities will my website receive?
You'll find out: How protected your website will be against hacking.
Hacker attacks are taking place more and more frequently. When they target large companies and corporations, news about it often hits the media. However, it is a little-known fact that most cybercriminals' activities target small and medium-sized businesses. They often break into the website, block access to it, and, as a "ransom" for restoring the site, require money from the owners. In the event of non-payment, they threaten to completely delete the site. This means no online presence, no customers, and no sales.
Therefore, you cannot afford such a situation! An SSL certificate (encrypting messages sent between the browser and the server) is an absolute basis for security. Also, ask for additional protection. Do not save on security and constantly update your CMS and website, and you will protect yourself from hacking.
Part 3. Additional services
17. What applications/plugins will be installed on my website? What is their cost?
You'll find out: What beneficial, additional functionalities you can buy for your website.
What are applications? These are programs running on the website, allowing you to save time and facilitate marketing, sales, customer service, and communication. In short, applications make it easy to manage the operation of your website and all the content posted on it. Thanks to them, you will quickly make the necessary changes, and your website will work more efficiently and effectively.
Any inexperienced designer will tell you that everything on the website can be edited using the CMS system. This is true, but it is often quite time-consuming to make changes using the CMS system in practice. That is why it is so important to test the CMS yourself before choosing it!
In turn, applications add news, customer reviews, or new products as fast as publishing a post on Facebook. For example, you select photos from your computer, add a headline and a short description, and hit "publish," Visitors can immediately see the new content on your website!
However, remember that applications usually are not free. However, it is worth investing in them because they will simplify and speed up introducing changes to the website as much as possible. They will also offer additional value to you and your audience. Ask the developer of your site what applications will be installed and what their cost will be. If they are free, find out if they will be fully beneficial to your website results.
BOWWE
Booking Engine is an example off app, which can be installed on your website. It lets your customers book an appointment for a specific day and time. As the Booking Engine is integrated with your website, you don't need to use external apps like Booksy.
Post-Launch
18. Will you train me to use my website before it goes live?
You'll find out: Whether the contractor will teach you how to use the newly created website before publishing it on the web.
As we mentioned before, you must be able to use your website yourself and make quick, simple changes to it without paying a programmer, designer, or agency for it. Therefore, ask the contractor to prepare the implementation, during which you will learn the basics of the website. Such an implementation is inexpensive, and you can gain a lot from it.
19. Will there be downtime while moving from my former website to the new one?
You'll find out: Whether the transfer of your domain will make the site inaccessible to visitors.
If your current site is published on the web, you need to schedule the time it takes to transfer the domain and all its data to another server. The more data, the longer it will take. Consider whether it is a good idea to move from your old site to the new one, e.g., early in the morning, during the weekend, or at night - when your site is not visited.
20. Will I become the owner of the domain, website, and all its content once it is published?
You'll find out: Will you have complete control over your website.
Website contractors sometimes buy a domain for their clients but do not give it to their clients. This makes entrepreneurs dependent on the company that created the website. Be careful!
Be sure to check in the contract that the site contractor will register a domain name for your data, and it will belong to you. Also, check if the contractor requires the site to be hosted on their servers. If the contract does not specify it, include such provisions in it. A better solution for you will be to buy your own hosting on a server that will give you complete control over your website at the exact costs.
It is imperative to check that the contractor of your website will register the domain name with your data, and it will belong to you. Check also if the contractor requires hosting the website on their servers. A better solution will be to buy your hosting on the server, which will give you complete control over your website.
21. Will I receive all the original files used in work on the website?
You'll find out: Will you easily edit graphic materials on the website in the future?
When creating your website, there may be additional materials: logos, advertising graphics, banners, favicon, or other files related to the website.
It's important you have received all original files, which your contractor uses during working on the website. It was not, for example, only the logos generated to the image, but also the original Adobe Illustrator / Photoshop files, based on what all graphic materials were created. By accessing these files, any image will be able to access various websites all over the page. Otherwise, it will recreate or redesign them.
22. Is my website ADA accessible?
If you operate in the US market, the Americans with Disabilities Act (ADA) requires you to adapt the site for disabled people. Ask your web designer what he can do for you in this area. Your goal should be to make your website as easy as possible for everyone to access and operate smoothly.
23. Are the domain and hosting included?
You'll find out: How much domain and hosting cost
The low cost of the website may be due to the lack of hosting and domain fees. Some website builders may propose a free domain, but you should think carefully before taking advantage of such an offer. Avoid unpopular, hard-to-remember domains with extensions such as .net, .biz, info, org. Choose a website in the national domain, e.g., .pl .it, .fr, .es, or in the .com domain, because they are much easier for customers to remember and better for positioning.
The speed of hosting translates into the speed of your website. It is not worth saving on it, especially since its costs are not high. Thanks to this, the website will work quickly and efficiently. Saving up to a few tens of dollars a year isn't worth taking the risk of having low-quality hosting.
24. What will my website's maintenance look like, and how much will it cost?
Essential services that should be included in the cost of the website are the costs of service, which mainly include error repairs, system updates, and backups. The website requires constant observation, so you need to have access to quick service support that will help you fix unexpected errors at any time.
Do not believe when someone assures you that you do not need updates - they mainly protect you from hacker attacks. You can pay dearly for underestimating this issue, e.g., by losing data, sending spam by your website, and ultimately removing the website from your results by Google and other search engines.
Want to choose the best offer for website? Use our free questionnaire!
Below you will find a questionnaire with questions that you can download and send to all potential contractors of your future website. The questions are deliberately formulated in such a way as to immediately eliminate contractors who do not have the knowledge or competence to create a professional and effective website for you.
The answers to each of these questions should be clear and to the point. However, if you do not understand them, ask your writer about them or return to this article!