Website vs. Social Media. What Is Better? [Full Comparison]
By Karol Andruszków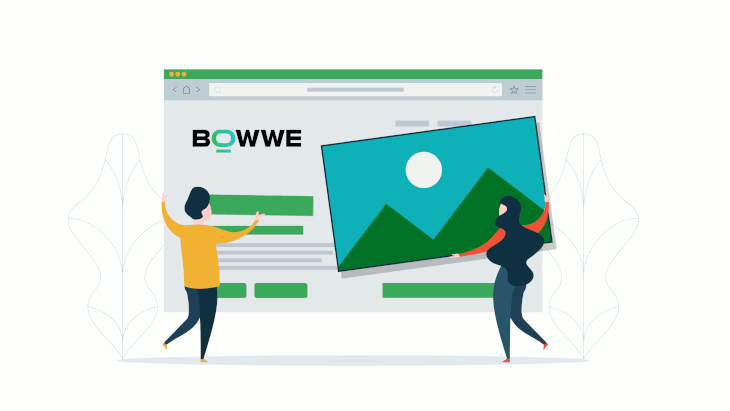 You've undoubtedly heard that every business has to be online these days. But what does this mean that it needs a corporate website? There are many ways to be present on the web. You may have heard that the social media profile will replace the website. People say it is enough to promote the company on the Internet.
What's the truth? Is a company website must-have or unnecessary addition?
When starting a new business, will a website be a profitable investment for you? If you have an outdated website, is it worth refreshing or maybe switching to social media entirely? We answer these and other questions in the article!
How much money is flowing over the Internet now?
You will probably agree that the phrase "the Internet plays an increasingly important role in our lives" is repeated too often these days. It sounds a little bit trivial. At BOWWE, we do not like trivialities - we prefer specifics - that's why we have prepared for you some factual statistics:
The global e-Commerce sector's value has been growing for many years on average by 21% annually
Estimated that in 2021 54% of all e-commerce in the USA will be on mobile devices
Experts and researchers believe that 25% of shopping centers in the US will close in the next 3-5 years (this number may increase up to 50%)
As you can see, the data is unambiguous. More and more people in the world are buying online — both in your city and on the other side of the world. If you're wondering if customers will ever return to brick-and-mortar shopping, we need to be honest with you - most likely not. If you've ever wondered if there has ever been a more opportune time to move your business online, our answer is - definitely not. Why? We answer!
Why is e-commerce growing so fast?
We massively resign from purchasing fixed in favor of e-commerce.
There are many reasons for this situation.
Online Shopping Security
One of them is that online shopping has become very safe. Years ago - when the only form of online transaction was a traditional bank transfer - it was much easier to get cheated online than it is now. Fortunately, increasingly sophisticated security, consumer protection programs, and payment operators have changed this situation. Currently, online transactions are extremely safe, and your rights' possible enforcement is much easier than before.
Unlimited choice!
Another argument in favor of buying online is much more choice.
The Internet allows customers to buy almost anything! Online shopping is not limited to the assortment on the shelves or in the store's warehouse. Moreover, the Internet provides us with the possibility of unlimited viewing and comparing various offers. Even certain price comparison websites allow us to reach a given product's prices on different pages and then direct us to the website. We will get it at the best price - often noticeably lower than in stationary purchases!
Convenience and time saving
As we live in ever more busy times, as we have less and less time - also for shopping.
In the past, to buy, for example, clothes for the upcoming season, you had to go to a shop (often located in a shopping mall). It took much time (arriving, parking, visiting shops, finding the right clothes, and going home - it wasn't always short, right?). Online shopping has no limits if it comes to time or place. It turned out to be an ideal solution to this problem. You can sit in front of the computer on Saturday morning wearing a bathrobe and buy a book that interests you in a few minutes, sipping a coffee. You can browse through vacation packages while driving to work and standing in traffic jams on a Monday morning.
The way customers look for your services.
Do you need more proof to prove that you need the Internet?
Think about how your customers are looking for the services or products you offer? How can they find out about your business? How can they find your trace and then see and use your offer?
The answer to this question is simple. Regardless of what you offer, the first place where your potential customers start looking for your services or products is the Internet.
We have less and less time. The Internet is the most convenient and fastest way to see a vast selection of offers, compare the most interesting ones, check prices, and finally - do shopping.
I don't need the Internet! After all, I gain clients from recommendations!
You may think that if most of your customers come to you on recommendation, you don't need a website.
It's not true!
Even if referrals are your only source of customer acquisition, you mustn't ignore your internet presence! Why? Each of the customers to whom a friend will recommend your company will want to verify you!
What does it mean? They'll want to make sure they won't be disappointed with your offer! In other words, he will want to make sure he can trust you!
Trust is a crucial issue in selling and running a business. The client will not trust you and will never use your services! He will be afraid that you will not provide him with what he expects.
Remember: The customer never buys blind - even if he receives a recommendation beforehand! He will always want to find out more about the company and its offer. How can he do it the fastest and most conveniently? Of course, on the Internet!
A professional website will allow you not only to attract new customers from the web
It will also guarantee an effectively used recommendation. Why? Each of the potential customers will be able to check your company, offer, describe your services, opinions of existing customers, etc.
It is only up to you what you put on the website - it is essential, however, that its elements serve to inspire trust in your offers.
You need the Internet
Now imagine that your business is absent from the Internet. There is no website or even a social media profile… So how are customers even going to find out about your business? When you are not on the Internet, you take away this opportunity yourself!
Now let's add to this the fact that your competition is present on the Internet and is constantly being promoted on it.
Even if it does it with average results, the chance that your customers will choose you instead of the competition is several times smaller. It drops to almost zero!
The reasons behind the increasing popularity of e-commerce are of course. more. However, you probably notice that nowadays, when technology (especially mobile) has an increasing influence on our lives, it is becoming increasingly difficult for online retailers to keep up with online retailers.
Regardless of what industry you operate in, you must accept this situation and think about what you need to do to successfully develop your online business.
Luckily, we're here to help. So where to start?
Ready to create your website?
Use the most convenient website builder, trusted by thousands of designers and create websites that will provide you with customers!
Website or social media? Where to start to become visible on the web?
Entrepreneurs setting up their businesses nowadays give up having a website in favor of a company profile in social media. Is this approach correct? It may seem like it is. After all, creating a profile on websites such as Facebook or Instagram is free and provides access to many potential customers.
Perhaps you want to refresh your website's look but are wondering if customers still visit the websites?
Maybe they hang out almost exclusively on social media?
If you've asked yourself similar questions - you've come to the right place. Together, we will try to find answers to these questions, juxtaposing the advantages and disadvantages of websites and social media.
Advantages of social media
A vast number of users
No matter in which industry departments - your potential customers use social media. You will find users of all ages, professions, interests, and lifestyles.
Cheap and easily accessible
Mere assumption profile in social media costs nothing and takes a few moments. It's without a doubt the fastest way to get online... but presently doesn't mean being visible.
Remember that Facebook and other social media are also companies whose primary goal is to make money. Remember that Facebook and other social media are also companies whose primary goal is to make money. Don't think that using social media is entirely free!
Even if you don't use paid promotion, you always give them data about your company and your customers.Even if you don't use paid promotion, you always give them data about your company and your customers.
They reduce the distance between you and your customers.
In social media, the distance between companies and their customers is minimal. It's important because it allows you to develop a closer relationship with them. And today's consumers want to buy from companies they know, trust, and love.
Low costs advertising
Undoubtedly, cheap advertising is a significant advantage of social media. It's one of the cheapest forms of promotion available for any company. Combined with a massive number of social media users and the possibility of advertising directly on their private board (the so-called news feed), it can bring excellent results.
Great image role
Social media-based m.in: a public dialogue between users gives companies a wide range of opportunities to build their image. Using social media, you can, for example:
Talk to your recipients.
Respond to their comments.
Try to influence their emotions, e.g., through a funny postpositively
They can also boast about their charitable activities and ensure this message will reach a broad audience.
Good for content marketing
If you are interested in digital marketing, you may have heard the popular opinion repeated for many years - content is a king. While there are many paths to success online, there's no denying that good content marketing can bring enormous business benefits in the long run. In turn, social media is an excellent platform to promote your content and direct an even wider group of people to it. Preferably those that may be potentially interested in it, e.g., using thematic groups or advertisements.
Pretending the community
I have already mentioned that social media shortens the distance between a company and its customers. Besides, thanks to social networking mechanisms, they allow building a close-knit and loyal community of fans or customers around a brand or a specific person. For this purpose, the following are extremely helpful: Facebook thematic groups. By leading a group that will include only people interested in your services or products, you increase the likelihood of successful sales. If you do not want to use paid ads and care about your content's extensive reach on Facebook, you should create a group and invite your customers to it. Otherwise, Facebook will significantly limit your organic reach (i.e., your content's reach free of charge, not supported by paid promotion).
Optimization for mobile devices
A significant advantage of using social media is that you do not have to optimize your mobile device profile. Most social media offer free mobile applications, which often run faster than their portals' browser versions. It's essential because more than half of consumers use the Internet through mobile devices, usually smartphones.
Disadvantages of Social Media
We've already covered the advantages of social media, but don't be fooled by the fact that they are platforms without their disadvantages. Using them has certain limitations. Let's take a closer look at them.
Your profile is not your property
By registering on Facebook, Twitter, Instagram, or LinkedIn, you accept the terms of use of the portal each time. By doing so, you agree that your entire profile, with all its content and all content, doesn't belong to you, but to the portal! Facebook and other social media only allow you to rent and use space on your portal (also with profits for you). However, you never become the owner of what is on your profile. You don't have full control over it, which can be very painful if it is… removed. This can happen due to Facebook server failures or under the influence of, for example, the actions of your competitors who will report your profile many times! It is completely different in the case of a website, which is not only yours, but also gives you the opportunity to make a backup (backup) of your data. Thanks to this, even if your website crashes, you will quickly restore it to its initial state.
You can't sell through social media
Do you know someone who, for example, looking for a new oven, writes on Facebook Braun refrigerator?
Me neither.
We enter these types of queries and phrases into the search engine, which shows us the most relevant search results. So remember that Facebook, Twitter, Instagram, Pinterest etc. are not selling places! While well suited for promoting multiple services and products, online sales will also happen on your website. It should ultimately convince your client to buy, although effective advertising in social media should encourage him to visit your website. Keep this in mind when planning promotional and sales activities online.
Limited reach
The times of broad, free organic reach in social media are over forever. It is estimated that, for example, on Facebook, through organic posts, you can reach only about 10% of your fan page's fans.
So, if 2.000 people like your profile, you have a chance to reach about 200. And only if your post is interesting, engaging, and differentiating from others.
It's not an easy task because the average Facebook user only "scans" the content on his news feed, and it takes less than a second to scan one post. If he does not interest him at that time, he goes on and does not return to it.
Changing trends
Social media is continually changing. As these portals are based on technological innovations, you never know when a new platform will appear. You never know will it quickly achieve enormous success, taking users from another platform. An exciting example is Snapchat, which has achieved tremendous success and has remained an extremely engaging application for years. However, when his competition - Facebook - decided to copy most of its functionality to Instagram (which he also owns), Snapchat's popularity ended.
This case shows how much of the unexpected can happen in social media. TikTok has been very popular for several years. But how long will it take?
Nobody can say whether Facebook will still exist in 10 years. If so, whether it will be effective, as young consumers increasingly use visual media such as Instagram or Pinterest. Entrepreneurs should therefore follow news in this area but approach them with great caution.
Possibility of data leak
I have probably heard about numerous image scandals related to attacks by hackers or data leaks in social media. Such events take place almost regularly, from time to time. Remember not to keep sensitive and essential data on social media or messengers, as most do not have adequate protection against hacking.
All fan pages look the same
Apart from Instagram or Pinterest, social media gives you virtually no freedom (maybe by setting a profile photo and BIO) to edit your profile's appearance. As a result, company profiles of all brands - both yours and your competitors - will look very, very similar in them!
It is entirely different from the website. There are almost no restrictions here. Only you will decide how your website will look and function.
Advantages of websites
Building credibility and trust
Websites build credibility and trust.
A Major Purchase Shopper Study by GE Capital Retail Bank showed that 81% of buyers do research on the Internet before making a transaction, and 60% of people visit the seller's website to learn about product details.
It's another of the significant advantages of websites.
SEO and unpaid traffic from search engine
On social media, you MUST pay for an ad to get much traffic.
However, traffic on websites is ruled by different laws.
Suppose you optimize your content following SEO rules and position yourself for the right keywords. In that case, you will bring thousands of users to you over time. Without paying any service or search engine any money for it!
Read more about SEO in our articles:
Unlimited design possibilities
As we mentioned before, the layouts of all profiles look the same on social media. To stand out, you need to create unique content.
However, you cannot influence what the content is wrapped in. You cannot control the layout, frame of your profile.
It's not the case with websites. There are practically no restrictions here.
The BOWWE.com website builder works similarly. It allows for unlimited editing of every, even the smallest element on your website.
In BOWWE, you can build a unique website from scratch. Or you can use one of our templates. Insert your logos, edit photos and descriptions, and you will quickly and almost effortlessly get a website ready to earn for your business!
Free Analytics
Each website indexed in the Google search engine gains access to unique tools supporting every business - these are Google Analytics and Google Search Console.
Thanks to Google Analytics, you will determine who your website's visitors are accurate. You will see which subpages of your website are the most popular.
Only your place on the web
The website is only your place on the web. It means that you can make any changes to it, in line with your company's business model. Equally important, you are the sole owner of the content posted on the web on your website.
Ready to create your website?
Use the most convenient website builder, trusted by thousands of designers and create websites that will provide you with customers!
What will you use the website for?
A website can be used to achieve many business goals.
What do you have to remember after reading this article?
It's important to remember that the purposes of a website and social media profile cannot be the same - although many people mistakenly do otherwise.
Social media are great channels for everyday communication with our clients. Despite the fact that we use them so often and willingly, they are not able to replace a well-made, effective website! Due to their limitations, it is simply impossible.
However, they are a great complement to it!
A professional website without effort and high costs?
It is possible.
To quickly create a modern website that will allow you to grow online, you should use the offer of website builders.
What are website builders?
Simply put, these are tools that allow you to quickly (a few minutes) and easily create almost any website.
Their secret lies in technology - they do not require coding from their users to create websites!
You can have a website better than your competition without writing a single line of code.
Which website builder is best to use?
BOWWE is also a website builder. Our websites are distinguished by:
great-quality code (which has a positive impact on high positioning)
supporting by many sales applications (programs that allow you to sell more online and develop online business)
With us, you can easily create a website for free.
You can also save your time and have it done by us.