Are Free Websites Bad Websites? Free Website's Pros And Cons
Advancements made in the field of web designing have made it so that the average Joe can sign up and craft his own web page. On top of that, the sites themselves don't look too shabby, either. Whereas years ago, no-cost web builders offered limited editing options, making the page look like it was from the 1990s, now the editing tools allow users to make a decent-looking website that will generate income and company growth. The best part is - you don't have to run a business to get a free website. Free templates in site builders are suited for bloggers, photographers, musicians, freelancers, etc. Feel like making a CV with the help of a web builder? No problem, that too can be done.
The purpose for creating your own website doesn't matter - it could be a private, or a business venture. Crafting your own web page is within your grasp. Briefly touched upon earlier were how these possibilities have improved over the years, but what has changed for the better?
Unless you're a skilled web deisgner, we doubt you know how to code. No worries, though, there is no need for that.Most modern website builders operate on a drag-and-drop basis: simply click on the element you want (photo, logo, video clip, animation, text, etc.), drag it to where you want it to be and "drop" it there. Additionally, no-code development makes it even easier to boost the website's functionality. In the editor, what you see is what you get: how it looks while editing is how the final result will present upon publishing.
Additionally, if you don't have ideas on creating everything from scratch, most free web builders offer ready-to-use templates that you can in turn edit to your liking. Examples of such templates can be found
here
.
To sum it up, you can have literally zero IT knowledge and make a modern, fairly good-looking website for anything it is that you want to be on the World Wide Web. To get into web design by using a free option is a great opportunity to not only expand your brand/ services, but also developer skills and creativity in general. As a head start, sign up here to try out building your free website.
But what if you have a small company and want to be visible for potential clients on the web? After all, if you manage a business and you do not have a presence online, it's as if you don't exist. It does sound tempting to reduce costs in hiring a developer and signing up to a paid subscription. Is it worth saving up money in this instance, however? This will be discussed in great detail, and we will answer this question (and many others) later in the article.
Before you make any final decision on what it is you want to create and for what purpose, it is essential to get acquainted with what the market has to offer in terms of website builders.
Ready to create your website?
Use the most convenient website builder, trusted by thousands of designers and create websites that will provide you with customers!
Most popular free web builders
To offer people the possibility of putting their creativity in the form of a website, many companies have struck fertile ground. As it turned out, millions of people were eager to sign up and were ready to design their web pages. To this end, countless companies have sprung up that have website crafting as their "product". Out of the many such companies, only a few are worth a mention. Below are short descriptions of those selected companies:
Wix
Currently the most popular and widely used website building platform in the world, Wix was founded in 2006 in Israel. Since then, it has acquired over 150 million users (both paid and free) and is used in 190 countries. Due to its wide range of usage capabilities and number of templates, it is sought after by freelancers and business CEOs alike. Some of its features include:
500+ templates
drag-and-drop editing
Logo Maker
ability to switch from a free to paid option
being able to input your own code
optimization for mobile devices
While making it look like you can do a lot with Wix. But it does have its limitations. For example, your site will be within the Wix domain; this means that your website address will look as following: yourwebsitename.wixsite.com. This makes your site hardly visible in search engine resultsAdditionally, you can only have up to 500MB worth of material on the whole entire web page, which limits you from adding anything above it, hindering your creativity. The quality of the code is also a hindrance, as websites in Wix are not positioned higher in search results.
Cost-wise, Wix is also one of the most expensive web building solutions. You'd be resorted to use the free version, which is packed with ads (we will explain the negative effects of ads on your page), Lastly, the template you choose is the one you're stuck with, being yet another blockade for editing capabilities. You will change nothing.
Weebly
Another big player in website building, Weebly has over 50 million Internet pages made with its help. Such a big number could not have been possible without having a variety of editing options, which the company has put most of its focus on in terms of development. Just like Wix, Weebly offers a drag-and-drop editor, ready to use templates, but some of the other perks include:
app center, letting you add certain applications on the site
unlimited space - bigger editing possibilities
website address can end with com, .net, .org, .co, .info, or .us.
As in the case with Wix, however, there are limitations. Despite having no limit on space for free websites, there is a limit on individual file sizes, so anything that weighs too much might not be placed on the site. What's more, Weebly is nowhere near as flexible in dropping elements; its structure is rigid, so if you like mobility in placing elements on your page, this might dissuade you. With regards to website reach, Weebly is not available for internet users in Russia, China, Ukraine, just to name a few. Good luck getting better online traffic!
WordPress.com
Even if you have not used it, there is a chance you have heard of WordPress.com, and that's because a staggering 36% of all websites on the World Wide Web use a code that's powered by WordPress. Additionally, over 30% of all blogs online are made using WordPress. This is because WordPress originally was formed as a blog creator, but later developed into a web page builder. Being the Internet giant it is, WordPress can offer the following for free users:
free and or templates
"drag and drop" editing
quick customer support
WordPress, however, has more limitations and liabilities for free users. For starters, the site might be perceived as not being intuitive enough. A small amount of templates in the free version also puts a stop to those who wish to experiment.The drag & drop is also limited, and additional costs are required for more advanced tools.
Another major downside of WordPress is the fact that it is the most hacked platform out of the listed ones here. In general, the cost-free option is not for the creative mind. You can of course switch to a paid subscription, but the amount of pros included in this decision is comparatively smaller than other web builders.
BOWWE
While not being as well-known as the above mentioned companies, BOWWE is certainly a good choice for all Internet users, from beginners to experts, with users from all over the globe. Works on the tool began in 2009 making it a highly-developed tool. There is not that big of a choice of templates, when compared to f.e Wix, but a smaller count should not be a factor in dissuading the potential user. Each and every single template was designed by first thoroughly analyzing the particular branch of commerce/activity that it was designed for. This allowed BOWWE to craft templates that already have the best design and most necessary tools for the website's functioning. Another plus that sets it apart from competitors are templates to each subpage, saving you the time for editing every subpage from scratch, The editor is very intuitive, operating on a drag-and-drop basis, with the effective no-code designing that was mentioned earlier and also allowing a preview of the website before it is published.
Aspects that can be counted as positives are as follows:
High-level of intuitiveness
Very flexible template editing & starting from scratch
attentive HTML code, in addition to allowing users to input their own code
systematic updates that require no manual work
apps for business development, sales and maintaining client loyalty
very high-quality code, allowing outstanding website visibility
CRM system
many language options to choose from
diting the appearance of the website for mobile devices
BOWWE Design Team- you order a website to be made and we'll do it for you
templates that were crafted with the backing of business analyses and optimization for business needs
What sets BOWWE apart is the fact that it is business-oriented. The founders first did a long study process, interviewing hundreds of small-scale entrepreneurs about their problems and needs, to better understand the solutions that SMEs (small/medium enterprises) require to operate successfully. As such, BOWWE is not known as just another website builder tool, but by another, innovative name - BOWWE Business Builder. Within BOWWE Business Builder, you not only get the webpage creator, but also an array of applications that are imperative for business growth and generating sales. These applications are fully automatic and are operating in one platform - they're perfectly intertwined to work with one another, eliminating the need for app integration. All of this is enhanced by BOWWE's partner, Honaro - a CRM system and marketplace that helps boost sales and maintain client loyalty, further adding to online visibility and growth, using tens of different applications, all integrated to boost your business needs.
BOWWE offers users to create web pages free of charge, however its subscription costs are competitive, and offer more for those who want to kick start their business ideas online. The list of positives can go on longer;
contact our team
to know them all.
Squarespace
Squarespace was founded in 2004, as a SaaS (software as a service) company offering website creation, blogging and hosting, also using a drag-and-drop model for editing. With over a million paying users, there have to be reasons behind its popularity. One of those reasons is it's editing flexibility, allowing a big degree of creative freedom. With high-quality designed templates, the websites created in Squarespace give off a professional feel. Other features of Squarespace worth mentioning are:
e-commerce tool for online sales
SEO built-in
blogging tools (ability to add podcasts, audio players, photo galleries)
quick customer support via online chat
While all of this may sound inviting, there are major drawbacks to Squarespace that might dissuade some potential new users. The first one - it does not have a free option. Granted, Squarespace does allow a 14-day free trial, after which you have to decide whether you want to keep the website (meaning you'd have to pay to keep it) or resign from it. The pricing is upfront, honest, with no hidden fees, and while the prices might not scare people off, it's still not a good deal, for those searching for a free option.
Another minus is the limited add-on apps that can be included on your website. Squarespace has launched its app store, Squarespace Extensions, in late 2019, but they are mostly for those interested in e-commerce. At the time, there aren't much other kinds of integrations. Lastly, the ease of use is… not that easy. It would take a slightly more skilled hand to navigate in creating a web page in Squarespace's editor; the elements can only be dragged-and-dropped in a certain grid area of the website, limiting some of its flexibility.
Webflow
One of the youngest brands on this list, Webflow was launched in 2013 from San Francisco, and since its launch, it has attracted a great deal of attention. But what was the reason behind all the fuss? As it turns out, it is a professional tool, catering to the needs of...professionals.
It means that Webflow is a fairly advanced web creating tool that requires more than average knowledge of web designing. Intimidating from the start? Maybe. But Webflow does offer a "University" - a section on their website which teaches new users, step-by-step on how to forge an Internet site using their editor. If you get through that, you're sure to get a wide array of customization without even knowing code, simultaneously having 200+ templates at its disposal. And unlike Squarespace, you can create a completely free account without a trial period.
The amount of positives, especially when it comes to beginners, pretty much stops there. As mentioned earlier, Webflow was created with the intent to be used by skilled web designers, therefore, many things within Webflow may not sit well with newcomers. Some of those minuses include:
difficulty of use - unlike f.e BOWWE, it is not nearly as intuitive
small number of templates for free users (only around 40)
integration features fall short in comparison to other builders - even social media integration is problematic (problems with linking to Instagram or live feeds)
no phone or chat live support - only through email
pricing can be really expensive ($49-$79 for a template!)pricing can be really expensive ($49-$79 for a template!)
Webflow is worth trying out when deciding upon a website builder to use, but if you're entirely new to this field, it might not be the best option.
Free website builders - how "free" are they, really?
Ok, so now, you've got acquainted with some big names in website building - keep in mind, there are many others; it's generally recommended to try out several (but more on that later). Basic functions and perks were listed, as well as the downsides. Summing it up, you know about the existence of costless site generators, and you might be tempted to give it a spin, mainly because of the very repeated word - free.
But what is "free" in a free website builder? Turns out, apart from not transferring a few bucks for a paid plan, not much. You might be getting the impression that it is a bit ironic for a company that offers unpaid signup and site creation to criticize its own solution. Looks can be deceiving, however, allow us to explain in detail.
First, let us look at this from the customer's perspective. For the average person wishing to start their website, designing and coding is like a foreign language to them and they didn't go through the trouble of learning the basics. No matter, that's not a big deal. There's plenty of templates to choose from, the ideas are already there, so how long can it take to make a basic website? The time spent on making a website differs from creator to creator.
Everything will be new. Before even attempting to make the first/main page, the tools will be tried through trial and error, and before the customer figures the editor enough to make changes more smoothly, you'll have to devote a piece of your time and effort to get acquainted with the "know-how'. Such a method of trial-and-error demands you buckle up with patience, but at the same time - treat it as a new and exciting experience. There are no limits to one's creativity, and when it comes to making your business grow online, this way of knowing the right site builder for you will be just right.
A free option is generally a good idea in the beginning; it's a great way to obtain knowledge in website crafting, how the tool works, what features are best for the implementation of your ideas, ect. Now, you will encounter some amount of difficulties, but once you break through these first stumbling blocks, the whole experience will pay off in the long run.
What about the costs behind "free" websites and templates?
Let's shift the focus away from the customer and onto the very company that offers the free website creator.
As the previous part of this article has shown, almost every website creator provides free plans. To them, it is a perfect marketing tool. It does work, generating millions of signups. Who, after all, wouldn't want anything for free?
Let us assume that you have tried to contact a web developer to do all the work for you. Now we know why you wanted to try it for free - web developers are expensive. Anywhere from a couple of hundred to even tens of thousands of dollars - this amount some small business owners cannot simply afford, and can you blame them? Imagine now a team made up of hundreds of such developers, making sure the "free" templates are aesthetically pleasing, making sure the website operates as flawlessly as humanly possible. Also, as was the case with BOWWE, the team spends days gathering data and knowledge of businesses, analyzing it and optimizing the info to create each and every individual template, regardless of the category, and all of that for ensuring the easiest way for company growth. These people and processes cost money. And it isn't a small sum either. The company has to not only make sure the employees are compensated monthly for their work, it has to supply its team with the tools necessary to build and maintain everything. As you imagine, the cash behind this is staggering. This clarifies why every major web building business inputs advertisements into the pages made with free subscriptions, it also explains the intense marketing costs behind gaining millions of new users - if even a fraction of those turn to paying users, the revenue will be enough to keep the company on its feet.
Earlier in the article, we highlighted the importance of exploring different web creators. The free options allow you to get acquainted with the tool more closely, and in the case of BOWWE, the free option lets you learn practically all the tools that are later in the paid option as well. As long as you don't mind ads of BOWWE on your page, then this intuitive creator is right for you, and the prices for subscription are low. Therefore, if you invest a small sum of money, the paid version will give you the full, thrilling package, and jumpstart your business online.
Free website builders - who are they for?
The limitations that free site creators offer, one should not be dissuaded from going ahead and making their web page. It does not necessarily have to be a long, tiresome time spent. You can treat it as an experiment or a new experience, maybe get drawn into the field of web design and no-code development. Nonetheless, a goal must be set - what will I need the website for? We would like to ask a different question - who should, and should not make use of free website builders to promote their work? This is the focal point of the article, as the meaningness behind having a costless Internet page will be explained in great detail.
So let's explain in detail the importance of having a free website.
You could have any kind of idea for a business venture or means of promoting your services/projects. Of these ideas, some are more suited to be published in a free website than others, and it is these ideas that we would like to focus on in this segment:
Bloggers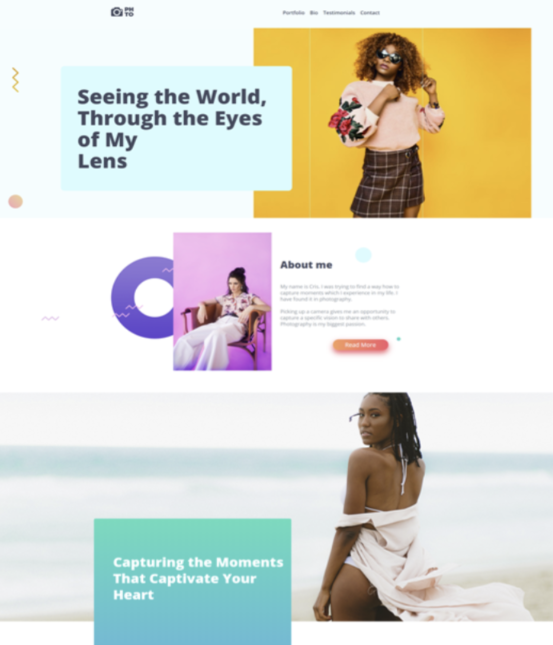 A no-brainer, really. Publishing a blog on a paid subscription makes little sense, unless you want to be placed higher in search results and be discovered by influencers in a field you operate in. But that is the minority case. A vast majority of bloggers are people who are passionate about their hobbies (photography of various kinds, cooking, travelling, wine tasting - the field for ideas is endless) or passionate about their ideas (politics, passions, philosophy, etc), and want to put it on the Web.
Keep in mind that bloggers are preoccupied with writing, and might not have extensive knowledge about website making. That is why free Internet page generators are the go-to place for them, especially if those sites offer drag-and-drop editing. The selection of templates for bloggers is wide in many companies, with different styles and orientations, and editing them to one's liking is available - so you can either be a wedding photographer or a political commentator, the choice of a template for you is guaranteed. All in all, for crafting a blog, free website builders are a sound choice, as they support easy editing and selection of templates, giving the creative mind a place for experimentation.
What's worth keeping in mind when choosing a right website builder is a SEO option. SEO (Search Engine Optimization) allows your web page/article to be placed higher in search results, using proper keywords, but also having a good SEO built-in your page. Most free site builders do not have adequate SEO offers, which will render your website far less visible for potential readers.
One notable exception is BOWWE. What sets it apart are the following positive features:
no-code editing solution
full access to the site's code, allowing endless ways of modifications
access to all SEO settings - no limits!
super-fast servers
In addition, BOWWE enables you to efficiently and quickly craft and edit blog posts, saving you loads of valuable time and you have full control over every miniscule aspect of the blog. You can change it to any style you wish, add anything you want, anywhere on your page: its a win-win! The only drawbacks are the ads and domain: BOWWE includes their ads in the free versions of their website builder and you cannot hook up your domain.
Freelancers
Those who don't like to be tied down by job contracts and a corporate climate, yet have drive and ambition - freelancers offer their services to those who do not have time to handle certain tasks. These could be web graphic designers, copywriters/translators, interior design artists, painters, etc. Anyone who can translate their talent for profit has what it takes to be a freelancer, and it is essential to have a portfolio of your work. As it turns out, costless web page makers can help freelancers to present their achievements.
Pre-existing templates, as in the case of bloggers, help freelancers select the best-fitted ones that will allow them to present their work in the best manner possible. Freelancers should, however, keep in mind the limitations of how big their portfolio can be: they might not be able to add videos, because there wouldn't be enough space left for other files, such as text or photographs (the only notable exception to this rule is BOWWE - the free option lets you do all these things and more! ). As to SEO, this should not be of much concern to most freelancers, as the main goal is to have your projects kept in one place to be shown to potential clients/employers via sending them a link to your page. The biggest liability will be the maximum space the website can hold. As such, freelancers should showcase only their best work that will be attractive for future project prospects, to make it worth the time it takes for the other person to look through the portfolio.
Musicians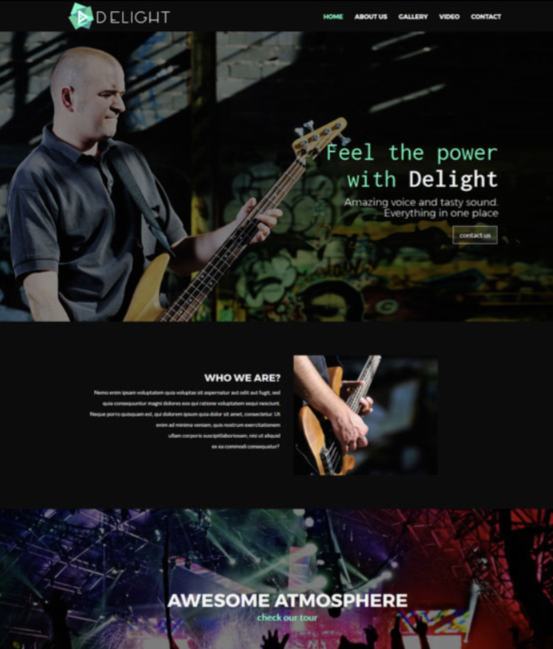 This one is difficult to discuss. Mainly due to the fact that musicians have aspirations to become famous, whereas most free websites will make sure their work will not appear in web search results (BOWWE being an exception, as discussed earlier). But this is the year 2020 we're talking by now; most musicians are aware of platforms such as Soundcloud for music promotion.
If someone is not interested in gaining overnight fame and only treats their love for making music as nothing more than a hobby, website builders also reach out a helping hand for them. It would be redundant to say that templates for musicians exist, as the themes for free templates are many.
Nevertheless, some templates might not suit the type of music the artist produces. For instance, a black metal band from Norway might find it near impossible to present their music in a template made for indie folk musicians. Of course, editing is always an option, but it will take plenty of time and effort to design the page to your music genre. As with all free web page makers, editing possibilities are not too broad, and to expand ways to change your site, often signing up for a cost is the only way. Don't be discouraged, however. A musician's website will not need too much subpages, f.e: Main Page, About Me/Us, Photo Gallery, Contact page. Within these sections, the essential information can be placed, and made to look decent, no matter how young your musical project is. Appearance is everything, and unless you wish to be the next Queen, putting out your love for musicianship will be made possible in free page makers.
Anyone wanting to create a landing page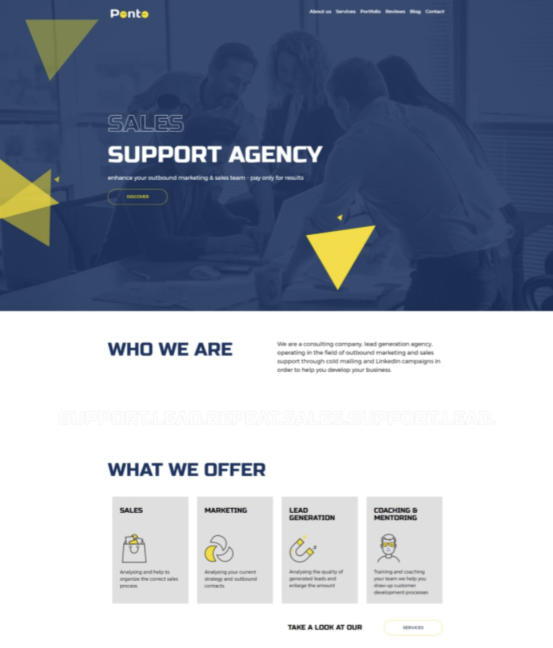 You can check this template
here
!
This might sound like a broad category, and it is.Landing pages are a great tool for marketing purposes: promoting your brand/product, informing of discounts, and also to obtain contact information that can be reused in future campaigns. Landing pages are easy to make, take little time to create and are an indispensable tool for creating your image online.
But do you actually need to have a website to create a landing page?
Actually, no, but it would help, as landing pages can be used to redirect much-needed traffic back to your page. What are some other functions of a landing page, exactly? Most landing pages are specifically created for marketing or promotional campaigns. It's where a visitor "lands" after clicking on a link in an email, or web-based ads from Google , Bing, YouTube, Facebook , Instagram , Twitter or other. Landing pages have a clearly set Call to Action: "subscribe now", "watch here", "sign up",etc. These exist for the purpose of getting users interested in your work.
The creation of a landing page is more simple, when compared to a whole website, for it needs only one page. Pretty much all website builders allow you to create a landing page, but not all of them are equipped for proper marketing functions. It is imperative that your web builder has good SEO (like BOWWE) for your landing page to be seen. Make sure that your landing page can also be advertised on social media platforms in order to cover a larger field of marketing campaigns.
Microbusinesses:
No matter how small your business venture may be, it is never too small for your free website.
For example, let's say you are skilled at making handmade furniture. You not only know how you create various types of furniture, you can also repair them for people. You might not have a shop set up, but you operate from your home, yet you strive to be known, at least locally. A free web page is the right tool for that. There are things you'll have to consider before deciding upon the right site creator, f.e: templates and the ability to edit them, SEO, lead creation, etc. E-commerce is of course useful, but it's not an option for free web builders. Nevertheless, it is good to have at least photos and prices of your products online, so that potential clients can order them in another way (via email, for example, which in turn the email addresses will be useful for future marketing campaigns).
Private ventures that were not made with the thought of generating an income are, in summation, the best-fitting choice for free site creators. If you do not worry about poor SEO, low bandwidth, limited space, then there is nothing stopping you from putting your ideas and work out to the World Wide Web. What if it's a business idea that you want to be noticed, however? Do the same solutions work as with bloggers and freelancers?
When does a paid website pay off?
Imagine that you founded a startup that deals with, let's say for the sake of argument, developing Artificial Intelligence software for clients. You have a small team that consists of: you as the founder and lead of business matters, three developers, a marketing specialist and an accountant. It's a team that will require a stable flow of cash to have for paying your employees. You decide to develop your brand and, knowing you need to cut down the costs, create a website, no charges included in the sign up. Despite the best efforts of your marketing specialist, there just isn't any traction as potential leads are not interested in cooperation. No one sees your website, and, if by any chance get someone to talk with you, they look at your web page and decide to cut the talks then and there.
Your project crashes before takeoff
Let us analyze what went wrong with having a free website built for your fledgling business:
The most important cause is eagerness to SAVE money instead of INVESTING money. This mindset alone is the first link in the chain of failures that lead to the collapse of your startup. The rationale in most young companies is to spend as little money as possible to keep it for essentials like paying the co-workers and for equipment. Fair enough, but to expect a business to develop by basing it on financial frugality is, in layman terms, ridiculous.
There are times where you need to spend money to make money, and this time, a website is no different. For businesses, subscription costs usually between $20 and $50 a month. We're not talking about a large amount here, let's be honest. And yet, you'd prefer to buy a coffee machine that costs $200 because it was on sale? Come on. A website for your business, equipped with better bandwidth, editing, and SEO, doubled with good management and customer support, will generate movement and potential clients to you, over time as the sales funnel will increase, so will your revenue. No need to be so pinchy with your dollars. Your website is your online "business card" - a place where you make your first impression on others, keep that in mind the most. It is the most efficient and cheapest way of promoting and developing your business; it'll be up to you to decide whether it is worth saving those extra bucks.
Why might a free website be detrimental to your small or medium-sized business?
Domain name dumping your credibility down the drain. in the beginning of this article, it was talked about how free website builders in all cases offer your page to be within their domain. This means that your web address will look something like: "mybusiness.bowwe-site.com". Now put yourself in the shoes of a CEO of a serious company, and you get an email that invites you to cooperate with a business with such an Internet address. Will you take that person seriously? Probably not, but you should not write off those people right off the bat. If it is possible to create a professional website for free, then you do not have to worry about others jumping into incorrect conclusions. On the other hand, if no free web builders have what it takes to put your business ideas online, then being clingy with your money would be a mistake in this instance, and it's advised that you sign up to a paid option.


The website builders ads - another stumbling block. Apart from a rookie website address, there is another thing that web creator companies do in their free subscriptions - ads.Assuming that your startup comes across a merciful company that overlooks your web address, the amount of advertisements from, f.e Wix or Weebly would dissuade even the most merciful CEO. Instead of seeing the name of the company, the user is seeing the web builder's logo and ads in different places of the website, as it is only up to them where they place the ad - and there is nothing you can do about it… Unless you start paying a small monthly fee to eliminate the problem, of course. Even if you decide to pay a monthly fee, you need to watch out which company you subscribe to - Wix had, in their cheapest paid option, advertisements, and the inability to attach your domain name. Contrast that with BOWWE, where there are far less ads, even in the cost-free version.


No customer support means you're on your own - Mostly,free website builders do not reach out with a helping hand should you ever have a dire situation that needs to be solved. Shouldn't be a surprise, why should they offer customer support for free? Just because most free web builders don't offer customer support, doesn't mean that ALL follow the same format. In BOWWE, customer support is readily available during working hours; they will give you on-hand advice about difficulties you may encounter. When not available, BOWWE's blog and FAQ section has more than enough useful information that will guide the user into resolving issues they might come across. Additionally, BOWWE's blog section has articles that help small/medium-sized businesses with growing their presence online. The countless tips on business development or blog promotion make BOWWE stand out when it comes to free website builders.


Forget about e-commerce - While this might not pertain to the particular case here (running and AI startup), entrepreneurs who wish to sell their products on the web with a free site builder are, to put it mildly, mistaken. When you're trying to add an e-commerce online shop, you'll usually have to opt for a premium subscription. In addition, free website builders normally give only a subdomain which makes it harder to attract returning customers and gain that credibility we've been mentioning so often before. Expecting a web building company to include such an important add-on for no extra charge is not thinking in business terms. Would you give away a crucial service for many users and not earn from it? Didn't think so.
Free website builders have both strong sides and negatives. It is up to you, the user, to determine whether they are right for you or not. One thing can be said with absolute certainty: it is worth trying them out. See which particular web builder caters most to your needs and wants, test more than one at a time, to compare and analyze the pros and cons.
After settling upon a desired site creator, the next question is: is it worth saving money or investing it? You may of course decide to go ahead with a free option to allocate your monetary resources elsewhere, or you can choose to spend the low amount of money for the subscription. The right mindset should be "how much money can I make?" and not "how much money do I have to spend?" Making the distinction between those two trains of thought is the first important step in building a successful brand online.
Nothing stands in the way of having both a paid website subscription and an account in a free option, however. An example of that would be to have your main website in a paying subscription to maximize your potential, and to create landing pages in a free option.
Ready to create your website?
Use the most convenient website builder, trusted by thousands of designers and create websites that will provide you with customers!
Taking away only one conclusion from reading this article would be a mistake.
However, we do hope that by analyzing the information in this article, you will be able to make a decision regarding whether a free website builder is right for you, and which one suits best for your vision.
Testing more than one web page creator is a good start. Don't overuse it, though, as it would be unwise to make an account in as many web builders as possible - it would be a waste of time. Therefore. limit yourself to a few select ones and try them out.
Depending on what aims you have, different creators have different options. Some are more suited for blogs, whereas some are better for companies. Then there are those who offer more than just making a website - remember BOWWE Business Builder? The tool that lets you run your online business, and not just your website? It is those things that you should keep an eye out for. Not looking for business options and just want to run a blog? Take note of which sites let you have the best SEO options in their free versions (the article contains information on which builder is best suited for that).
In the end, it depends on your goals. But don't let the word "free" dismay you into thinking that you won't be able to release your creativity. Don't take our word for it, see for yourself!